30 Racers Chasing $200,000 Mazda Road to 24 Scholarship.
Birmingham, Ala. (22 April 2017) – A one lap shootout to the checkered flag saw Patrick Gallagher (No. 29 McCumbee McAleer Racing) emerge with the first race win of the 2017 Idemitsu MX-5 Cup presented by BFGoodrich® Tires season on Saturday as he crossed the Barber Motorsports Park finish line just over a half second clear of Mark Drennan (No. 5 Winding Road Racing). The duo were joined on the podium by 2016 series champion Nathanial "Sparky" Sparks (No. 8 Sick Sideway Racing) as the MX-5 Cup delivered another thriller at the picturesque Alabama circuit.
Also scoring some very useful hardware, as well as $1,000 in the post-race celebrations was Patrick Wilmot (No. 6 GB Racing). Wilmot earned a Idemitsu as part of the "Idemitsu Hard Charger Award" for the driver who makes up the most positions after he moved from 22nd on the grid to take the checkered flag in eighth. Matt Cresci (No. 51 Slipstream Performance) emerged as the top-finishing rookie with his run to seventh place, marking him as the early leader in the rookie battle that has $50,000 on offer from Mazda for the highest finishing rookie.
The 45-minute race once again featured the same close-quarters hard racing that is the hallmark of the MX-5 Cup series, with battles waging deep through the 30-car field. Sparky led the opening three laps of the race before falling to fourth as Gallagher took full advantage to lead the pack for the final 17 laps of the race.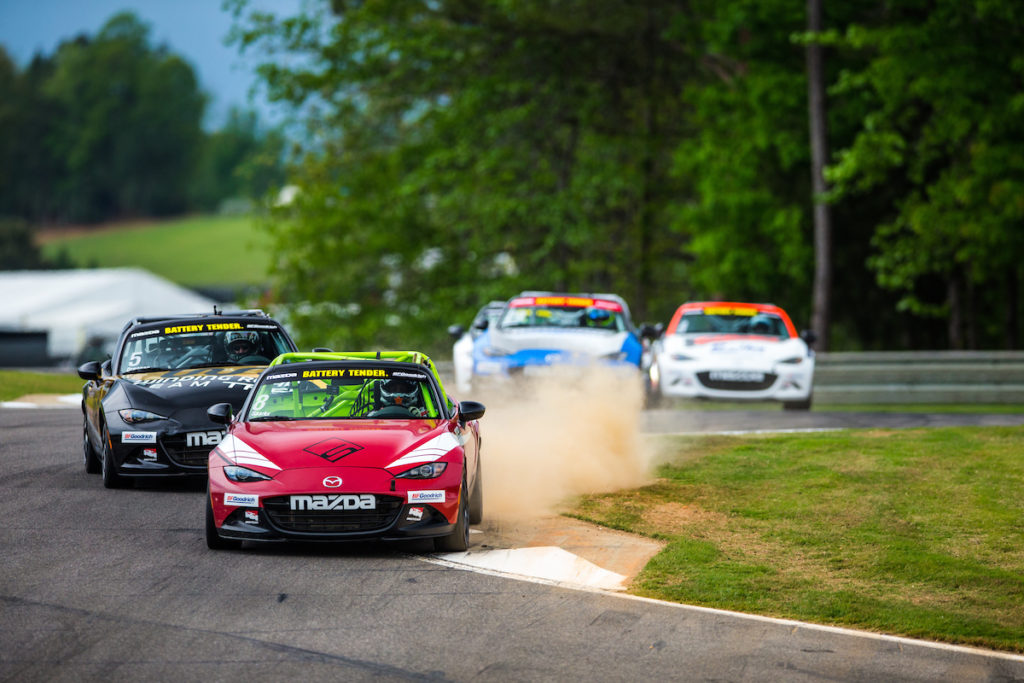 Staged as part of the Verizon IndyCar Series event, the season-opener was slowed three times for brief full course cautions, setting the stage for a one-lap shootout to the checkered flag. A side by side duel for the lead between Drennan and Gallagher saw the Ohio State University engineering student come out on top to take the victory.
"It was a really close race – it's so tough to pass so it was really tight racing," said Gallagher. "Sparky (Nathanial Sparks) made a mistake and I got to the lead. I knew it was my job to lose it at that point. (Mark) Drennan raced me really clean and I was glad when it went green at the end there because I didn't want to win it under yellow. The car was hooked up – McCumbee McAleer racing gave me a great car. Big thanks to Idemitsu, Mazda, ModSpace, Howard Concrete Pumping, Spartan Cargo Trailer and BFGoodrich® Tires and everyone else involved with this series."
The last-lap dash for the win was one that Drennan was relishing, but he also kept the big picture in mind as he fought for the lead.
"My eyes got really big when I saw that we were going to have a restart!" admitted Drennan. "I felt like I was a little more hooked up than Patrick (Gallagher) at that point in the race and that I might have something for him. I just ended up on the wrong side—for a couple of corners—on that last lap and wasn't able to stuff it in there and I didn't want to give up a podium. Some lessons learned from last year! But it was a great race and I'm happy to be up here on the podium to start the season."
"Well I started from pole and everything was going pretty well," said Sparky, who will be hosting guests from Big Oak Ranch at the track (http://www.bigoak.org). "I had a great car and the Sick Sideways guys just had me pounding out laps until I decided I was going to falter as a driver and miss a gear coming onto the front straight. I fell back to fourth or so. It was all my fault and then I did it again. My car was great, I just couldn't make anything work. So I finished third after starting on pole and I feel great about that. We have the kids from Big Oak here today and it is something exciting to show them a trophy and hopefully they get to see the second race. I am just thrilled to finish the race. My car is in great shape for Race 2 later on today. I am looking forward to hopefully representing myself a little bit better and driving off to a win."
"I'm here because of the $100,000 Mazda Road to 24 scholarship," said Cresci. "Thank you Mazda! I just finished my first race and it went extremely well – I couldn't have asked for anything better. I was basically just absorbing information getting to know what my competitors are like, what the car is like, what the draft is like, and I'm feeling very well prepared for Race 2!"
Full results can be found here: http://mx-5cup.com/results
Race 2 is set for a 5:40 PM local start (6:40 PM ET) and it will be streamed LIVE at www.mazdalive.com.
About: The Idemitsu MX-5 Cup presented by BFGoodrich® Tires is the signature spec series for the Mazda Road to 24 (#MRT24), the sports car counterpart to the Mazda Road to Indy (#MRTI). On both paths, Mazda-powered champions earn a Mazda scholarship to advance their career. The MX-5 Cup champion earns a $200,000 scholarship. Find out more at http://www.mx-5cup.com.