How many people do you know that autocross, and have been doing it for 32 years… and are still competing in the same car? Meet Tom Bracci, who purchased an Rx-7 brand new in 1983 and competed in his first autocross in 1985. 250,000 miles later, he is still auto crossing the same car.
By Tom Bracci:
I've been racing my 1983 RX-7 longer than most of the people who are reading this have been alive. I compete in 10 to 25 autocross events a year. The car is not a trailer Queen- I have always driven it to autocrosses, whether in my home town in Connecticut or across the country. It now has 250,000 miles on it. The first few miles were probably the toughest on the car; I taught myself how to drive standard while driving it home from New Rochelle, New York.
About a year later in 1985, I participated in my first autocross event and from that point on I was hooked. Initially, I went off course on almost every run, but I had an absolute blast. The friends I made that day along with the hundreds of others I've made at autocrosses over the years have enriched my life. Most of my close friends I have today, I met with my RX-7 auto crossing.
On any given weekend, I could have five Solo National Champions at my local events. They were all driving RX-7 GSLs: Paul Kozlak, Lynne Rothney Kozlak, Keith Scala, Jim Gary, & Diane Remetta (Moores). It was a great opportunity for me to learn exactly how slow I was. Rather than feeling defeated, I learned from them. At first I was suspicious of advice they gave, I mean… why would they want to help me go faster? This is one of the great things about autocross – you will generally find that your competition is just as interested in helping you improve your skills, as improving their own.
Some of the advice I was given was to get rid of the street tires & get a set of Yokohama 001R race tires on stock narrow wheels, which I did. Back then tires were cheap, about $135 for a set of four.
Around 1990, the car had 100,000 miles on it and SCCA made a rule change that allowed my car in CSP (C Street Prepared) – a class that my car could be competitive in. So I pulled out the entire suspension from under the car; upgraded springs and bushings; replaced anything that was worn; and added a Dell'Orto Intake & short tube header.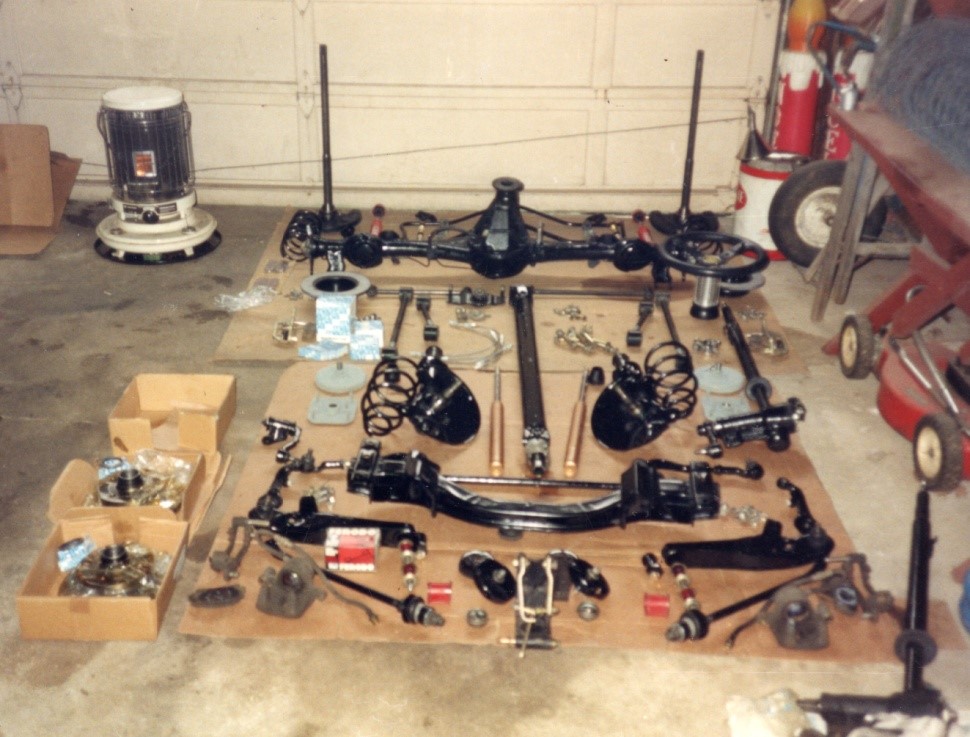 I experimented with wheels, tires, springs, bars, bushings, and alignment to finally get the car to handle. I actually use a set of modified Midget sprint car wheels that only weigh 8 lbs. It was perfectly neutral in a corner and I could make it oversteer by giving it more throttle, or by taking my foot off the throttle abruptly.
In 1991 I won my first CSP class championship at our local FCSCC (Fairfield County Sports Car Club) and I've been class Champion just about every year since.
In 1995 I scored my best finish at Solo II Nationals – 4th place driving my RX-7. All this in a car that I drive to the events with eight race tires and equipment packed inside the car.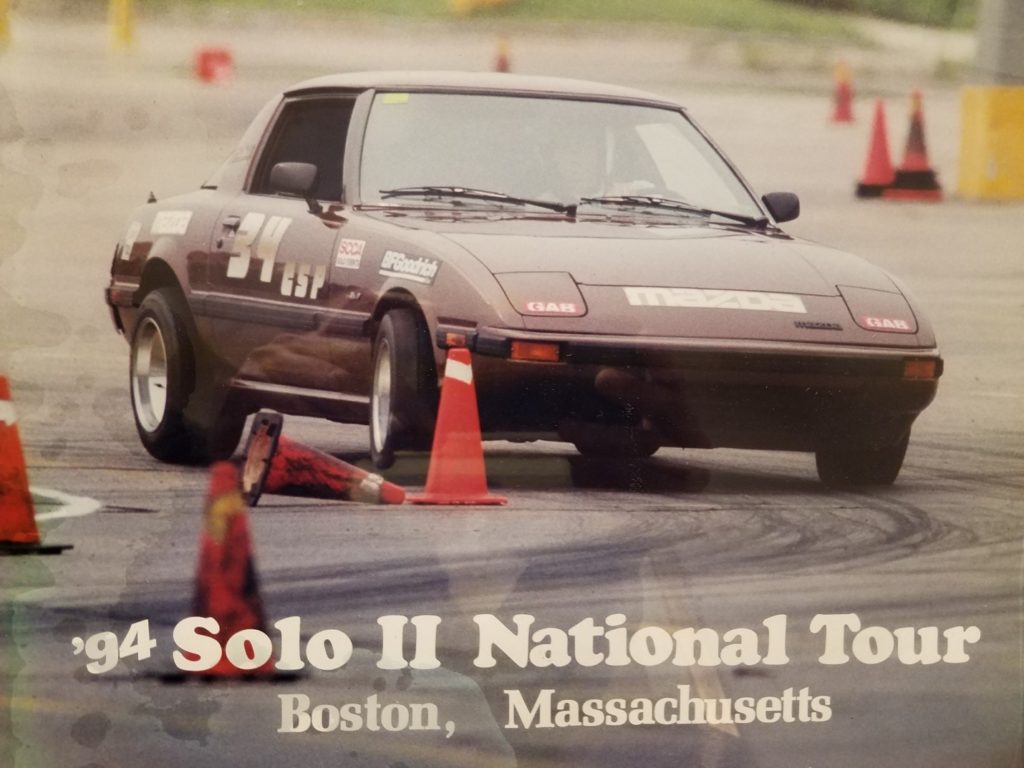 I missed a few FCSCC (Fairfield County Sports Car Club) championships because I had a cracked Apex seal in my motor. I did the engine rebuild myself… this is where I should tell you that I am a much better driver than I am a rotary engine mechanic. Short story is three engine rebuilds later, I finally found what I had done wrong on the first two rebuilds. I had the coil wires swapped resulting in 24 degrees of advance rather than 12. This expensive lesson behind me, I learned to label my wiring and the motor is operating perfectly.
So in 2013 I decided my car was getting a little worn looking. It looked good from 20 feet away. I had it repainted… yes, original brown & reupholstered the interior, including the racing seat, to match.
My car has definitely been built on a budget over the years. It doesn't have the latest bells and whistles; it has a carburetor, not fuel injected; 13 inch, not 15 inch tires; re-valved Koni shocks rather than Penske. Yet my RX-7 is capable of achieving fastest time of day at my local events, and I still get a rush driving it. Recently National Champions Todd Kean and Mark Daddio have driven my car and get out of it with a big smile on their face saying how fun it is to drive. I have yet to drive a car that I enjoyed as much at an autocross as I do the RX-7.
If you're thinking about autocross, here's a little information for you. In my opinion, autocross is 80% driver, 10% car, 5% tires and the last 5% is all other performance modifications from a Turbo to lightweight lug nuts. My advice is to get the best return on your investment by putting your money and time into the 80% – the nut behind the wheel. If you sell the car, at best all the modifications will only be worth 50¢ on the dollar. Your driving skills are yours to keep and you take them from car to car.
Recently a friend of mine who I had not see at an autocross for a number of years said, "Hey you look like the father of the kid that used to drive that Mazda." I'm now 57, but feel like I'm in my 30s. Autocross has kept me young.