SCCA's ProSolo Series heads to Southern California for an event at Auto Club Speedway
The Tire Rack SCCA ProSolo Series combines the traditional autocross format with the excitement of a side-by-side drag racing start. Competitors will also notice that rather than a typical sprawling single course, the drag strip section feeds into a pair of abbreviated, nearly identical courses, allowing a pair of drivers to effectively compete head to head. Over the course of the weekend, competitors are treated to 12 runs as they alternate from side to side, with their best time from each course added together to determine the finishing order. Beyond class competition is the single elimination challenge rounds, which pit the top finishers across all classes against one another.
As the ProSolo season heads to Auto Club Speedway in Fontana, Calif., March 31-April 2, a number of competitors are coming off the Tire Rack SCCA Match Tour season opener at Qualcomm Stadium in San Diego, Calif. – an event many utilized as a tune-up for the 2017 season.
"The San Diego Match Tour is a great first national-level event to start the year," says Anthony Porta, who won the 2016 B Street Prepared SCCA national championship title in a Mazdaspeed Miata. "[The Match Tour was] a more relaxed atmosphere, but with only three runs in the morning and two in the afternoon; it required fast and clean runs. The rolling surface of San Diego provides the closest comparison to Fontana and I'm very much looking forward to a ProSolo where the left and right courses are similar but different – kind of like the SCCA Solo Nationals."
Peter Loney, who won Street Touring Sport in his Mazda Miata at the San Diego Match Tour, also echoes the similarities and advantages of using the Match Tour to prepare for the upcoming ProSolo. "San Diego and Fontana have similar surfaces," he notes, "so the Match Tour setup will work well.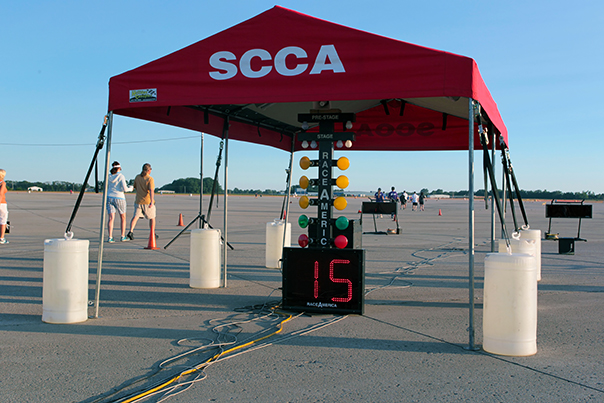 Knowing the impact a good reaction time and a proper launch has on a ProSolo run, some competitors will make small setup changes to eek out an advantage at the lights. "I will need to adjust my launch control via [my car's] Megasquirt on site during practice starts," says Loney.
Additionally, the move from the traditional ProSolo site of El Toro in Irvine to Auto Club Speedway means a bit of a learning curve for those who have not run on Fontana's asphalt. "I don't make any specific changes for a ProSolo, although I will make a slight shock change to account for the difference in surface at Fontana," says Porta. "It's the first time I'll be making a ProSolo-style start on that surface, as I have always been spoiled with El Toro and Crows Landing."
A notable ProSolo first timer is set to compete in C Street with his Mazda RX-8, as Rolex 24 and Mazda MX-5 Cup champion Kenton Koch tries this new discipline on for size. "I'm pretty interested to see how things will go," Koch says. "I don't have a clue what to expect. I'm going to go into this weekend with the same mindset as anything: I want to learn, do the best I can and, of course, have fun."
Live timing for the event, as well as results, can be found at www.scca.com.