Robert Davis Racing (RDR) kicked off the Southern California NASA race season at Willow Springs International Raceway with a clean sweep. Starting with the Friday night St Patrick's Day three-hour endurance race, the #76 E2 class Mazda RX-8 won by a convincing margin over our friends at Honda. With Lee Papageorge and Ken Saward at the wheel, the RX-8 set a pace that just couldn't be matched and great driving saved an incredible amount of fuel to manage just a three-stop race.
The rest of the weekend followed suit, as Lee Papageorge won both Performance Touring D (PTD) races Saturday and Sunday by wide margins. Dennis Holloway won both Performance Touring C (PTC) races by even bigger margins, in his #07 Mazda RX-8. Joshua Allan, debuted his Mazda MX-5 Miata in Super Touring 4 (ST4) trim to win his class both Saturday and Sunday.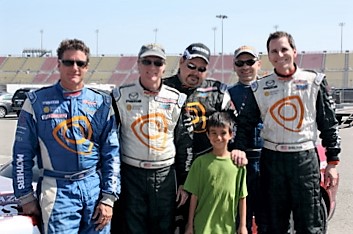 Both Papageorge's #76 Mazda RX-8 and Holloway's #07 Mazda RX-8 are scheduled to be retired from race service after this event. Both have over 20,000 racing miles and have competed in 13 racing seasons. They both ended their era with sweeping weekends, well done.
As the RX-8s are retired, we welcomed a new car and driver to the team. Charlie "Chuck" Jimenez drove his #13 2002 Mazda Miata PTE car for the first time, in NASA's very successful High Performance Driver Education (HPDE). Expect to hear more stories about Chuck's racing in the future.
About RDR: RDR has been a dominant force on the west coast in Club Racing, winning regional, divisional and national titles many seasons.
RDR appreciates the support of Mother's Polishes Waxes Cleaners, Hoosier Racing Tires, MAZDA Motorsports Development, SpeedSource, Hawk Brakes, AWR, Classy Car Auto Detailing, Sparco, Pure Power Lubricants, Motul, and EMI.