Multi-time SCCA Solo champ Jennifer Isley jumps to road racing with her eyes set on the 2017 SCCA Runoffs
Like many SCCA members, Jennifer Isley has experienced a lot of what the club has to offer, from RoadRally to autocross to wheel-to-wheel racing, but the idea of speeding across the famed yard of bricks at Indianapolis Motor Speedway at the 2017 SCCA National Championship Runoffs has renewed her interest in road racing.
"I started road racing in 1992 driving a Formula Vee that I built with my dad [Jess Heitman] in Portland, Ore.," Isley says of her early days. "After damaging the engine at a race at Pacific Raceways, I found out how costly road racing was for a young person just starting out."
Isley soon discovered SCCA autocross scratched the competitive itch, and was content for years. "Autocrossing was something I could do on my own and required no support or assistance from anyone else," she explains. During those years, she racked up five SCCA national championship titles.
A trip to Daytona for the 2015 SCCA Runoffs reignited her fire to road race. "We booked a family vacation around the Runoffs in Daytona so we could watch my husband compete," she says. "We watched the Spec Miata race under the lights – I was in awe of the race and the caliber of driving. I knew then I wanted to get back on the racetrack."
For Isley, picking a class and a car was easy: Spec Miata offered competitive racing and single-class race groups during the season. Also, she says, "I've owned and autocrossed three Miatas over the years, and three of my Solo titles came in a Mazda RX-8."
Rather than buying a finished racecar, Isley decided to build her own. "[My husband and I] started searching for a 1999 Miata with a hardtop so we wouldn't have the expense or hassle of sourcing [a hardtop] later," she says. "It didn't take long to find the right car. It wasn't a week later that I was out in the garage stripping the interior."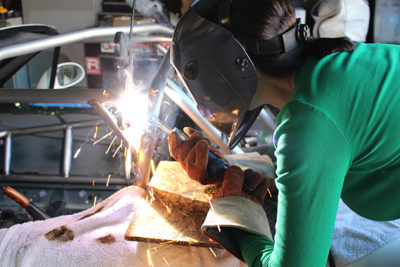 She spent many hours in the garage in 2016 building her Spec Miata in preparation for the 2017 SCCA race season. "Overall, this was a great experience, and I have a great appreciation for those who build racecars," she says. "It was one of the most difficult jobs I've ever done. I was challenged to research and problem solve, and sometimes I got frustrated. However, I have complete ownership of my car and a great sense of accomplishment."
With the build complete, Isley has set her sights on getting up to speed for Indy by logging as many races as she can. "I've already raced at Auto Club Speedway and Willow Springs this year," she says. "Once we wrap up the Hoosier Super Tour at Buttonwillow Raceway Park in April I will be qualified for the Runoffs at Indy. I don't have any expectations of being competitive at my first Runoffs; it's all about the experience, having fun, and getting to drive at such an iconic track."