Mazda Road to Indy season openers at St. Petersburg featured wins by three Mazda scholarship winners
The opening rounds of all three Mazda Road to Indy series accompanying the Verizon IndyCar Series season opener on the streets of St. Petersburg, Fla., featured not only the debut of the new Tatuus USF-17 in the Cooper Tires USF2000 Championship Powered by Mazda, but also a new push-to-pass system in Indy Lights Presented by Cooper Tires. Each of the series produced a winner in one of its Mazda scholarship drivers, and Indy Lights also had its youngest winner in series history.
Aaron Telitz tried his utmost to turn the Indy Lights season opener into a procession, but fortunately his fellow protagonists failed to follow his script during an otherwise action-packed Mazda Grand Prix of St. Petersburg Presented by Cooper Tires. As Telitz, 25, from Birchwood, Wis., romped to an impressive debut victory from the pole for Belardi Auto Racing, the remainder of the 15-car field staged a thrilling contest, which ended with fellow Americans Colton Herta (Andretti-Steinbrenner Racing) and Neil Alberico (Carlin) completing the podium.
"I was expecting to do well this year but I had no idea coming in that I would be on pole and win the first race of the year, especially with such a deep field," said Telitz. "It feels really good to be on the top spot. I had a good jump at the start and survived the pack-up at the start. Once I was out ahead, I just kept on doing consistent lap times through the race and hitting my marks. But honestly, my first feeling at the checkered flag was relief. To be here with Belardi, to be in the Soul Red car and wearing a Mazda driver's suit, it all just feels a little unreal. When I started in car racing, I had no idea I'd ever be in Indy Lights, let alone win a race in my first go. I can't thank Mazda enough for creating this ladder system and giving drivers like me a chance."
In the second race on Sunday, 16-year-old Herta from Valencia, Calif., started from the pole and displayed remarkable poise as he outpaced the field to win the Mazda Grand Prix of St. Petersburg Presented by Cooper Tires in convincing style for Andretti-Steinbrenner Racing. The son of 1993 Indy Lights champion and two-time Indianapolis 500-winning car owner Bryan Herta also put his name in the record books as the youngest winner in the 31-year history of Indy Lights dating back to 1985. Last year's championship runner-up, Santi Urrutia, from Uruguay, finished second for Belardi Auto Racing ahead of another impressive teenager, Mexico's Pato O'Ward (Team Pelfrey).
"My first feeling was relief that the race was over, because that was a hectic one," said Herta. "I was always checking the mirrors on the restarts for Santi and learning how to do the best job on cold tires. It was a tough race, because Santi's been in this position before – and he's one of the toughest competitors I've come against in this situation. Coming away from this weekend with the championship lead puts me a little bit ahead of schedule."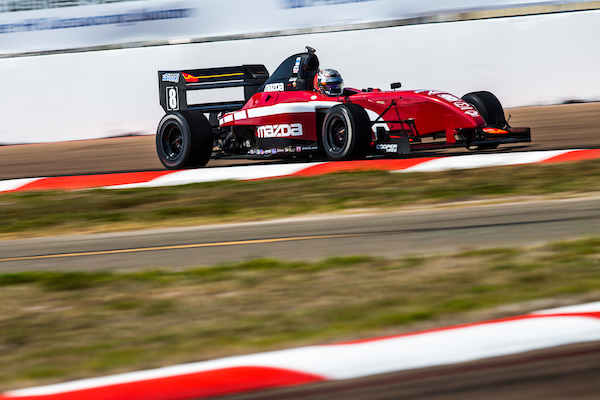 In the Pro Mazda Championship Presented by Cooper Tires, Anthony Martin began his bid to follow Matthew Brabham as only the second driver to claim back-to-back Mazda Scholarships in the USF2000 Championship and the Pro Mazda Championship with pair of victories. The 22-year-old from Kalgoorlie, Australia, driving for St. Petersburg-based Cape Motorsports, remained under pressure virtually throughout the 25-lap, 30-minute race from Brazilian Victor Franzoni (Juncos Racing) before taking the checkered flag to earn victory by just 0.5084sec. Californian TJ Fischer finished third for Team Pelfrey. The same trio comprised the podium on Sunday, in the same order.
"I'm so happy to take the sweep at St. Pete and to come away from here with the championship lead," said Martin. "To have Mazda backing and be driving the Soul Red colors seems to have pushed me harder than ever before. With the scholarship, there's a lot of pressure, but I thrive on pressure and that's one reason we've done so well this weekend. This race was 40 minutes, which was much longer than yesterday's race, so once I was able to get a gap I just drove to a lap time and kept it consistent. Just when I was starting to push harder to widen the gap, the safety car came out. It may have looked easy, but it was hard. As a race car driver, you want to drive hard all the time, so to hold yourself back is very difficult."
Robert Megennis (Team Pelfrey) and Oliver Askew (Cape Motorsports) shared the limelight as the Cooper Tires USF2000 Championship Powered by Mazda kicked off in style on the streets of St. Petersburg. The brand-new Mazda-powered Tatuus USF-17 chassis provided some spectacular action as the talented young American duo each claimed a race win during Saturday's season-opening double-header.
Last year's top rookie, Megennis, from New York, N.Y., secured his first win in the morning despite a late charge from former karting star Askew, from Jupiter, Fla., who was making his USF2000 debut after winning both a Team USA Scholarship and the inaugural Mazda Road to Indy USF2000 $200K Scholarship Shootout in 2016. Dutch teenager Rinus VeeKay finished third for Pabst Racing.
In race two, Askew pounced on a mistake by polesitter Parker Thompson (Exclusive Autosport), from Red Deer, Alb., Canada, to claim the victory, followed by VeeKay and the recovering Thompson.
Indy Lights and USF2000 resume action April 21-23 at Barber Motorsports Park in Alabama, while Pro Mazda next hits the track at Indianapolis Motor Speedway on May 1.