Rookie single-car team from Colorado hopes to make an impact in Idemitsu MX-5 Cup Presented by BFGoodrich® Tires
Many of the teams in the Idemitsu MX-5 Cup Presented by BFGoodrich® Tires are big, multi-car operations, running as many as 10 cars on any given weekend. But a new, single-car team is setting out to show that they have what it takes to bring the fight to the big teams.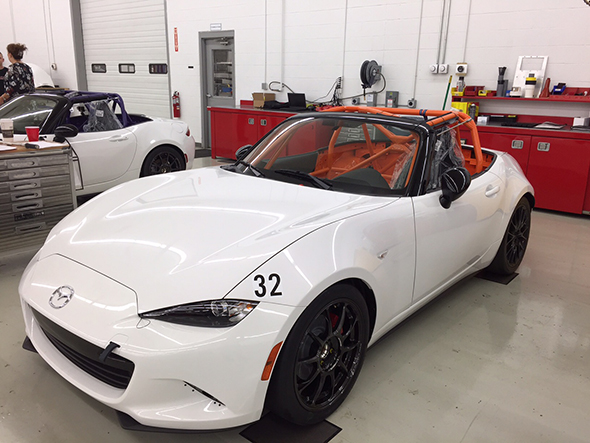 White Racing, with team owner Bruce White and driver Luke Oxner, are about to take delivery of their MX-5 Cup car from Long Road Racing and participate in this weekend's spring training at Barber Motorsports Park. They've been competing in Porsche Club of America Spec Boxster, but are looking to move up a notch, and MX-5 Cup seemed like the best option.
"Last year, Bruce White asked me to race his Spec Boxster," Oxner explains. "We had some really good results last season, set some track records, had some fun and decided we wanted to do it at the next level. After looking at the series, MX-5 Cup seemed like a perfect fit for us. It's a spec car, Mazda is really involved in it, and it seems like a lot of really good competition."
Oxner started out in autocross as a kid, running a kart. He did some wheel-to-wheel karting, some more autocrossing in cars, and began racing Spec Boxster with his father. After a couple of years, he joined White, who also happens to be his employer.
"I work with him at his company, Rennstall Classic Cars," says Oxner. "Our race shop is in the back. It's mainly been for fun, but now going pro racing, we're looking at turning that into a little bit more of a profit center. We do a bit of everything – car sales, classic car restorations, service on cars, we have an auto body and paint shop. It's a full-service car business."
Oxner, who loves to take advantage of Colorado's outdoors and enjoys activities such as mountain biking, kayaking, running and golf, says he would love to make a career out of motorsports. Right now, though, he knows he and the team have a tough road ahead as rookies in a highly competitive series.
"We want to get in and kind of get used to the car, get the hang of things," Oxner says. "We need to learn the series, learn how to race in it and see how we stack up to the big teams. Bruce has a motto of, 'We don't come to the track to take second,' so we're going to see if we can't apply that in this series. It's going to be a lot tougher competition, but it's going to be fun. We're really looking forward to the challenge."
Oxner says the team may look at doing a one-off in Pirelli World Challenge, but right now the focus is on MX-5 Cup. He says he's looking forward to racing at Mazda Raceway Laguna Seca again after being introduced to the track last summer, but also Indianapolis Motor Speedway for the history and Watkins Glen because of the great things he's heard about the track.
The 2017 Idemitsu MX-5 Cup Presented by BFGoodrich® Tires kicks off April 21-23, 2017, at Barber Motorsports Park in conjunction with the Verizon IndyCar Series.