Lightweight fiberglass hard top will be part of the new Spec MX-5 race car kit.

Part No.: 0000-07-5901-CC
Price: $1,195.00
Ask any Spec Miata racer who has built his car, and you'll likely hear about how hard it was to acquire a hard top. In high demand by racers for the aerodynamic and safety benefits, but not so much by the general car buying public because they bought a convertible to feel the wind in their hair, they're not plentiful.
Hard tops for the third-generation cars can be even more scarce. Mazda Motorsports can still get you a Mazda OEM hard top, but they're somewhat heavier than necessary for a race car thanks to being built with a glass rear window. For that reason, Mazda Motorsports has sourced a fiberglass hard top for the NC MX-5. The top has a Lexan rear window, and weighs only 16lbs.
Furthermore, the top has been approved for SCCA Touring 3, Touring 4, STL, and STU, as well as in NASA, TC America and many other series and classes. With the Spec MX-5 (NC) new kit and price set to be announced in August 2019, expect this hard top to be part of it.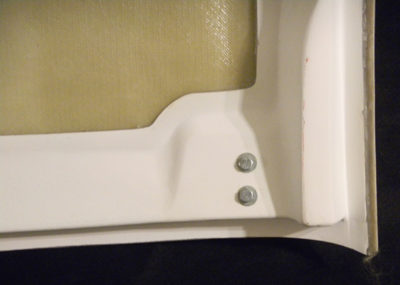 This hard top has all the same mounting points as the OEM top. All the mounting points are metal-nut-inserted. And it's all hand-laid up in 1708 knitted fiberglass construction.
That 1708 fiberglass may sound familiar to boating enthusiasts, since it's used widely in the industry.
The top is reinforced in critical areas. It is finished with a white gel coat on the outside – the interior remains unfinished fiberglass. The top comes with brackets, which are required for racing.
To order, sign into the parts store, or call (800)435-2508
.
Pricing is subject to change.