It took time for Deana Kelley to find her way to the Mazda family, but we're glad she did.
"When I was in high school I raced karts with my dad," says Deana Kelley. "Then I went to college and there was no money to go have fun." Luckily, a friend turned her on to SCCA autocrossing. "One of my roommates in college was like, 'Oh, you should go do this autocross thing – its kind of cheap, and you can use whatever car you have, you can hit cones and have a good time,'" she says. "It turned into a gateway drug."
Deana quickly became serious about the sport, making her first trip to the Tire Rack SCCA Solo National Championships in Lincoln, Neb. "In 2012, I got to drive Jim Harnish's Street Touring Compact Civic, and that little car was a riot," says Deana.
Unfortunately, life got in the way and Deana missed the next few trips to Lincoln. "I didn't get to go for a couple of years because work sent me away," she explains. "In 2015, I was driving a Mustang in E Street Prepared Ladies, but I coned away every run on one day, so it kind of turned into 'lets go have fun with a V8.'"
Then came a turning point. "I didn't really get the whole 'Miata' thing previously," Deana says. "Then my husband [Travis] really wanted an ND [Mazda MX-5], so we got one. I started driving it and went, 'Oh, I understand now.'"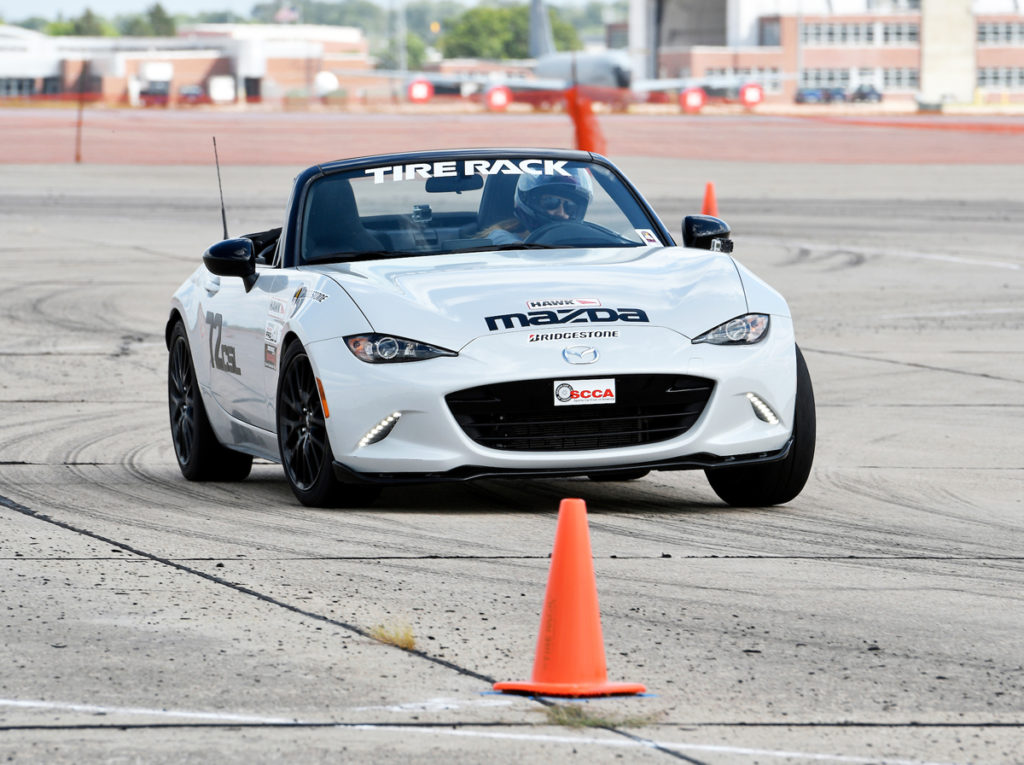 With some simple bolt-on modifications, the Kelley's MX-5 was ready for competition. "It's got a different swaybar, Fat Cat non-adjustable shocks, and tires – that's really about it," she says.
For Deana, added motivation came in the form of her SCCA region's local novice coordinator Jeff Bandes. "Having Jeff [drive] car is nice because he was consistently faster than me," Deana explains. "I knew what Jeff could do in the car, and I would work to get closer to that."
Deana quickly started racking up wins in the family MX-5, dominating C Street Ladies at the Crows Landing, College Station, and Lincoln Spring Nationals rounds of the Tire Rack SCCA Solo Championship Tour. The Tire Rack SCCA ProSolo Series also provided Deana with a sizeable collection of hardware, with wins in the Ladies 2 class at the Lincoln Spring Nationals stop as well as in Mineral Wells, where Deana claimed the Ladies Challenge win. Trophy finishes at the El Toro and Crows Landing stops combined with a third place finish at the ProSolo Finale secured a second-place finish in year-end class points.
Of course, the crown jewel for Deana's 2016 season was winning a Solo National Championship, a title she plans to defend in 2017. "The car has been amazing," Deana says. "Mazda has been solid as far as backing their product – and the car its just so much fun to drive."
Thanks to Rupert Berrington for providing the photography!
Related stories: Women in Autocross: Tamra Hunt