Atlanta Speedwerks comes to the series with two, or more, cars.
Todd Lamb has a history with MX-5 Cup, and it's about to repeat itself.
Lamb came into the MX-5 Cup in 2009 after winning the 2008 NASA National Championship in Spec Miata. He followed that success in MX-5 Cup, taking eight wins and the championship. The following year he raced in Rolex GT in the Racer's Edge RX-8 and also helped develop the i-Moto Mazda3 in Continental Tire SportsCar Challenge. In the years since, he's continued to race in Spec Miata, along with some World Challenge and other races, and make quite the reputation as a driving coach. Now he's coming back to Idemitsu Mazda MX-5 Cup presented by BFGoodrich® Tires, thanks to one of his coaching clients.
"I have a client that was interested in running the series, Luis Gavignano," says Lamb. "He wanted to have me on board for coaching for the series. It made sense for me to run as part of that to be able to have data and be able to talk through the different tracks. It started as a coaching gig and expanded from there."
Lamb's prep shop, Atlanta Speedwerks, will run at least two cars, for himself and Gavignano. However, he'd like to run more if there were an opportunity.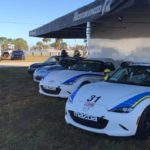 "We're going to do a lot of testing for drivers to try to find a couple of season-long drivers to come along with us. Two cars is doable, but we've got room for four cars and we would love to have four cars under the tent. It would be a great business opportunity for me and an opportunity for other drivers to come on board to get the personalized coaching and build from my experience I have, not only from the shop but as a racer," Lamb says.
The team had its first competition outing in its MX-5 Cup cars at the Sebring Hoosier Super Tour last month. Lamb ended up with a win in Touring 3 in the Saturday race and second on Sunday (along with third- and fifth-place finishes in Spec Miata).
"Luis wanted to go down and get some seat time in the car so he can be fully acclimated when we get to the first race. At the same time, we went down to Sebring to run the Spec Miata to showcase what we do as a shop on the car build side. But we're all interested in getting a fair shot at a competitive T3 car with the MX-5 Cup car and that was another thing we were focused on, seeing how the cars stack up in that class. We were lucky to come away with a win there, but SCCA has some work to do to balance out the cars. I know they're working on that. I sent them some data and we've been talking since Sebring."
After the Sebring experience and some other testing, Lamb is looking forward to returning to MX-5 Cup.
"The cars are a blast to drive," he says. "And a spec pro series is a big draw. I really enjoy the competition and the closeness of the racing, and the race craft and the strategy that goes along with it. It fits in with the kind of racing I've been doing in Spec Miata lately. It's kind of a neat thing to come back. It will be fun to see how it goes against some pretty good competition."
The 2017 Idemitsu Mazda MX-5 Cup Presented by BFGoodrich® Tires season begins April 21-23 at Barber Motorsports Park in Alabama.