In the first chapter of "From Wrecks to Racers," we covered the decision process to determine whether you want to build a competition car from a wrecked car. There were many questions to ask yourself to make that determination. Hopefully you now have an idea of the thought process involved in making a decision to build a car from a wreck.
So, you've decided to move forward. Now what?
There are many options to find a car. Cars can be found through Craigslist, eBay, junkyards, auction sites specializing in wrecked cars, as well as just keeping your eyes and ears open.
As I noted in my first article, my previous car was found through Craigslist. I had purchased a couple of NC (2006-2015) MX-5s as daily drivers and competition cars, but had a dream of building one for D Prepared in SCCA Solo. I would regularly look at my local Craigslist for "Miata" and "MX-5" just to see what was out there. Obviously there were a lot of available cars and parts in the Seattle area, but the NCs had only been out a couple of years at this point; inexpensive cars were just not out there.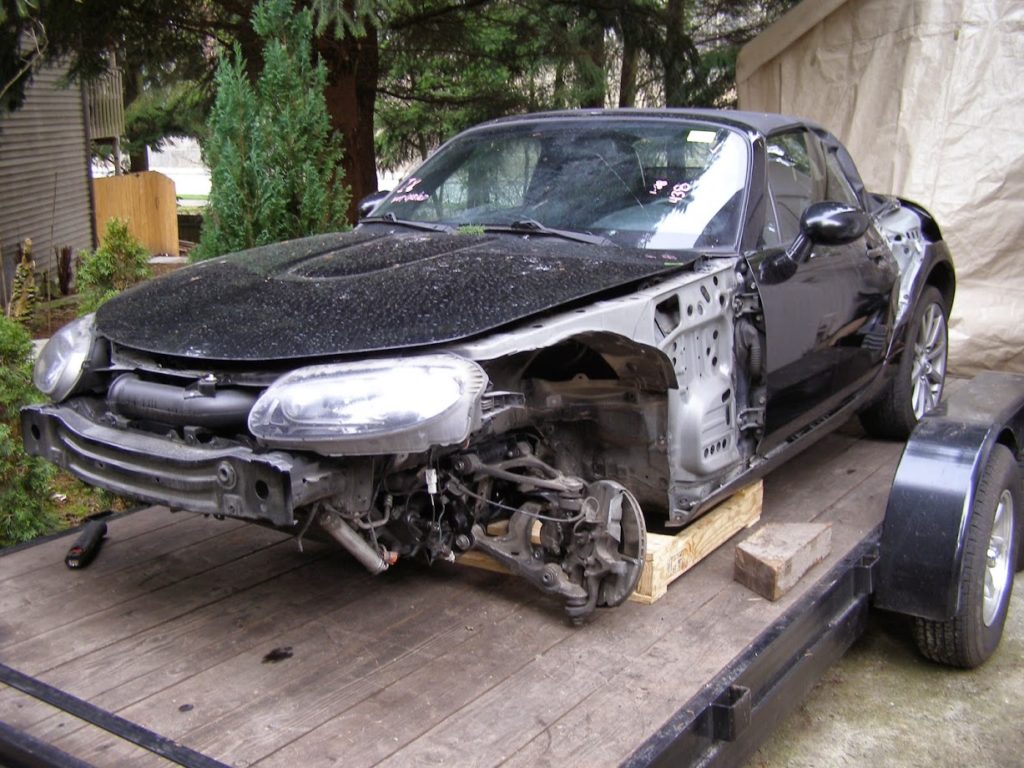 One day however, I came across an ad for someone parting out a 2006 (above). I quickly contacted them to find out if they were interested in selling the whole car, and if so, what damage did it have? The seller sent me some pictures and we made an appointment to meet up. The car had been hit on the driver's side, damaging the door and rear quarter, along with destroying the top. The seller had purchased it for the front subframe and right front suspension. Since my intention was to cut off the windshield, the top didn't matter. The other damage was mainly cosmetic. Information on that build can be found at bauerspeedracing.blogspot.com
The nice thing about Craigslist is that the price is what the buyer and seller agree on. There are no additional fees to worry about, other than paying sales tax and title transfer fees. Transportation fees can certainly come into play, especially if you buy out of state. (There are apps out there to search all over the country so don't feel the need to limit your search to your local area.)
Your next option is eBay. This is similar to Craigslist in that finding a newer car that is wrecked is challenging; they do show up occasionally, however, so search regularly. Another option is to find a seller that is selling parts from the car you're looking for. It certainly doesn't hurt to contact them to see if they have the whole car available, or maybe they have another one on the way. Fees are normally the same as Craigslist as well; although, the seller normally pays fees when they sell. Usually the buyer isn't responsible for anything. There is risk buying this way, as normally you'll be relying on pictures to make your decision to buy. Depending on price, you may want to either see the vehicle in person, or have someone check it out for you.
Junkyards are an option as well. While many yards have all different cars, there are some that specialize in specific makes. Keep in mind, however, that they usually buy the cars to sell the parts off of, and not to resell the whole car. Again, it doesn't hurt to ask.
If you're in a hurry, consider wrecked car auctions. Generally, these auctions will likely be the easiest way to find what you're looking for. With that said, there are a number of things to keep in mind. First, there are two main auction companies, Insurance Auto Auctions Inc. (IAAI) and Copart. IAAI hosts a majority of the totaled cars from the insurance companies. Copart also handles a number of insurance cars, but pretty much anyone can sell a car through them. While this is helpful because there are a broader range of cars coming in, you do need to be careful as sometimes a car will be purchased through Copart and then put back in after some minor fixes. It really pays to watch on a regular basis, as you'll sometimes see this. In this respect, it's easier to know what you're getting from IAAI, but don't count out Copart, which is where my 2016 Miata came from. As an example, I saw one Miata sell that had some fairly major rear end damage. A week or two later, it showed back up with the rear bumper cover on the car (it was removed in the pictures the first time) and hid the majority of the damage.
Both auction companies supply similar sets of pictures that are good at showing the condition of the car. As with any car purchase, checking it out in person is always a good idea. In both cases, the public can make arrangements to check out a specific car.
It is free to join both auctions, but not all cars are available to individuals. If you have a business license, you can submit that information and usually will then be allowed to purchase any car. If you don't have the required credentials, you can purchase through a third-party agent. Obviously, there are additional fees that come along with that.
Speaking of fees, let's move onto that. Unlike the previous options mentioned, there are fees that go along with purchasing a car from IAAI and Copart. It is best to do your research here, as it's possible that using one of the agents may be cheaper than buying on your own. In my case, purchasing my car through Copart as an individual (different states have different rules on what you can buy – Washington State allows the public to buy more than some other states do), I had to pay a 20% buyer's fee; $79 internet bid fee; a $59 gate fee; and sales tax on the purchase price. While most of this information is readily available on their websites, it's still challenging to know how much your final price will be until you've already won the bid and committed to buy. Buyer beware.
If you buy non-local, both companies have shipping quotes available. Factor this in as well to what your final cost will be.
One last thing to keep in mind with these auctions is that you will be bidding against wrecking yards in a lot of cases. They've usually done their research and know what they can get for individual parts. Sometimes cars go for more than you expect as parting out a car may well be more lucrative for them than you can justify for a rebuild.
As a last option, always keep your eyes and ears open. It may seem a little scummy, but sometimes you'll find someone that wrecked their car and has the opportunity to buy it back from the insurance company. This may give you the cheapest option, but there are a lot of logistics to make this work. It also is taking advantage of someone else's misfortune, so tread lightly.
The next article will focus on my own personal search for a car and what the plans moving forward are.