– Mazda News and Notes for the Rolex 24 at Daytona –
In this news release:
1.) Mazda's "skakuchi"
2.) 54 drivers in Rolex 24 entry list have Mazda series background
3.) Mazda Prototypes to carry memorial decals
4.) Drive a Mazda at Daytona
5.) NASCAR Cup spotters added to the Mazda team
6.) Foley joins Freedom Autosport this weekend
IRVINE, Calif. (January 24, 2017) – Untold hours of off-season preparation plus a brand new race car, the Mazda RT24-P, makes the Mazda Prototype team a contender for victory in this weekend's 2017 Rolex 24 at Daytona. But, beyond meticulous planning, a little luck and good fortune can play a huge difference between an historic victory and "we'll try again next year."
The Mazda Prototype team will have a large rice spoon (called a skakushi) in their pit box for the Rolex 24 weekend. In Japanese culture, the spoons are talismans for good luck, victory, business prosperity and a safe household. The spoon was brought from the Miyajima Temple in Hiroshima, Japan, by drivers Tom Long and Tristan Nunez with Mazda Motorsports boss John Doonan after a recent Mazda fan festival near there. The characters on the spoon read "Certain Victory" and "Must Win."
The first spoons were crafted for soldiers more than two centuries ago. At a temple, soldiers would write their name on a spoon before going into battle. When they returned victorious, they would retrieve the spoon to commemorate the triumph. The spoons were meant to "scoop the enemy."
The entire Mazda Prototype team made a commitment to carry the skakuchi to every race. When a race is won, everyone will sign the back of the spoon, which will then be displayed in a prominent place. Before each race, the team will huddle to share a chant to remind them of the many people they are racing for. The chant is: "One team. One goal. For the Mazda family. We must win."
More than 50 Drivers in the Field Competed in the Mazda Driver Development Programs
Based upon the entry list of the Rolex 24, 54 drivers have competed in one (and sometimes both) of the Mazda driver developments programs. The Mazda Road to 24 includes the IMSA Prototype Challenge (formerly known as Mazda Prototype Lites) and the MX-5 Cup. The Mazda Road to Indy open-wheel program includes USF2000, Pro Mazda and Indy Lights. Mazda's goal in each program is to help develop the careers of young racers, and to see them succeed in professional racing.
Each of the six Mazda Prototype drivers have come through the program, with nine drivers in the starting field having won Mazda driver development scholarships: Joel Miller, Spencer Pigot, Dane Cameron, Connor De Phillippi, Sage Karam, Adam Christodoulou, Tristan Vautier, Jack Hawksworth and Jonathan Edwards. The total of 54 drivers doesn't include prominent names such as Scott Pruett, who drove a Mazda RX-7 in his first Rolex 24, or Bill Auberlen, who also began his career in a Mazda RX-7.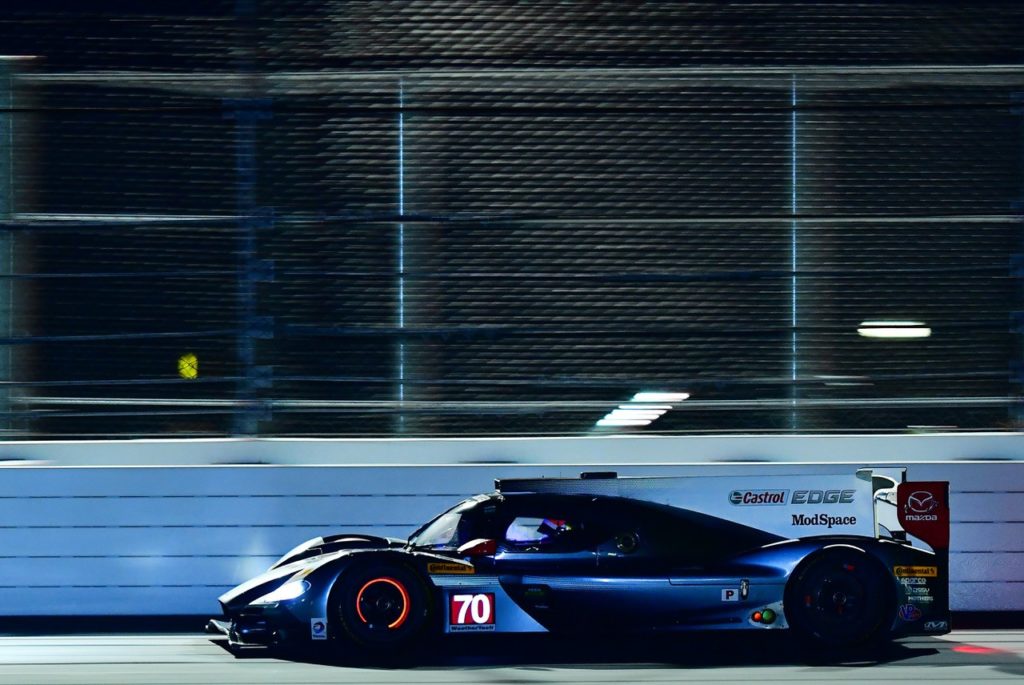 Memorial Decals for Three Mazda Greats
Both Mazda Prototypes will carry special decals this week, commemorating a trio of influential Mazda racers who have passed away in the last year. Each of these gentlemen exhibited a deep passion for Mazda, and fulfilled the Mazda credo of "Never Stop Challenging."
* Yoshimi Katayama first gained world prominence as a motorcycle racer in the mid-1960s. He had four Grand Prix motorcycle victories before switching to four wheels, where he was a Mazda factory driver until 1990. Among the many highlights of his driving career was a podium finish in the 1983 Bathurst 1000 in Australia. He passed away in March, 2016 in Japan.
* Jim Mederer will always be remembered as a towering figure in the rotary engine world. Using Mazda's rotary engines prepared by Mederer, his team entered IMSA racing in the 1970s. His rotary engines also set records at the Bonneville Salt Flats, and he even won as a driver in the Modified Eliminator class at the 1977 Winternationals. His Racing Beat company created, developed and sold parts and industrial machines for a number of Mazda projects, not just for racing. He passed in late 2016 at the age of 74.
* Dennis Spencer created Team Spencer Motorsports, which competed in IMSA and Grand-Am racing from 1998 through 2011 with Prototypes such as the Kudzu DG3. But, he is most fondly regarded for his long-time commitment to racing only with the Mazda rotary engine. Spencer, who passed in November 2016, is believed to have had the largest collection of rotary powered Prototypes anywhere. His team had facilities in Denver and Buford, Ga., near Atlanta (which included a half-mile indoor karting track!), and most recently competed in historic race events.
Drive a Mazda at the Rolex 24 at Daytona
While watching the new Mazda Prototype race cars is sure to be exciting, attendees at the Rolex 24 will also have an opportunity to experience the joy of driving a Mazda. Located just outside of the track near NASCAR Turn 1 Plaza, the driving course will allow licensed drivers to get behind the wheel of a variety of new Mazdas. Fans can sign up (***see note below) at the Ride & Drive course, or at the Mazda consumer display in the Daytona infield, adjacent to the infield section of the road course. The driving experience is scheduled to be open 9 AM to 5 PM Friday and Saturday and 8:30 AM to 2:00 PM Sunday.
At the Mazda consumer display, fans can see seven models of new Mazdas, including the 2017 Mazda MX-5 Miata RF. The Mazda Owner's Lounge will also be open, allowing Mazda owners to enjoy a cool drink inside the comfortable lounge, plus an elevated viewing platform and a place to charge a smartphone.
NASCAR Eyes in the Sky
Four sets of eyes will help the Mazda Prototype drivers traverse 24 hours of race traffic. In addition to regular spotters Daniel Tremblay (son of SpeedSource team owner Sylvain Tremblay) and Andrew Carbonell (Mazda factory driver in the Continental Tires SportsCar Challenge series), two noted spotters from the Monster Energy NASCAR Cup Series will be a part of the team this week. Tim Fedewa, who spots for Kevin Harvick in the No. 4 car, and Tyler Green, spotter for Aric Almirola in the No. 43 car, will be communicating with the team from high above the Daytona tri-oval.
Freedom Adds Foley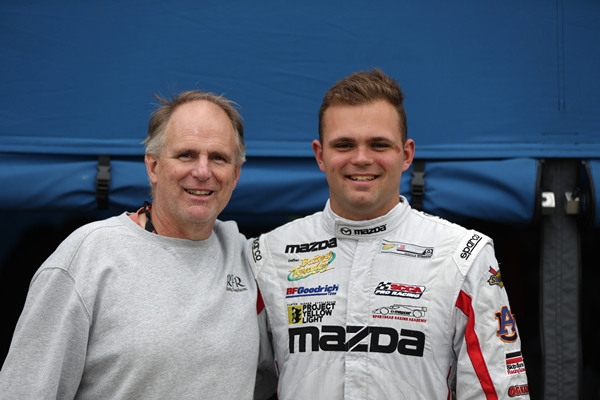 Robby Foley (pictured above), a Mazda scholarship winner in 2016 for the MX-5 Cup series, will join Britt Casey Jr. in the TRUMPF-sponsored No. 27 Mazda MX-5 for Freedom Autosport in the four-hour BMW Endurance Challenge at Daytona, the season-opening race for the Continental Tire SportsCar Challenge series. Foley, 20, is a native of Randolph, NJ and is pursuing a mechanical engineering degree at Auburn University. Foley won three races last year in the Idemitsu MX-5 Cup presented by BFGoodrich® Tires while carrying Mazda's Soul Red paint scheme. This will be his first start in the Continental Tires series.
Mazda Motorsports
Mazda Motorsports boasts the most comprehensive auto racing development ladder system of any auto manufacturer in the world. The Mazda Road to 24 (#MRT24) program offers a number of scholarships to advance drivers up the sports car racing ladder, beginning with the MX-5 Cup series and culminating with the Mazda Prototype team. The Mazda Road to Indy (#MRTI) is a similar program that includes Mazda-powered categories of USF2000, Pro Mazda and Indy Lights. In grassroots road racing, more Mazdas race on any given weekend in North America than any other manufacturer. Mazda is also the title sponsor of the renowned Mazda Raceway Laguna Seca in Monterey, Calif. Follow all of the latest news at MazdaMotorsports.com, @MazdaRacing on Twitter, and MazdaMotorsports on Instagram and Facebook.
*** Note: All participants must have a valid U.S. driver's license, be 18 years of age or older, sign a waiver form and pass a breathalyzer test. Participants must wear closed-toe shoes.