The MX-5 Cup boasts a diverse paddock of professional racers and business professionals who spend their weekends racing as a hobby. Tim Probert is one of only two racers who has competed in every season of the MX-5 Cup.
Prior to 2015, Tim had a very busy work schedule as a Fortune 500 executive, racing as often as his schedule would allow. Now retired, Tim has turned even more of his time and attention to his favorite sport and series.
Tim is a native of the UK where he spent most of his formative years in the Cotswolds, a green and pretty area in Southwestern England with lots of fun winding and, being Britain, often damp roads. Cars and driving were always a passion of his, and he visited a number of tracks there with his father as an avid spectator, including watching unlikely battles between diminutive Minis and bulky Ford Galaxies.
After graduating from the University of London, he spent five years working as a field geologist on oil rigs offshore in Europe, and remoter parts of Africa and the Middle East, analyzing rocks to help find oil and gas.
In 1976 he married his wife Hilary and in 1982 they waved goodbye to family and friends to move to Houston – where all roads ultimately lead in the energy industry. After assignments to Canada and Salt Lake City, Houston became home. Tim worked for a number of companies in the energy sector, ultimately in executive roles. Today he's an advisor to First Reserve, an energy focused Private Equity firm.
Tim started his competition driving apprenticeship sliding a car around cones in large parking lots, a fun activity called "autocross," timed against the clock. A spell of instructing high speed driving for owners of racy street cars at race tracks in Texas followed. And just after he turned 50, when both his kids had started college, it seemed like a wonderful time to pursue a passion he'd had for years – this time as a racer, not a spectator.
In the early 2000s, Mazda's iconic sport's car, the Miata, was gaining a name for itself in club racing. Large fields of identical, relatively inexpensive cars, that were quick, reliable and with amazing handling – perfect for honing the craft – were forming all over the country. "Spec Miata" was flourishing. Tim bought a Spec Miata race car and joined what had become the club racing destination for many aspiring racers. To his surprise, he did reasonably well and had much excitement and enjoyment doing it.
But the fun really began in 2006. Friend, racer and team owner Ara Malkhassian encouraged Tim to make the leap to professional racing. "Are you crazy," Tim recalls stating. "I'm 55, 20 years older than when most pro racers get a pink slip." But, Ara was persuasive in discussing the benefits, hooking Tim. Tim joined ALARA Racing to campaign a Mazda in what is now known as the Idemitsu Mazda MX-5 Cup presented by BFGoodrich® Tires.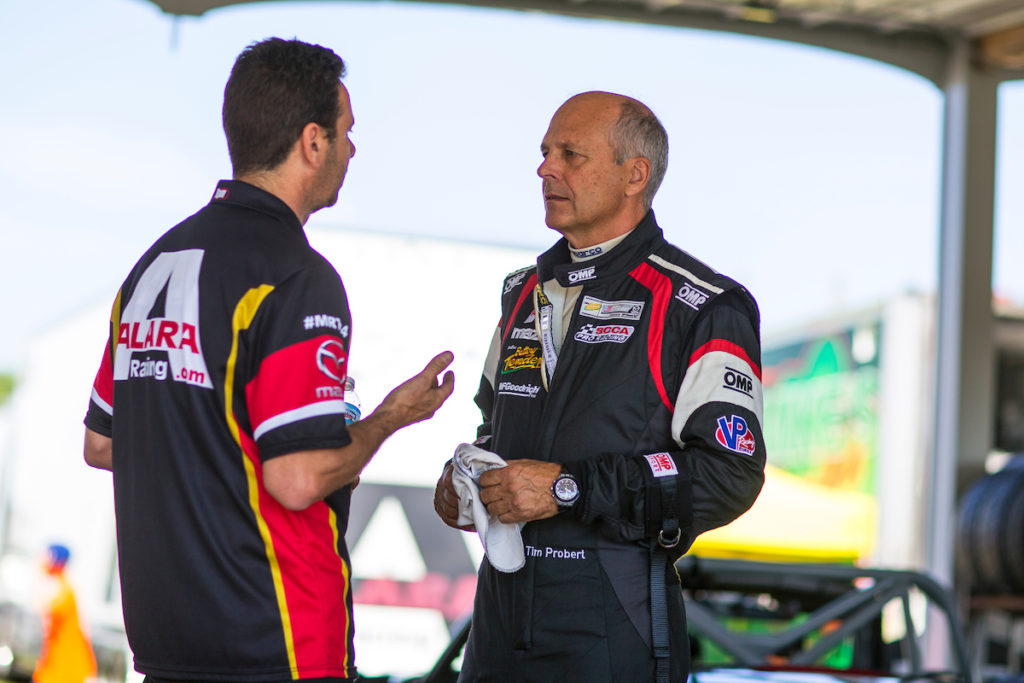 He has run consistently with the team from that inaugural 2006 season to the present, finishing 10th in series points in 2009 and 2010 and 7th in 2011 despite being perhaps the most "mature" driver in the series and having to juggle business commitments, which have caused him to miss practices and some qualifying sessions over the years (resulting in starts from the back of the field).
Tim has realistic expectations. "For me, it's about learning to be a better racer and having a blast doing it. The quality of driver in the series is amazingly high and I've had tremendous pleasure racing against and learning from some outstanding drivers. Alumni from the series can be found at some of the highest levels of sports car racing today."
For 2017, Tim is again planning to run his number 26 Mazda with ALARA Racing, and plans to continue to learn – and have fun.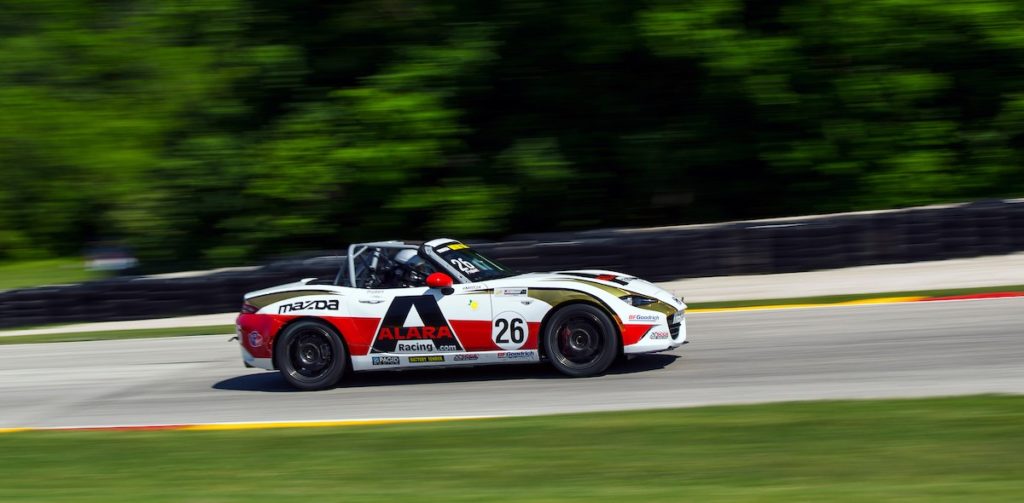 We asked Tim to share his thoughts on a few aspects of the sport:
On fitness: "Driving a race car is hot and tiring work. Racing is a fantastic motivator to stay fit and maintain weight. These cars are a tight fit for any frame."
On dealing with heat: Proper hydration goes hand in hand with that. As any male AARP member will tell you, that means managing output as well as input."
On the mental challenge: "It's a very data driven sport, in search of the last second. It's a fun and challenging aspect that keeps you mentally sharp."
On surprising aspects of the sport: "Signing autographs! We have an active fan base who enjoys interacting with us – young and old."
Being the proper gentleman, Tim wrapped up our discussion noting that he wanted to thank a few key people: "Ara Malkhassian for getting me in to this in the first place. John Doonan of Mazda for having the drive to develop the sport. My wife for being a longstanding sponsor."