James Dayson may have been the worst peanut vendor in the history of the Champ Car race in Vancouver.
And that's OK. Doing a lousy job selling peanuts helped Dayson launch a racing journey that has led him into the cockpit of the No. 12 Extreme Speed Motorsports car this season in the Mazda Prototype Lites Presented by Cooper Tires.
Dayson attended the open-wheel race in his hometown as a 12-year-old selling peanuts in the grandstands. But there was one problem.
"I didn't do a very good job because I spent most of the time watching the cars instead of selling the peanuts," Dayson said, laughing.
But that job, and working in his uncle's beer garden at the race, sparked a passion for auto racing that Dayson couldn't ignore. He started watching Formula One races in the 1990s and attended the Malaysian Grand Prix in 2003.
Dayson talked with his buddies in 2008 about his desire to get behind the wheel of a race car. The topic loomed larger and larger in his life.
"The switch in my brain hit a different gear," Dayson said. "The passion and the drive just kept getting stronger."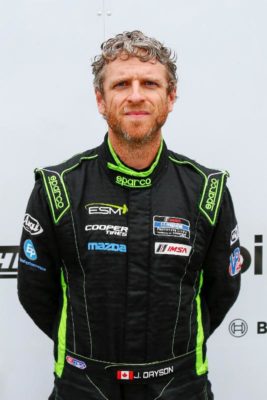 Dayson, who owns a successful investments and venture capital company, was married in 2010 and traveled the globe for a year with his wife. As they sat on a beach in Bali, Dayson looked to his wife with racing once again at the front of his mind.
"I just remember looking over to her and saying, 'I've got to do this,'" Dayson said.
That desire shifted into reality when Dayson signed up for a racing school. But he never participated in the school because he forged a relationship with the owner of a team in the Cooper Tires USF2000 Championship powered by Mazda, the first rung in the Mazda Road to Indy open-wheel feeder system.
Dayson never had driven a race car when he tested the USF2000 car for three days in October 2011 at Buttonwillow Raceway Park in Buttonwillow, California.
The team owner then asked Dayson to participate in the Chris Griffis Memorial Test just two weeks later on the road course at the Indianapolis Motor Speedway.
It was a crash course, figuratively and almost literally for Dayson.
He was alone on track at Buttonwillow. But he was turning laps at the Griffis test alongside some of the most talented young open-wheel racers in North America, including Spencer Pigot, Neil Alberico and Scott Hargrove
"It was horrific," Dayson said. "I was absolutely terrified. I was like, 'Wow.' That was a big reality check. I caused a lot of red flags. It was pretty embarrassing sitting in the penalty box."
But Dayson had dreamed of racing for too long to be deterred. He proceeded to compete in the USF2000 Winterfest winter season in 2012, winning the championship in the sparsely populated National class with three victories in four starts with Jensen Motorsport.
That success helped restore his confidence and ignite his desire even further. Dayson competed in a partial USF2000 season in 2012, sidelined due to an injury suffered playing hockey.
A first breakthrough came in 2013. Dayson competed in the entire National class season in USF2000, placing third in the championship after finishing on the podium in each of his 11 starts with Arms Up Motorsports.
Dayson suffered a serious back injury after the 2013 season. But he avoided surgery with an aggressive conditioning program and returned to USF2000 for a partial campaign in 2014.
All of Dayson's racing aspirations entered a higher gear in 2015, when he completed a full season in USF2000, which had eliminated the National class after the 2013 season. Dayson was driving in the deep end of the pool at every race, yet he managed to finish 13th in the standings.
"That was huge for me," Dayson said. "The commitment had shifted, big time, with my training because of my back injury. 2015 was really good for me. I finally got some top-10 results.
"I just started refining my race craft, which was really getting better. The mental work I was doing and just the dedication."
But Dayson's career path in motorsports took an unexpected detour in the summer of 2015. His USF2000 teammate Max Hanratty made his Mazda Prototype Lites Presented by Cooper Tires debut in August at Road America and finished fifth in his first start with Extreme Speed Motorsports.
Hanratty's success teased Dayson's curiosity about Prototype Lites. Dayson's driving coach, Steve Welk, introduced Dayson to Extreme Speed Motorsports driver-owner Scott Sharp, and Dayson found himself in an Élan DP02 chassis powered by a Mazda engine and racing on Cooper Tires at the season-ending Rounds 13 and 14 during Petit Le Mans last October at Road Atlanta.
Dayson finished 13th in his first series start. But it was his drive from a 21st-place start to a ninth-place finish the next day in wet conditions that convinced him to leave open-wheel racing for sports cars starting in 2016.
"I was shocked how much the downforce helped with the grip with the wet," Dayson said. "I used to be absolutely terrified of the rain. If I knew it was going to rain the next day, I was having a horrible sleep the night before because I was so nervous.
"And driving this car in the rain, it was like, 'Oh, my God, it's such a difference.'" For me, it was just right away I got in, and I just felt more comfortable. I don't know what it was, whether it was a mental thing because you have a bigger, beefier car, and you actually have the physical carbon tub instead of a tube-framed chassis. You have a lot more room inside the cockpit, as well.
"I got in, and it was like, 'This is the home I need to be in right now.'"
Dayson, 38, has made steady progress during his first full season with Extreme Speed Motorsports in Mazda Prototype Lites Presented by Cooper Tires, racing with teammates Hanratty, Michael Whelden and Naj Husain.
Increasing knowledge of the car and continued focus on race craft have helped Dayson produce a recent summer stretch of consistency. He has raced to career-best fourth-place finishes at each of the last two events, in mid-August at Trois-Rivières and in early September at Mazda Raceway Laguna Seca, helping him climb to sixth in the Lites 1 standings.
"It shows to me that all the hard work I've put into this from every aspect, the physical, the mental, the emotional, is finally coming to fruition," Dayson said. "There's still so much more I want to do, such as podiums and wins. I want to be fighting with those (top) guys because I take this very seriously.
"Forget my age: I don't see any reason why I can't have a career like these guys. Granted, they are younger, and they'll probably get more looks from teams in terms of paid rides, but I'm going to do everything I can to put myself in the same position as those guys."
Dayson said he plans to stay in the International Motor Sports Association (IMSA)-sanctioned series next season when it becomes Prototype Challenge. He plans to drive one of the exciting new LMP3 prototypes debuting in North America in the series.
Hanratty, 23, also figures prominently in Dayson's future racing road map.
Despite their 15-year age difference, Dayson and Hanratty have become fast friends over the past few years, eating meals and driving to and from the track together and hanging out away from the track.
Dayson eventually wants to climb into the WeatherTech SportsCar Championship with Hanratty, possibly even for an attempt at the Rolex 24 At Daytona next January before turning their attention back to the Prototype Challenge series in March at Sebring International Raceway. Dayson and Hanratty also have similar driving styles and car setups, which make them less of an engineering challenge for a team.
"Everything IMSA is doing is giving the series and the drivers the opportunity to make it a greater success and help get a good field," Dayson said. "I'm really excited for next year."
Mazda Prototype Lites Presented by Cooper Tires
Mazda Prototype Lites Presented by Cooper Tires, an International Motor Sports Association (IMSA) Challenge Series, is in its 11th season in 2016. The series provides thrilling action and grooms drivers for future WeatherTech SportsCar Championship competition in the Prototype and Prototype Challenge classes.
The two classes of competition in the Mazda Prototype Lites Presented by Cooper Tires series take drivers and teams down unique, exciting roads of prototype sports car racing. Nimble, high-tech, purpose-built Lites 1 machines pack in the power with a 230-horsepower, 2-liter Mazda engine designed to prepare aspiring professionals for prototype competition in the WeatherTech SportsCar Championship and offer a challenging environment for mature semi-professional drivers, including competition in a Masters Championship. Equally capable and cost-effective Lites 2 machines offer new competitors a perfect introduction to the world-class competition offered by IMSA.
For more information about Mazda Prototype Lites Presented by Cooper Tires, visit www.imsa.com, follow hashtag #MazdaLites @IMSA on Twitter or IMSA on Facebook.
About IMSA
The International Motor Sports Association, LLC (IMSA) was originally founded in 1969 and owns a long and rich history in sports car racing. Today, IMSA is the sanctioning body of the IMSA WeatherTech SportsCar Championship, the premier sports car racing series in North America. IMSA also sanctions the Continental Tire SportsCar Challenge and the Mazda Prototype Lites Presented by Cooper Tires, as well as four single-make series: Porsche GT3 Cup Challenge USA by Yokohama; Ultra 94 Porsche GT3 Cup Challenge Canada by Yokohama; Ferrari Challenge North America; and Lamborghini Super Trofeo North America. IMSA – a company within the NASCAR family – is the exclusive strategic partner in North America with the Automobile Club de l'Ouest (ACO) which operates the 24 Hours of Le Mans as a part of the FIA World Endurance Championship. The partnership enables selected IMSA WeatherTech SportsCar Championship competitors to earn automatic entries into the prestigious 24 Hours of Le Mans. For more information, visit www.IMSA.com, www.twitter.com/IMSA or www.facebook.com/IMSA.