– Idemitsu Mazda MX-5 Cup presented by BFGoodrich® Tires points leader Nathanial Sparks tops racers from eight countries at Mazda Raceway
MONTEREY, Calif. (September 11, 2016) – The final race of the inaugural Mazda MX-5 Cup Global Invitational was nothing short of thrilling. Nathanial Sparks, aka "Sparky," aka "Mr. Consistency," added the biggest win to his growing racing resume. After winning the pole and finishing second in the first race of the weekend, Sparks was looking for the win today to secure the championship. Sparks executed his strategy flawlessly after taking the lead early in the race. The combined finishes from both races means that Sparks is the inaugural Mazda MX-5 Cup Global Invitational champion. Sparks will now turn his focus back to closing out the 2016 Idemitsu Mazda MX-5 Cup presented by BFGoodrich® Tires season where he is the current points-leader with two races remaining. The MX-5 Cup championship now moves to the double-header at Road Atlanta on September 29, where the $200,000 Mazda Road to 24 Scholarship will be awarded to the champion.
Finishing in second was Sparks' teammate, John Dean II. In third was Yuui Tsutsumi, one of the nine international racers competing. Tsutsumi was impressive in both his speed and his racecraft, showcasing that he was a quick study, having never visited the challenging Mazda Raceway circuit previously. Other notable finishes include German racer Moritz Kranz, who barely missed the podium, with a fourth place finish today.
The top five overall, from combined points were as follows:

| | | | | |
| --- | --- | --- | --- | --- |
| 1.) | NathanialSparks | USA | SickSidewaysRacing | 121 |
| 2.) | JohnDeanII | USA | SickSidewaysRacing | 109 |
| 3.) | RobbyFoley | USA | AtlantaMotorsportsGroup | 98 |
| 4.) | MoritzKranz | Germany | CopelandMotorsports | 98 |
| 5.) | YuuiTsutsumi | Japan | CopelandMotorsports | 96 |
QUOTES:
Masahiro Moro, President and CEO of Mazda North American Operations: "Mazda is an international company with a passion for driving, and that passion includes motorsports. We are thrilled to be able to export some of that driving excitement from our established North American motorsports group to Mazda affiliates around the world, and we are already discussing how to make the second annual MX-5 Cup Global Invitational even better."
Nathanial Sparks (America): On the race: "My team and I looked at the points last night and figured out what needed to be done. The hard part was executing it. I got out there and took an early lead because I knew my only hope was to get Robby (Foley) battling and, hopefully, get him shuffled back because there are so many great drivers here. I kept my head down and I think I ran as best as I could the whole race. But, man… 30 laps at Mazda Raceway is something to be proud of."
Added Sparks, regarding racing with international drivers: "It's exceptionally cool to see an international driver on the podium. Honestly, there's a lot of (American) guys here that have a lot of experience and laps in these cars and on this track, but for these international racers to hop into a car and show up the way they did showcases their level of talent, and it's super impressive."
Yuui Tsutsumi (Japan): "Yesterday I made a bit of a mistake, and was not able to recover from there. Today, it was a fresh start, and I think I was able to exert my true capability. If I get another opportunity, I think I can get to a higher position as I learned from the second race. I would like to take up the challenge again racing in the MX-5 Cup."
Kamil Franczak (Poland): "The race was amazing. I felt much more comfortable in the second race and was pleased with my consistency and pace throughout. It felt amazing to be here, and overall the Friends of MX-5 program is an amazing opportunity to make dreams come true. They gave me the chance to race here at Mazda Raceway."
Anthony Crawford (Australia): "To be part of the inaugural MX-5 Invitational is a massive privilege. Racing at the spiritual home of Mazda, with some of the best MX-5 Cup racers from around the globe, has been an eye-opening experience – made even better that we did it in an MX-5 racer.
Mazda Raceway Laguna Seca – Invitational Round 2 Official Race Results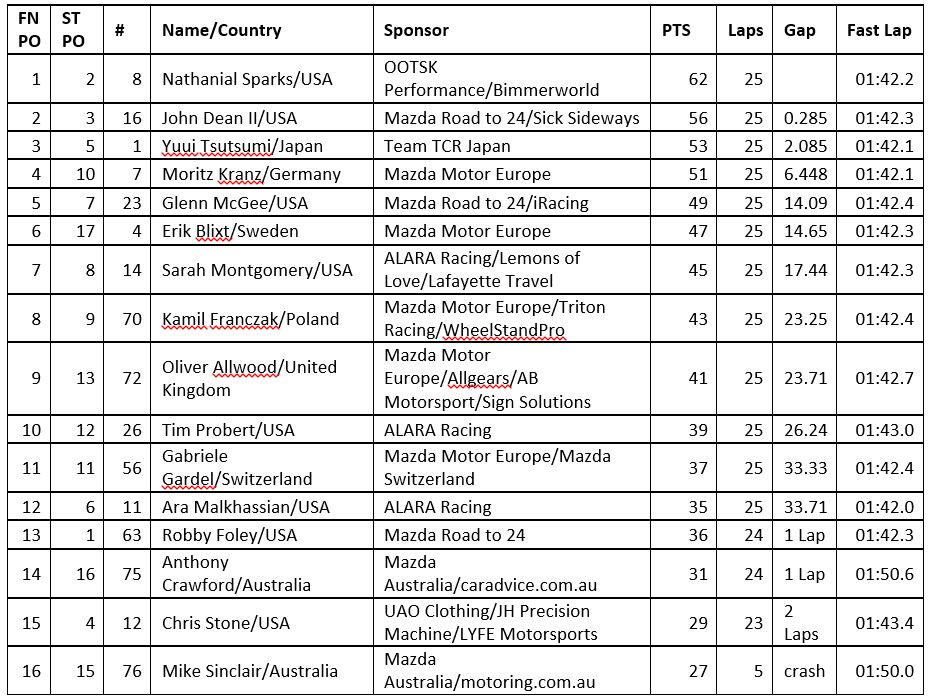 Complete results can be found at www.MX-5Cup.com
The races can be viewed in the archives at www.MazdaLIVE.com
About MX-5 Cup
The MX-5 Cup race cars start as complete MX-5 road cars from the Mazda Hiroshima, Japan factory before being transported to engineering development partner Long Road Racing in Statesville, North Carolina where they are produced into a race car. The process includes disassembly of the production car, welding and paint of a full roll cage and interior, and assembly of the race car, adding more than 250 motorsports-specific parts. Other components of the car, including the Mazda SKYACTIV 2.0 liter engine are sealed to ensure even competition and a cost-effective platform.
The Idemitsu Mazda MX-5 Cup presented by BFGoodrich® Tires is the signature spec series for the Mazda Road to 24 (#MRT24), the sports car counterpart to the Mazda Road to Indy (#MRTI). On both paths, Mazda-powered champions earn a Mazda scholarship to advance their career. The MX-5 Cup champion earns a $200,000 scholarship.
Information on the car is online at www.mazdamotorsports.com.
About Mazda Motorsports
Mazda Motorsports boasts the most comprehensive auto racing development ladder system of any auto manufacturer in the world. The Mazda Road to 24 program offers a number of scholarships to advance drivers up the sports car racing ladder, beginning with the MX-5 Cup series and culminating with the Mazda Prototype team. The Mazda Road to Indy is a similar program that includes Mazda-powered categories of USF2000, Pro Mazda and Indy Lights. In grassroots road racing, more Mazdas race on any given weekend in North America than any other manufacturer. Mazda is also the title sponsor of the renowned Mazda Raceway Laguna Seca in Monterey, Calif. Follow all of the latest news at MazdaMotorsports.com, @MazdaRacing on Twitter, and MazdaMotorsports on Instagram and Facebook.