As the SCCA Runoffs presented by Garmin VIRB approach, we caught up with one of the favorites to earn a class victory, Rob Warkocki. Warkocki isn't new to winning and has 30 years of history in the sport. So, we wanted to learn more about his journey here.

MM: How did you fascination with racing happen?
RW: My fascination with racing started when I was in 7th grade, when I went to my first event at Blackhawk Farms to watch my uncle, Terry Jesk, race. My fascination with Mazda's started when I saw Rod Millen come through the trees shooting flames at the Press-On-Regardless Rally in the Upper Peninsula of Michigan.
MM: You acquired your RX-2 from one of the Mazda rotary geniuses Alan Johnson. Tell us about that.
RW: In 1985 at Blackhawk Farms, I saw a cool black RX-3 owned by Alan Johnson; I introduced myself, and asked him if he needed any parts. We talked and he told me he had an RX-2 I might be interested in and the rest "is history."
The RX-2 was originally built as a B-Sedan car and was then converted to an IMSA GTU car that finished fourth at the Daytona 24 Hours in 1980. I made the deal with Alan in the summer of '85 to buy the car. I had to make payments in order to afford it. Alan was a long-time Mazda employee and rotary wizard, as you know, who gave me my first "how to build a rotary engine" lesson on his back patio!
By the spring of '86, I went to my first driver's school and haven't stopped for last 30 years. I raced the car for 12 years, setting some lap records at Grattan Raceway and multiple top ten and top five finishes at the Runoffs. The best Runoffs finish with that race car was fourth in '94 at Mid-Ohio. To this day, I have had many people tell me that they remember me racing that car and the flames that would shoot out of it, especially at turn 5 at Road America. (Pictured below, Rob Warkocki pre-race at Road America in his RX-2.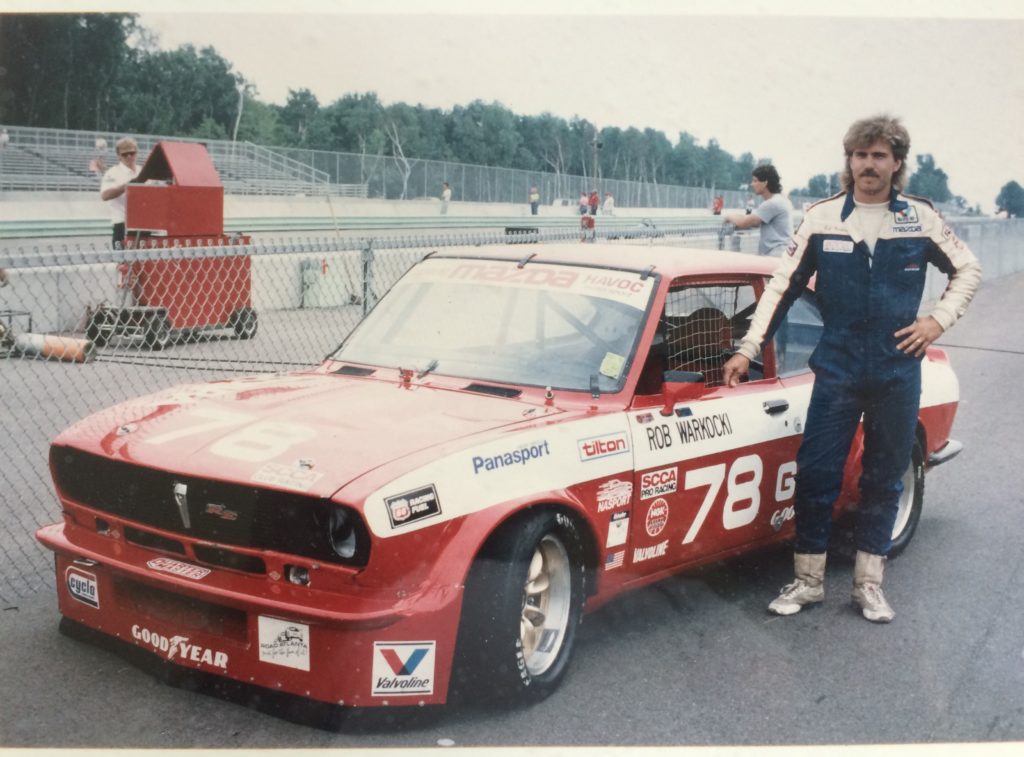 MM: You've have a history of meeting the most influential builders in the industry. Tell us how you met Darryl Drummond.
RW: Before I started racing National events, I met the "hot shot" rotary engine builder from California – Daryl Drummond – at Road Atlanta while he was changing the engine on Howard Coleman's car. Daryl became a friend and mentor to me as he had a soft spot for the "do it yourself" guy.
MM: You also met Craig Carter along the way. What influence did he have?
RW: I met IMSA champion and factory GTO driver Craig Carter when he showed up at the June Sprints to kick all the "little guys'" butts. I know that's the fact because I asked him that. He had been hired by another driver to race his car and win the Runoffs. Craig also quickly became a friend and mentor, helping with the design of my current RX-7. Meeting the experts in the industry has been one of the best things that could have happened to me.
MM: We've heard all you have raced are Mazda's over your esteemed career. Is this true?
RW: Yes. I have only raced a Mazda – first the RX-2 and then the RX-7. It is the only brand of car in which I have taken the green flag and many checkered flags. My car #78 is the same number that Alan Johnson raced. I kept in on the RX-2, funny enough, since I had to do all the work myself to get that car ready and didn't have time to even think about changing it. Then by the time I built the RX-7 there was so much history behind that number, I wouldn't even have thought about changing it.
MM: You've met some of the greats in the industry. Now tell us about your racing history.
RW: In my first Regional season of racing, I won Rookie of the Year for the Chicago Region and the Regional Championship, but my eye was on running the June Sprints and qualifying for the Runoffs so I could run with the best drivers in the country.
My first June Sprints win took awhile and came in 2003. (But there have been multiple wins since.) I first qualified for the Runoffs in '89 and after many top ten finishes, and many heartbreaking DNFs, I finally won in 2010 at my home track of Road America. I was able to repeat the win in 2013 despite the fact that I had been up all night rebuilding an engine. It's nights like that night – laying under the car as the rain was running through the Mazda tent while many people were busy partying to celebrate the 50th running of the Runoffs – that makes you proud when it all comes together in the race and you are first to the checkered.
That never quit attitude reflects my entire 30 year racing career. I am the engine builder, fabricator, welder, suspension guy, bodywork guy, head mechanic, etc. My help along the way has been from the great people in the racing community who want to lend a hand to help get me out on the track. That's what makes this sport so special.
MM: Tell us what's in store next.
RW: I'm really looking forward to getting back to Mid-Ohio as I have not been there since the Runoffs were moved from there. I feel that I have a very competitive package and I'm looking forward to the opportunity to show that. There are many good competitors that will make this Runoffs exciting and challenging such as defending National Champion Joe Kristensen in an Acura. We also have a new, top competitor to the class – Phil Lasko (formally a GT1 driver) – now in a Mazda RX-7. Also, we have returning Mazda competitor Stacy Wilson in a Mazda RX-7 who will be a tough challenger.
MM: Looking back on 30 years of racing, what do you reflect on?
RW: It's hard to believe that is has gone by so fast. This is not just a hobby for me; it is a lifestyle. I have been fortunate to have the help and support of my wife and family, a few key friends like Mike Bashem, and various other people that have helped at times throughout the years. This lifestyle takes up a lot of my time and energy, but I would do it all again in a heartbeat. I have met many great people through racing that I have the privilege of calling friends. To be considered one of the top contenders is humbling.