Throughout the racing season, not just the end of it, Mazda Motorsports asks its factory drivers to reflect on lessons they've learned. Why? To make adjustments and to never stop challenging. We asked Andrew Carbonell to share some of his for our readers on this site. We hope it helps those who desire to follow in his footsteps (or tread marks).

Andrew Carbonell:
To be a great race car driver, one should not focus 100 percent behind the wheel. One way to improve: Coach. In 2016, I have kept up my private coaching and events that I do for my own business. But there are other ways too.
In 2016, I have been working triple duty for Mazda. I am back with Liam Dwyer contending for another championship in the IMSA Continental Tire SportsCar Challenge driving our #26 Freedom Autosport Mazda MX-5. I've also had the opportunity to experience the other side of the racing industry as both the driver steward and scholarship driver coach for the Idemitsu Mazda MX-5 Cup presented by BFGoodrich® Tires in its inaugural season. Additionally, I get to be a spotter, or as I like to call it, "The eyes in the sky" for the Mazda Prototype team.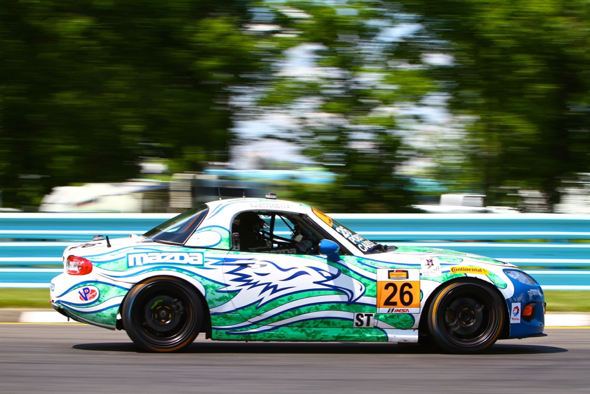 About this time last year, in the Continental Tire SportsCar Challenge, Liam and I could do no wrong; it felt easy! We had run flawless races; not had any mechanical issues or crashes; and scored multiple podium finishes. This year has proven to be a very different story. Unfortunately, we have been plagued by mechanical issues, electrical issues and even been caught up in a first lap wreck for being in the wrong place at the wrong time. It's hard to know for sure where I could have made adjustments on this front. But it certainly helps keep things in perspective. But, on the other hand, we were able to score a podium finish at our home track of Mazda Raceway and keep our podium streak of seven years straight alive and kicking.
The MX-5 Cup has been a highlight of my year. After being one of the main development drivers for the program, it was a "proud dad" moment to watch 40 race cars roll out onto the track during their first race at Mazda Raceway. Mazda, SCCA, and Long Road Racing have done an incredible job in making this series a reality. It is almost impossible to comprehend the magnitude of what was done in such a short time frame to get over 40 of these identically-built cars racing on track together.
Now that we have over 40 spec cars racing on track, there has been some incredibly close racing throughout the entire field. Since I was one of the main test drivers for the MX-5 Cup car, Mazda brought me on-board as the Driver Steward to be an additional resource for the SCCA, who sanctions the series; simply, I am an intermediary between the series and drivers. I know the characteristics of the car and have raced on all of these tracks. Sounds like a great gig and it is, but I thought to myself, "Man, I'm not going to have any friends at the end of this season." Fortunately, that hasn't been the case and I have been able to meet a whole new group of great people. In my career, I have always been on the side of the driver. Seeing both sides has opened my eyes to the challenges everyone has. Certainly, this has enhanced by understanding of rules making, enforcing, and most of all communication.
Spotting for the Mazda Prototypes has also been a new experience as well. For 2016, the Prototypes have made the switch from diesel to gas power with the MZ-2.0T engine. With this motor swap came increased speed and performance. I won't forget standing at the top of the grandstands in Daytona, watching our Mazda's attack every other Prototype out there with such speed and determination and talking to our drivers over the radio, telling them the names of the current IndyCar or former Formula 1 drivers that they are out-braking into turn 1 coming off the high banks of Daytona. These guys have been working towards this for three years and it feels so good to see them podium and claim two poles so far. For me, this experience has been a balance of emotions. It has been a season of fighting great adversity as the Prototypes are just about to break through in their quest to find the top step of the podium. And as the Mazda saying goes, "Never stop challenging." That we won't!