With this being Father's Day weekend at the track, we talked to a few MX-5 Cup racers. We asked the racers for the best advice their dad ever gave them.
Mike Collins: When I was in high school, I was into hot rods and maybe even participated in a drag race or two. I'll never forget my first lesson in racing from my dad: "Son, you can go as fast as you can spend it."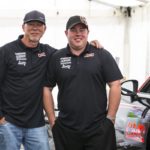 Dean Copeland: "Don't ever look back, only look forward." When I started racing go karts, I would turn my head back and look at the competitors and see where they were. This caused distractions to my racing line and performance; so with this advice I began to not worry about who was behind me, just put in good laps and hit my marks every time, and take no prisoners. This advice can be used in everyday life as well. Don't live in the past. Just look forward and great things will come to those who have big aspirations and work hard to achieve them. This is the motto and attitude all of team CMS lives by, and we will set our sights on Road America next week for Rounds 5-6 with big goals and only look forward to the ultimate goal, the 2016 Idemitsu Mazda MX-5 Cup championship!
Robby Foley: The best advice my dad has ever given me is that anything in life worth achieving is hard work and if you are going to do something you better commit 100 percent; otherwise why bother? This sounds corny, but it applies directly to racing – something that I have committed my life to over the past four years. Coming from a grassroots background, achieving great things in professional racing is extra rewarding and all due to the hard work and sacrifice that my family and I have committed in order to live out my dreams."
Ashton Harrison: The best advice my dad has given me is, 'It is what it is.' No matter the outcome to my race weekends, you pick up what you've been given and move on.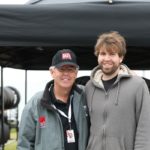 Tom Martin III: Trying to come up with the 'best advice' from my dad, I realized that he's not really an advice-giving type of guy. He's more of a lead-by-example person; the biggest takeaway I've gotten from his example is this: Success in any venture often appears to be easiest to achieve through selfish action and indifference towards the well-being of others; but, my dad has taught me that success is most worthwhile if it is accompanied by integrity and kindness.
Sarah Montgomery: Take the negative things people say and turn that into motivation to prove them wrong. Also, one of the most important things that has always stuck out to me about him is when he says: 'You should always believe in yourself and follow whatever dream you may have.'
Kenny Murillo: Some of the best advice my dad gave me was to always stay true to myself. Be patient, for your time will come to show the world your talent. The guys who are successful never stop preparing. Always learn from every experience. Good or bad.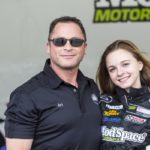 Aurora Straus: Dad constantly reminds me to hold my head up and to be proud of everything I do. When I grow frustrated by any setbacks I encounter, whether it be slower times or SAT commitments, he's the voice right behind me encouraging me to keep racing forward. My entire racing career up to this point has been a bonding experience for us: he's come to all of my races so far, and we've gotten so much closer traveling together. This weekend at Road America is actually the first weekend he won't be at one of my races, and I'll miss him a ton!
Drake Kemper: The best advice my father has given me is to listen. I used to talk over everyone, the excitement of ideas popping into my head would take over. But ever since working on listening and eye contact, I take in so much more valuable information in learning from my elders and role models.
~~~~~~~~~~~~~~~~~~~~~~~~~~~~~~~~~~~~~~~~~~~~~~~~~~~~~~~~~~~~~
We asked the dads about their most special moment as a racer dad.
Kevin Copeland: There have been so many great memories over Dean's 18 year racing career; however, I will share a great one with you. The year was 2011; the track was Road America; racing in MX-5 Cup on Father's Day; coming to take the checkered flag for the win; I'm standing on the wall across from the flag stand; waiting to see who is going to take the win as I could not see the cars until they crested the hill. At that very moment, I saw Dean was leading; he radioed to me, 'Happy Father's Day!!!' Man, now that is really hard to top! What a great Father's Day gift for sure.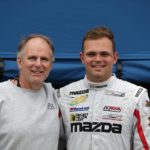 Rob Foley: That's an easy one! Robby figuring out how to make the outside of the Turn 2 hairpin at MRLS work; driving into the lead and the win there last month. Next best was seeing him pop out from under the bridge in second at Road Atlanta last October, winning the MAZDASPEED Pro Challenge Championship and the Mazda Road to 24 Scholarship.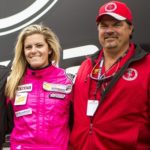 Bill Harrison: The entire process of watching Ashton evolve into a race car driver. It's been wonderful working with her and spending the time together on something I love to watch and she loves to do. I never thought going to Petit Le Mans to watch a race would lead to where we are now.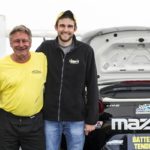 Jim List: As our children, Katie and Andrew were growing up they became involved in karting at relatively young ages. They advanced through the entry level karting classes to the relatively quick TaG and Rotax classes and were quite successful there. The time came when Dad purchased a used Rotax kart to compete with the kids. At my very first event, with all three Lists on track, there was a particularly challenging, for me anyway, full speed, sweeping, 90 degree turn. After struggling with this turn for a session, I asked my son Andrew where he began braking for this turn. His response, 'Dad you don't lift, it upsets your kart if you do.' I then realized I had a lot more to learn about karts!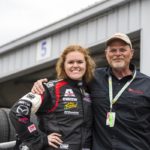 Robert Montgomery: Sarah is a genuine person through and through with love for life and people. To see the respect she has and gets from everyone involved in the racing community is more than I could have ever hoped for. And it is all because of that 'zest,' which resonates with everyone she meets. The singular thing that I will always remember was her winning the Spirit of Mazda award at the 2015 MX-5 Cup banquet. I was shocked and looked at someone next to me and said something like I couldn't believe that just happened. The person looked at me and said, 'Are you serious! Like can you think of someone better than Sarah to win that award! Come on!' I was and always am an incredibly proud father.
Ari Straus: Practicing with Aurora at Watkins Glen where she turned laps only a second slower than Stevan McAleer and four seconds faster than me. A few weeks later, she qualified mid-pack among many pro drivers – amazing for her first full season of SCCA Pro racing. I'm very proud of her meteoric progress.