It is a huge week for the Mazda Road to Indy (#MRTI), as the Indy Lights series races the Freedom 100 Friday afternoon at the Indianapolis Motor Speedway. You can watch the race live on the NBC Sports Network beginning at noon Eastern Time. In the first seven races of the year, six different Indy Lights drivers have won a race, and the racing has been superb from start to finish. In a Monday test session, Zach Veach became the first Indy Lights driver to record an average lap speed of more than 200 mph at the 2.5-mile Brickyard oval.
Friday evening at the Lucas Oil Raceway, the USF2000 series will take to the short oval for the Freedom 75 (75 laps) followed by the Pro Mazda series in the Freedom 90 (90 laps). Also watch for the unveiling of the new USF-17 car Friday morning. It will be the USF2000 race car beginning next season. In Pro Mazda, a similar new chassis will debut in the 2018 racing season.
The trio of exciting races is a part of the build-up to Sunday's 100th-running of the Indianapolis 500. For the 33-driver starting field, 24 of the drivers have graduated from one of Mazda's driver development programs! The Mazda Road to Indy has featured 23 of the drivers, while IndyCar points leader Simon Pagenaud was champion of the Atlantics Championship powered by Mazda in 2006.
The pole winner for the Indy 500, James Hinchcliffe (pictured left, suited up, working with Mazda Motorsports' factory driver Jonathan Bomarito), has a long history with Mazda, not only in the open-wheel categories but as a driver for the Mazda Motorsports team at the Rolex 24 at Daytona. Hinchcliffe is a wonderful story, having won the pole only a year after nearly dying in an accident at the famous speedway. Starting second will be Josef Newgarden, the young American driver who won the 2011 Indy Lights title.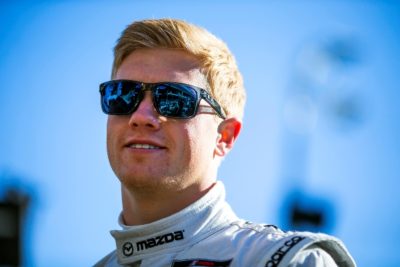 Four of the five rookies in the 500 are MRTI grads, particularly Spencer Pigot, who is in the field with the Mazda scholarship he won last year at the Indy Lights champion. Pigot, the all-time winningest driver in the MRTI, has been part of Mazda Motorsports family since he was age 16. He is the first driver to win four different Mazda scholarships on his way up from karts to the IndyCar series. Pigot also joined the driver lineup earlier this year with the Mazda Prototype team, making impressive showings at the Rolex 24 at Daytona and the 12 Hours of Sebring. (Pigot is expected to return to the Mazda Prototype team later this season – more details to come in the future.)
In all, 12 former champions in the Mazda Road to Indy categories will be in the starting lineup for the 500, further proof that the Mazda Road to Indy continues to be the preeminent open wheel driver development system in the world.