If you are a Mazda fan, odds are you have been looking forward to this coming weekend.

At Indy, 56 Mazda Road to Indy (#MRTI) racers will compete across all three professional ladders; 40 Idemitsu Mazda MX-5 Cup presented by BFGoodrich® Tires competitors take to the Empire State; there are two SCCA Majors races – 178 entries set for Pittsburgh International Race Complex and 90 entries for Circuit of St. Louis; and the event with the most total entries, the Tire Rack Thunder Valley Showdown – 196.
178 Majors entries are set to take to the 19-turn, 2.8-mile race course situated about 45 miles northwest of Pittsburgh, Pennsylvania known as Pittsburgh International Race Complex, according to MotorsrportReg.com. Formerly BeaveRun Motorsports Complex, the facility has been known since 2011 as Pittsburgh International Race Complex. The largest class, Spec Miata, will undoubtedly put on quite a show. 26 Spec Miatas are registered to do battle, with Tyler Kicera (Manheim, PA) expected to be a front runner. The STL class will have a solid showing with 12 entries, four of which are Mazda competitors; in Touring 4, Mazda's encompass three of the six entries; Mazda's comprise four of nine entries in E Production; six of 12 entries in F Production are set as Mazda's, including Charlie Campbell (Corry, PA).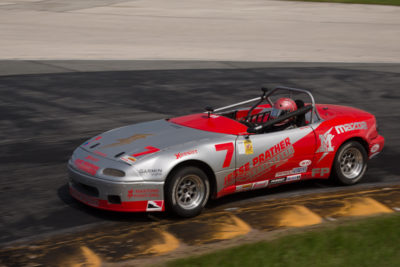 Part of Gateway Motorsports Park, Circuit of St. Louis is a 1.6-mile road course found just across the Mississippi River from downtown St. Louis. The 7-turn circuit utilizes part of the venue's oval track and will host 90 entries this weekend. One to keep an eye on in F Production is Eric Prill in his MaxtonsFight.org/JPM/Hoosier 1990 Miata (pictured left). While this Majors event will not host as many Spec Miatas, the battle for the win will likely be just as tough as Jim Drago (Memphis, TN), Max Nufer (Glencoe, MO) and other front runners compete.
The Tire Rack Thunder Valley Showdown will host 195 entries, which nearly met the cap of 200 entries for the weekend (not including Formula Junior drivers). The site: Bristol Motor Speedway. The competitors: They come from all over, and include Starting Line drivers and EVO Advantage students. Mazda commends the SCCA for its continued success in enhancing and growing the sport of motorsport by making racing competition easier to enter.
Mazda Motorsports
Mazda Motorsports boasts the most comprehensive auto racing development ladder system of any auto manufacturer in the world. The Mazda Road to 24 program offers a number of scholarships to advance drivers up the sports car racing ladder, beginning with the MX-5 Cup series and culminating with the Mazda Prototype team. The Mazda Road to Indy is a similar program that includes Mazda-powered categories of USF2000, Pro Mazda and Indy Lights. In grassroots road racing, more Mazdas race on any given weekend in North America than any other manufacturer. Mazda is also the title sponsor of the renowned Mazda Raceway Laguna Seca in Monterey, Calif. Follow all of the latest news at MazdaMotorsports.com, @MazdaRacing on Twitter, and MazdaMotorsports on Instagram and Facebook.