It doesn't hurt that this year's first SCCA Match Tour was located in what many consider paradise – San Diego – at Qualcomm Stadium – home of the San Diego Chargers and Aztecs. I'm trying to avoid allowing these facts to play a factor in my overwhelmingly, positive experience as I share why this model works so well for the competitors and fans/families/supporters.
Full disclosure, I work for Mazda Motorsports (my name is David Cook and I'm the business development manager). I've been blessed to experience some amazing events and, consistently, amazing people. But this is my first and only planned "report" because everyone can and should experience a Match event.
Let me first lay the framework for how the event works, for those unfamiliar.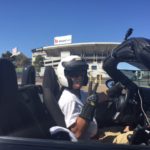 In San Diego, 140+ competitors (Match events are capped at 200 competitors) sharing road cars (e.g., MX-5 Miatas, Corvettes and the list goes on) from non-modified to, well, the opposite – for the most part.
The car and the level of modification determine the Class you are placed into. 83 classes at Qualcomm.
There are three larger groups called Heats that your class may compete within. This past weekend, Heat 1 had 34 classes; heat 2: 19 classes; heat 3: 30 classes. This helps all involved know the general time frame for when they will drive on course, as well as work the event. (More on this in a moment.)
Within your Class/Heat, you run two Sessions on Saturday and one session on Sunday AM – at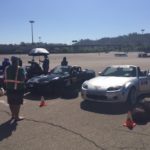 minimum. Each Session gives three runs on the same autocross course. By running the same course/configuration, you are able to continuously chip away and learn. (The course, for those who are brand new is a cone course – means you are not likely to damage your car by hitting a wall). On Saturday, you take your best run from Session 1 and best run from Session 2 to rank you.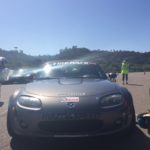 Session 3 on Sunday determines the qualifiers for the Top Dog and Under Dog Challenges to determine who the best are. The top eight on index per Heat qualify for the Top Dog Challenge, and those placing in positions 9-16 on index per Heat qualify for the Under Dog Challenge. Everyone else is eligible for the drawing to be in the Lucky Dog Challenge – to get more runs during Sunday afternoon – Session 4 – which is when The Challenges take place.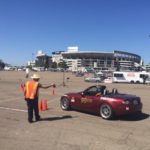 Working the event helps to better integrate in the autocross family and to keep costs down. Those in Heat 1, for example, work the course for Heat 3. This allows for lower operating costs for the SCCA, which translates to lower prices for the competitors. It helps all the drivers observe other drivers on course, which means they get to see what others are doing that may work better – driving line, brake points, throttle application, etc. What could be even more impactful, you get to better know other competitors as you are always engaged throughout the day – not much waiting around – this is a huge contributor for how autocross becomes a family.
Ok, low cost, high engagement framework explained – so what was so inspirational about the SCCA Match Tour? Let me share with you just a few stories and people I observed.
• A boyfriend (21) and girlfriend (23) drove a Mazda RX-8, supporting each other. This was the boyfriend's second autocross event (though we know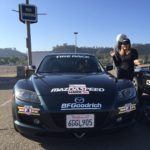 him as a professional road racer); the girlfriend had several more autocross events under her belt. They were enjoying the weekend together – outside. Who was faster? Doesn't matter. Fun matters. Challenging yourself and others matter. Supporting each other matters. Driving matters.
• Two buddies, driving different cars – same class: Same things matters for them as the boyfriend/girlfriend. Though in this particular situation, noting a rivalry at this event would be honest. It was passionate. One driver was coming off a close battle at a previous event, having won. He reminded his buddy about it, who he beat. But this time, it didn't play out the same way. Got to love competition.
• Jim, 83 year's old, still wheeling his race car around and always seemed to have a smile on his face (pictured at top, with Scott).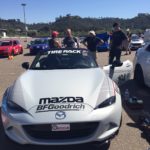 • One Mazda had 279,000 miles on its original motor. Others nearly brand new – the 2016 MX-5 (including Ron Bauer's).
• Mom, husband, daughter combo. Learning how to handle a car at highway speeds can be lifesaving. Not trying to be over-dramatic, but this is an important craft for just about everyone. I believe I could argue why autocross is not just a privilege, but borders on a duty. But, these are my feelings, which I suspect my Legal department will compel me to digress!
• What I can add: Office guy who enjoyed the event – me. While I didn't drive, I was outside in San Diego by the Charger's stadium hanging out with a lot of very friendly and good people, who love cars. For me, better than the standard movie on a Saturday. Besides, my colleagues tell me I should get out more. I think this counts!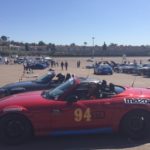 It doesn't matter who you are or what you came for, everyone seemed to have a great time. I commend all those who participate in this sport – not just those who drive Mazdas.
The 2016 Match Tour (aka Showdown) schedule is as follows:
– Tire Rack Oceanside Showdown; April 1 – April 3, Qualcomm Stadium; San Diego, CA
– Tire Rack Thunder Valley Showdown; May 13 – May 15. Bristol Motor Speedway; Bristol, TN
– Tire Rack Heartland Showdown; June 10 – June 12, Heartland Park Topeka; Topeka, KS
– Tire Rack Iron City Showdown; June 17 – June 19, Hoover Metropolitan Stadium; Hoover, AL
– Tire Rack Heavy Metal Showdown; July 15 – July 17, Pittsburgh International Race Complex; Wampum, PA
For additional information on Tire Rack SCCA Solo, visit www.scca.com/solo.