Mazda Prototype racer Tristan Nunez attended the 138th annual White House Easter Egg Roll event earlier this week. The event helped promote First Lady Michelle Obama's "Let's Move" initiative to encourage kids to be more active. Nunez wore his Mazda driver's uniform for the outing on the White House lawn.
"It was my second time at the White House," Nunez said shortly after the event. "I thought it was a once-in-a-lifetime opportunity, but I guess it's twice now… It was a huge honor to be invited back again. I'm kind of speechless right now. It was a pretty cool experience."
The 20-year old, who has his own distracted driving foundation – the Dnt txt n drV Foundation, had a memorable experience once inside the White House.
"I got to go inside to the Blue Room," he said. "It was pretty unbelievable, I got to meet the First Lady and give her a big hug. It was an awesome experience."
The event included many celebrity guests such as Jay Z and Beyonce with their daughter Blue Ivy, Tony-winning singer Idina Menzel and a number of professional and amateur stars from a wide array of sports. Nunez was the sole representative for the motorsports industry.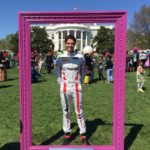 "We got to play with the kids a lot on the lawn as part of the active physical education. It was great to have an up-close-and-personal relationship with so many kids on the White House grounds. Pretty dang cool to see the smiles on their faces. I was grouped with some NFL football players, like Tress Way [of the Washington NFL team], and it's just a huge honor all around to meet them."
Nunez will next be on-track at the Grand Prix of Long Beach. The Mazda Prototype team will compete in the Bubba Burger Sports Car Grand Prix Saturday, April 19.