It is the nature of racers to want to win whatever is next – the next race, or the next corner. Team owners want to win, but tend to see a bigger picture that includes critical activities like keeping good employees and keeping the cars together. When the racer is the team owner, it can be a challenge to do both jobs at every race. John Dean II is a racer for 45-minute periods and a team owner 24/7. By winning the 2015 Idemitsu MX-5 Cup presented by BFGoodrich® Tires, he earned a $200,000 Mazda scholarship that will make both roles easier.
It is not an exaggeration to say that Dean grew up at Sebring International Raceway. His dad was the voice of the Sebring 12-hour race for over 20 years. Once Dean was old enough to race, he chose the SCCA club racing route, and became one of the top ITA racers in the Florida region. To pay for his racing, he worked at the Skip Barber Racing School at Sebring. There, he honed his technical skills and his coaching.
Legendary racing instructor Terry Earwood became a mentor.
"I had known John's Dad before I ever met John," Earwood recalled. "His Dad had run in several Firehawk races that we were in, and this little 'kid' was his main crew. John first came to Skip Barber as a driving school 'tech,' and as he began helping more with the students during the school, I gave him an instructor shirt. After a brief tenure with the driving school, he began helping us in the racing schools and was a natural. His passion for helping each student improve, on their level, was exactly what we were looking for. As an instructor, it was actually sad to see him race more and teach less. But it is awesome to see those humble beginnings develop into a National Championship. He, and his team, truly earned this honor with not a lot of resources, but a tremendous amount of determination and 'grit.' Obviously, Mazda is the only car company that has that path to enable a talented young person to attain his goals without tremendous resources."
One of the frequent questions the team gets is, "What's up with the team name – what is Sick Sideways?" In addition to working at Skip Barber, Dean developed a talent for drifting – he would get very sideways, and "sick" meant extreme or good. Rather than going down the Formula D route, Dean performed as a drifter at everything from NASCAR races to football games.
In 2011, Dean wanted to race professionally, but wasn't sure where to go. As fate would have it, he had friends who knew exactly where they wanted to race. Projections Research loved the MX-5 Cup and wanted to tackle it – with Dean and his Sick Sideways team.
he team made their MX-5 Cup series debut at their home track of Sebring in 2012. They finished third in the opening race and followed up with a win the next day. Dean scored three more wins that year, each at a track he hadn't seen before.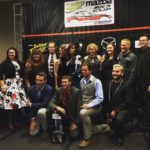 Dean finished third in the 2012 and 2013 MX-5 Cup championships and was runner-up in 2014. The team earned the Spirit of Mazda award in 2013 and Nathaniel Sparks (Sparky) joined the team as a driver. At the 2013 Coronado race, Dean and Sparky made the 3,000 mile tow without crew. Dean won and Sparky earned fifth.
In 2015, thanks to additional support from sponsor Bulb Jacket, the team was able to step up their operation, which now includes six full-time employees. Key to allowing Dean to focus on the racing, was the addition of crew chief Dave Beaudette.
As Dean approached the mid-point of the 2015 season, knowing that a championship was a possibility, he thought about his options for 2016.
"As a racer, I would love to move up to Continental Tires, or IMSA Lites," Dean said. "But as a team owner, I'm looking at the big picture. I have a family, and I have employees. It's not about the glory. It's about running a successful business. I was thrilled when Mazda was open to the team staying in the MX-5 Cup and our using the scholarship to grow our business."
Dean noted that the plans for 2016 will be to expand the team, but maintain the quality.
"We need to maintain the same quality level. I want all of our drivers to be able to win," said Dean.
John Dean II is proof positive that talent, dedication, and hard work can lead to championship results.
Photo credit: Juha Lievonen