How well do you know the function of a PR professional in the motorsports arena? Did you know one is a New York Times best-selling author? Well, we caught up with Jade Gurss to share a little about him and he decided to share some tips for you.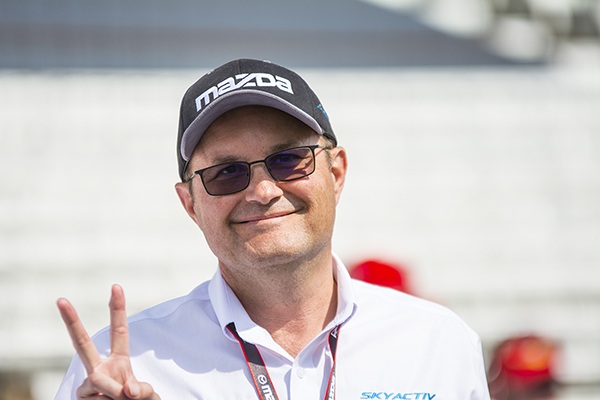 Can you give us a few of the basic PR tips for drivers on all levels?
There are so many, but here are the basic rules of public relations that apply on all levels in the sport.
1.) Credibility: Your personal and professional credibility is the most important aspect of dealing with the media and the public. People who mislead or inflate their story in an attempt to earn media coverage will learn it is not a winning strategy in the long-term. You have to earn trust and keep it if you're in this sport for the long haul.
2.) Be honest: Media coverage is great when you win, but how you handle yourself after a crash or difficult situation says more about your character. They always say the cover-up is more damaging than the initial crime, so be as honest as you can – even if it hurts.
3.) Know the right messages: Before any interview, keep in mind the messages you want to convey. If you have sponsors, know their brand attributes and what message their brand has to tell. This applies off the track too: you are always representing your sponsor. 24/7/365.
4.) Know the medium: An interview for print or online allows you to be more expansive in your answers, but if you're on TV or radio, airtime is precious, so keep it succinct.
5.) Know the audience: If you and I are talking, we both know your crew chief's name. But the print, radio or TV audience likely doesn't. So, don't just say, "Bob was great today;" tell us who Bob is. Always try to explain in a manner that your mom or aunt or cousin will understand.
6.) Never list your sponsors by rote: People tune out the moment you start listing your sponsors one by one. Incorporate the sponsor into an answer. "Mazda loves to race, and that's why I chose to race an MX-5. It's the most fun car I've ever driven."
7.) Be yourself: This could be the most important one of all: just be yourself. People respond to real emotions, so if you're happy, share that feeling. If you're angry or disappointed, don't be an ass, but express that as well. Racing is FUN, so share that joy whenever you can.
For you, what does Driving Matters mean?
Driving represents freedom and fun. Not only as a means for something as simple as driving to work to earn a living, but for providing a sense of speed, fun and excitement. Driving Matters is also about all of the great things that comes from driving: taking our family and friends to the race track or to the beach makes our lives much richer and more satisfying. Two words: road trip!
You're now starting your second year with Mazda Motorsports. Tell us about your role.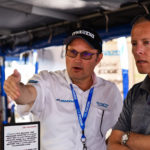 My role is to coordinate media and public relations for each of the professional-level Mazda Motorsports programs, which covers a wide array of categories, ranging from the Mazda Prototype program to the entire Mazda Road to Indy and the recently renamed Mazda Road to 24. It's two similar ladder systems that go all the way to the top in open-wheel and sports cars. I'm also the @MazdaRacing Twitter keeper, which is great fun. It's immediate communication with those who follow Mazda Motorsports intently.
I've worked for more than 25 years in motorsports, and I've rarely had as much fun as I'm having with Mazda. Across the board, they're good people and they all love to race. It's an infectious attitude, and it's one you can't fake or manufacture. We are a tiny, tiny team of people who have many jobs to do, but underlying it all is that we love it!
You own a sports publicity company, and we've heard you have been able to work with some pretty special people and organizations. Can you tell us about it?
I've been so lucky to have worked for an array of race tracks, manufacturers, drivers and sponsors. If it's loud and goes fast, I've probably worked in that category. With the help of Anheuser-Busch, I started my company, fingerprint inc., in 1999 to direct PR for a young kid just entering the Cup level in NASCAR. So, I was the PR man for Dale Earnhardt Jr. during his entire Budweiser No. 8 era. Before that, I was involved in open-wheel racing with Ilmor Engineering and Mercedes-Benz. The list of clients and categories is too numerous to list, but it includes Kevin Harvick Inc. (working with Supercross legend Ricky Carmichael in his NASCAR days), Andretti Autosport, Petty Enterprises, drag racing, motorcycles, and short track racing.
What are some of the keys to succeeding with those types of programs?
I'm hired to sell products. Right now, my role is to help increase awareness of the Mazda brand and to enhance the positive public image of the automaker. When Anheuser-Busch was a client, my role was to help increase beer sales by coordinating unique media opportunities with Dale Jr. He was the first to be embraced by the MTV-generation with shows like "Cribs," "True Life – I'm a Race Car Driver" and the MTV Music Video Awards. He had two major features in Rolling Stone magazine and was featured on "60 Minutes." The media world is much different these days – very fragmented – so we have to be very creative to tell the stories of the Mazda brand and the young men and women who drive them.
We hear you've written books that made the New York Times Best-Seller list.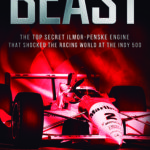 HA! The rumors are true! The first book I co-authored is believed to be the highest-selling motorsports book in American history, Driver #8, written with Earnhardt Jr. Then, I had a blast working on another best seller with Darrell Waltrip and the book DW! A Lifetime Going Around in Circles. I did a second Dale Jr. book called In the Red, but the thing I am most proud of in my entire career is the latest book, called BEAST. I was able to tell the suspenseful story of the 1994 Indy 500 when Roger Penske and Ilmor Engineering built a push-rod engine in total secrecy. The Mercedes-Benz 500I engine is the last great innovation at the Indy 500 and the story reads like a spy novel. It was brilliant people doing extraordinary things in secret to create an engine that raced only once! It was "won and done."
Weren't you also a professor a few years back?
I was an adjunct professor who taught sports and motorsports marketing in the UNC-Charlotte MBA program. I've had some great mentors, and I wanted to share what I had learned with the young 'uns! To this day, I'm happy to help or give advice to any young racer or PR rep who has questions.
We've heard you were even considered to be an IndyCar driver?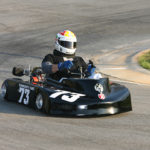 HA! Your sources are entirely incorrect. I did drive a turbocharged IndyCar courtesy of PacWest Racing/Mercedes-Benz on an open course at a local airstrip. I've been able to drive a number of impressive race cars, but my favorite was driving a sprint car on dirt. I grew up watching sprint cars; that's the ultimate form of the sport in my eyes. Hang on, get it sideways and punch the throttle. Now that I work with Mazda, I'm dying to try a Spec Miata race sometime soon.
As for actual competition, I love karting – especially endurance races. I have been a part of a monthly karting league for more than 12 years in Charlotte, and it keeps an old man like me sharp behind the wheel and the competitive juices can really flow.