Washington state competitor is a three-time SCCA Solo National Champion and is leading the development of the 2016 MX-5 for Solo competition.
Ron Bauer will admit the Miata didn't appeal to him much when it was launched 25 years ago. Then he drove one. And then he built an MX-5 autocrosser and won a national championship with it.
He got a chance to drive one a few years after the launch and liked it, but still stuck to autocrossing other cars, winning his first national championship in 2005. It was driving another D Prepared Miata that finally sold him.
"I ended up getting a chance to drive the Paula Whitney D prepared car and absolutely fell in love with it," he explains. "I vowed I would someday have a DP Miata. I ended up picking up an NC (third generation Miata) and prepped it for C Street Prepared and drove that for a couple of years. I had to sell that because I got into Spec Miata racing and couldn't afford to do all of that together."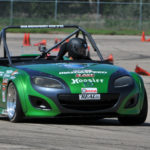 Eventually, circumstances took Spec Miata off the table, and he looked for another project. He found it in a wrecked NC MX-5 being parted out on Craigslist. But that was only the beginning of a long process – he bought the car in 2009, and didn't compete with it until 2011. Part of that was converting the car from an automatic to manual. Once completed, he finished second in 2011. And second in 2012. And 2013.
He says tires are a big part of what made the difference in 2014, along with getting the car to work correctly with the tires.
"The only option when I built the car was a Hoosier radial slick. They worked well, but had to be heated up a lot in order to work well. Living in the Northwest, it's hard to get enough heat in them, and even at Nationals with two drivers, often they didn't get hot enough. We moved to Goodyear's, which were softer compounds, but bias ply, which required different suspension settings. Those worked a lot better and last year Hoosier came out with a radial slick that has a softer compound. That's a big part of what made the difference," Bauer says.
The competition was very close, coming down to the final run, and Bauer wasn't quickest on either course at the 2014 Solo National Championships, but his combined time was the lowest overall by 0.271sec.
"At the point I went out for my third run, the rain was starting to come down hard enough that I was worried I wasn't going to have any grip and just really had to go for it. I came down to the finish, saw the time, and knew it was enough," he says.
For 2015, Bauer continued to run the DP MX-5, winning the Crows Landing and Packwood National Tours and culminating the season with yet another second place finish at the National Championships.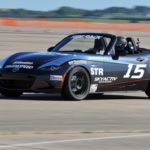 With the 2016 ND (i.e. fourth generation Miata that came out in 2016) model coming, Bauer got his order in early to secure a BBS/Brembo Club package car. At this time, Mazda Motorsports sourced an elite list of drivers for a focus group, which of course, included Bauer. Bauer provided very valuable input on what modifications would be needed to make the new car competitive in various classes – CS, STR and CSP.
After this first focus group session, Mazda Motorsports asked Bauer whether he would be willing to drive an ND MX-5 set up to the STR rule-set in exhibition at the 2015 SCCA Solo National Championships. While this event was the first time the ND MX-5 saw autocross action, the end result was times that would have been in trophy contention.
2016 will see Bauer in his new 2016 MX-5 starting the season in CS and then moving to STR. "This new car is just incredible out of the box. It's amazing how in just a few short years from the launch of the NC to the launch of the ND, Mazda has improved the technology to make the car better in every way. I can't wait to really test and run this new car and show what it can do," he says.
And what about the DP NC? Well, that car has now been sold so that it can be properly enjoyed while Bauer focuses on the new car.
Related Content:
2016 MX-5 Solo Development Continues – Ron Bauer