The 2015 autocross community saw one of the most impressive runs by a rookie in the history of the sport. Tamra Hunt came on the scene, winning the National Champion in C Street Prepared Ladies by finishing more than three seconds ahead of a pack, which included three previous National Champions. Hunt went on to be awarded the SCCA Solo Rookie of the Year award. So, we wanted to know what 2016 has in store for Ms. Hunt, and essentially the Solo community.


Why did you select CSP in L1 for Pro Solos for the 2016 season?
For this coming season, I'm looking forward to driving Billy Davis' CSP car (which I've affectionately named "Jack") in Pro Solo competition in the L1 class, the only class I didn't dip my toes into last year. We have some really great L1 drivers from the eastern region that I will face at the Ohio and DC pros. I want to keep learning and pushing myself to be faster, so I'm looking forward to the challenge. The additional challenge may be that "Jack" might not be local to me anymore, since Billy recently moved to Detroit for a job. I may only get to drive the car at national events, so I will really have to adapt quickly.
For tours, I'm considering driving my own car, a 2005 RX8 in CS trim, for the additional challenge of learning how to set up my own car. But who knows, maybe I'll jump into some other cars. I want to drive all the cars! As long as they're Mazdas, that is. (And we thank you for that, Tamra!)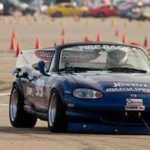 What are your thoughts on the Triad award? Will you go for it this year?
I've got to give this some more thought. Certainly, the Triad award is one of the most prestigious awards you can win in Solo, since it requires two tour wins (or a tour and a match tour) as well as a National Championship to earn the title. There are no one-hit-wonders in the Triad – winners have to be consistently fast the entire season. One day I hope to win the Triad.
Are there other considerations holding you up from going for the Triad Award?
Going to events can add up quickly between gas, hotels, eating out, entry fees, let alone if anything breaks on the car. Thankfully MAZDASPEED Motorsports offers great discounts to racers though! Last season I won enough contingency money to help offset some of the costs of going to events. That combined with splitting travel costs with co-drivers made national events more affordable for everyone. I really appreciate that Mazda is such a huge supporter of Solo, because the contingency money allowed me to attend more events than I would if I were driving a different type of car without the support.
I'm looking forward to this coming season for more racing, new friends, and fun experiences.
Related content:
Interview 1: Tamra Hunt on Becoming SCCA's 2015 Solo Rookie of the Year