USF2000 Champion climbs Mazda Road to Indy ladder to Pro Mazda
ST. PETERSBURG, Fla. (February 3, 2016) – Nico Jamin, who won the 2015 Cooper Tires USF2000 Championship in dominant fashion, will contest the 2016 Pro Mazda Series with Cape Motorsports with Wayne Taylor Racing. Jamin, a 20-year-old from Rouen, France, won the Mazda Road to Indy driver development scholarship with his USF2000 championship, and moves up to the Pro Mazda ranks with the team that propelled him to 10 race wins last season.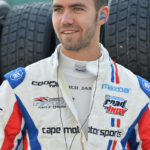 "We're extremely happy to have Nico compete on behalf of Cape Motorsports with Wayne Taylor Racing for the 2016 season," said Dominic Cape, team owner. "Nico demonstrated to everyone how competitive he was in capturing 13 pole positions, winning 10 races and ultimately claiming the 2015 championship along with the coveted Mazda scholarship. Nico has impressed us already during the initial tests he has done with the team and we're really looking forward to seeing him race in 2016."
Jamin dominated the final half of the 2015 season, grabbing pole, fastest lap and victory in the final six races. After beginning his career in karts, Jamin progressed through several junior formula in Europe before coming to the United States in 2014. He finished ninth in the championship in his first season of USF2000.
"I am very happy and proud to stay in the Cape family for my 2016 season and have the opportunity to race in the Pro Mazda Championship Presented by Cooper Tires," said Jamin. "This team is seriously amazing, we did a great job together in 2015 for our USF2000 campaign, and that teamwork allowed me to get the championship win and the big scholarship from Mazda Motorsports. I'm very honored to be a Mazda scholarship driver, and this is a lifetime opportunity for me. We'll be 100-percent dedicated this year to bring the Soul Red Pro Mazda car in victory lane, as my only goal is to win this championship and race Indy Lights in 2017!"
Jamin, who is sponsored by SYNOVA Automotive Eco Plastics Recycling and Hexagon USA, has already completed several successful Pro Mazda test sessions with the team. He also raced on ice for the first time last month, with backing from Mazda France in the Trophee Andros Cup.
The 2016 season for the Pro Mazda Championship Presented by Cooper Tires is a 16-race championship which debuts at St. Petersburg, Fla., March 11-13. It is the middle of three series that comprise the Mazda Road to Indy, a program that helps drivers and teams progress from grassroots racing all the way to the Verizon IndyCar Series.
About Cape Motorsports with Wayne Taylor Racing:
Cape Motorsports with Wayne Taylor Racing was formed in 2010 as a partnership between two successful racing entities. With leadership from brothers Nicholas and Dominic Cape, and along with Wayne Taylor and his organization in Indianapolis, the team campaigns cars in the Cooper Tires Presents the USF2000 National Championship Powered by Mazda and the Pro Mazda Championship Presented by Cooper Tires. The goal of Cape Motorsports with Wayne Taylor Racing is to provide unmatched driver development both on and off the track. It is difficult for a young driver to jump into a professional series and win, regardless of talent. Through coaching and mentoring, Cape Motorsports with Wayne Taylor Racing provides young drivers with as much knowledge of motorsports to become as successful as possible.
Mazda Motorsports
Mazda Motorsports boasts the most comprehensive auto racing development ladder system of any auto manufacturer in the world. The Mazda Road to 24 program offers a number of scholarships to advance drivers up the sports car racing ladder which culminates in the Mazda Prototype team that races in the top level of IMSA sports car racing in North America. The Mazda Road to Indy is a similar system in open-wheel racing, which includes USF2000, Pro Mazda and Indy Lights racing categories with Mazda power. The new MX-5 Cup car makes its debut in 2016, with affordable, turnkey race cars available direct from Mazda. In the grassroots categories, more Mazdas road race on any given weekend in North America than any other manufacturer.
Mazda North American Operations is headquartered in Irvine, Calif., and oversees the sales, marketing, parts and customer service support of Mazda vehicles in the United States and Mexico through nearly 700 dealers. Operations in Mexico are managed by Mazda Motor de Mexico in Mexico City. For more information on Mazda vehicles, including photography and B-roll, please visit the online Mazda media center at www.mazdausamedia.com.
###