The 2014 NASA Spec Iron Champ will drive and coach in the Idemitsu MX-5 Cup.
Corey Rueth, National Auto Sport Association's (NASA's) 2014 Spec Iron National and Regional Champion, has chosen the 2016 Idemitsu Mazda MX-5 Cup and the Winding Road team in Austin, Texas as his next challenge for his racing passion. Rueth describes his road to MX-5 Cup as a "true grassroots ladder climb." As others were learning in karts and motorcycles, Rueth remembers cutting road courses into the yard and trying to set new lap records with the lawn mower. Determined, Rueth restored VW bugs at a young age to turn his dad's hand-me-down Grand Am into a 5.0 Mustang where he got his first taste of conquering corners on the back roads of Dallas. Rueth wandered his way through street racing, drag racing, autocross and shifter karts before discovering his love for the sport and the community of road racing.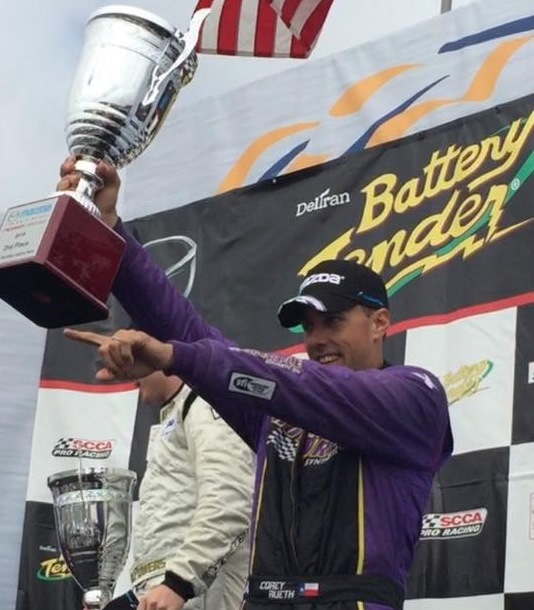 Over a decade of spec racing taught Rueth the importance of always having two things: one, someone faster than yourself to make you grow and two, mentors that would develop the driver as much as one would work on the race car. Rueth attributes his win at Nationals as much to the synergy of a well-oiled team, as his own peak performance. With a driving coach, crew chief and careful focus on his mental and physical state, he experienced the magic that happens when a driver can focus on what he or she does best – drive. His championship win earned him an invitation to Mazda Raceway Laguna Seca for the Mazda Race of NASA Champions in which the class winners from the NASA regions competed in equally prepared MX-5 Cup cars. After qualifying pole position and leading the pack all weekend, Rueth placed 2nd at Mazda Raceway Laguna Seca and was hooked instantly on Mazda.
Rueth is a Corporate Pilot by trade; when he's not racing, he is typically doing one of his other extreme sports, such as paragliding, off-roading or dirt biking in the Rocky Mountains; all activities that require a lifetime of skill building. With a thirst for even stronger racing competition, he kept coming back to the MX-5 Cup. The announcement of the ND (4th generation) Miata and a global series was too tempting to pass up; so he began looking for a team that shared his values about the sport. His home turf, Austin Texas, has become a budding mecca of racing enthusiasts with the addition of the Circuit of the Americas, home of the US Grand Prix, making it a natural base for those supporting the sport such as Winding Road Racing.
Winding Road Racing is focused on driver development and equally passionate about enabling the grassroots path that Rueth discovered, making Winding Road Racing a very attractive pathway to MX-5 Cup. Rueth recalls what made Winding Road Racing stand out: "They are assembling a team that includes a world class crew chief, car engineering and data support, and all of the logistics management that allows drivers to live their dreams without spending most of their energy getting to the track." Winding Road Racing is more than a support team, it even publishes a website for racers with instructional articles and videos. Rueth considered that Winding Road Racing had a winning track record at challenging events such the 25 Hours of Thunderhill and Targa Newfoundland as first-timers.
When Winding Road Racing proposed that Rueth join its new MX-5 Cup team for 2016, Rueth jumped at the chance. Due to his interest in driver coaching, Winding Road Racing engaged him as its Director of Driver Development. "Our goal is to build the most complete and comprehensive coaching and data sharing program in the industry," Rueth exclaimed. After signing with the team, Rueth was invited to drive one of the few MX-5 Cup cars in existence. Even though the car he drove was a test mule, he left the track session even more excited about the possibilities of racing a car so well designed. Rueth stated, "It was fantastic to get a sneak peak of the new car while simultaneously supporting Mazda at its corporate event."
The 2016 Idemitsu MX-5 Cup series kicks off in April at Mazda Raceway Laguna Seca. Rueth will be looking to continue his past success at that storied venue and hopes to play a role in building a team of drivers that have ton of fun and are a force to be reckoned with.
Winding Road Racing supplies racing gear and equipment, race car services and driver education. Follow Corey and Team Winding Road Racing's progress and more.