When just about all you do is win, you're probably named Kenton Koch. More than this, it was his off-track work that helped differentiate Koch. Meet Mazda Motorsports' factory driver Kenton Koch and learn his approach.
The sophomore business student at Cal State Fullerton won the 2015 Cooper Tires Prototype Lites Powered by Mazda championship by winning 11 of 14 races; he won the 2014 Idemitsu MX-5 Cup presented by BFGoodrich® Tires; the 2013 Skip Barber MAZDASPEED Pro Challenge; and the 2012 Skip Barber MAZDASPEED Challenge. As a finalist for the Team USA and Mazda Road to 24 Shootout programs, and the US representative in the FIA Institute Young Driver Excellence Academy, Koch has accomplished just about everything a race driver can – and he is only 21 years old. But he knows the road to success will only get more challenging.
Mazda Prototype Lites prepares many of North America's brightest talent in its Elan DP02 chassis with massive tunnels that stick the car to the ground, producing apex speeds similar to P2 cars. The 2.0 Liter Mazda MZR engine produces 240 HP and propels the car to a top speed of 155 MPH. Quite a fast and physical car to get drivers ready for the jump to PC or P class cars in the WeatherTech SportsCar Championship.
"At the beginning of the 2015 season, I didn't really know what to expect," Koch says. "Since I had never driven a car with down force, I was anxious going into the season. But the second I got in the car my nerves went away. The car was much easier than I thought it would be to drive. I felt comfortable and quick, but was still unsure of my pace relative to the other competitors. The time Sebring (round 1) came around and first practice ended, my mind was put at ease knowing I was competitive."
However, as Koch found out, it didn't get easier throughout the year. As the season wore on, his elite competitors began to figure out some of the things Koch knew when the season began. By the middle of the season, the small gap narrowed.
"During the beginning part of the season, my competition was pretty close on the time sheets, but I had a small edge. But by the time the middle of the season came, qualifying came down to hundredths instead of tenths; and I wasn't always the one on pole. As with anything, competition only makes us better. "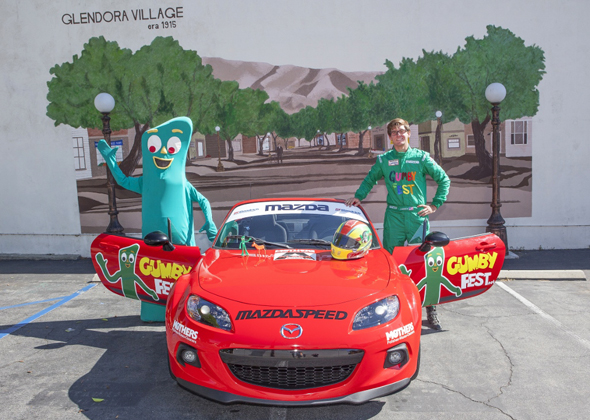 But as Koch knows on-track performance is only one aspect of making it as a successful driver, he worked hard off-track throughout 2015. He has worked hard on his promotional work in the community, which included his partnership with Gumby Fest in his home town of Glendora. Even while at the track, his efforts didn't let up. Koch helped commentate during many of the MX-5 Cup races; he continued to drive value to Mazda by taking members from the Mazda corral on tours around the paddock; even helped spot for the Mazda SKYACTIV Prototype team. He entered each weekend with a specific plan, executing on all cylinders.
For 2016, Koch naturally hopes that he will build on this learning while competing in the WeatherTech series; it will be one more rung on the ladder that he's been climbing since he was 8 years old.
The racing bug bit, however, even before that. While watching his dad race desert off-road, he knew he wanted to race one day; when he saw his first kart, it was love at first sight.
"It all started at the Los Angeles Auto Show when I was 6," the Glendora, Calif., native explains. "We went down to the tuner expo and they had a couple of go-karts down there. I asked them how old I needed to be, and they said 8. I wanted to get in that kart right then and there and start racing."
When he did get his kart, he won several Southern California championships and a couple of WKA West titles. In 2010, Koch competed in a Skip Barber Shootout, enabling him to make his car racing debut in 2011 with a half season of regional racing funded. In 2011, his success earned him yet another Skip Barber scholarship that he used to race in the MAZDASPEED Challenge in 2012. Capturing his first car racing championship, this is when his four-year streak of winning championships began.
Now he's balancing college and racing, and discovering that it's not quite as easy to do as when he was in high school.
"The good thing in college is you can choose your classes, so you can schedule your classes around your racing a little bit. Unfortunately, race weekends can be long – two to five days. You can't really plan your schedule around that. You're going to have to miss classes. I get in touch with all my teachers and develop a good relationship with them. They give me work ahead of time so I can do it on the plane," he says.
If he continues to do as well in school as he has on the race track, Koch's got a bright future ahead of him. As many know, success in motorsports is often predicated by those who excel on and off the track.
Related Content: Mazda Motorsports' Ladder System