Representing a new breed of racing driver, Glenn McGee's start in motorsports didn't come on the hot tarmac of a local go-kart track, but behind the bright glow of a computer screen in the highly competitive world of Simulation Racing. And now after earning the $100,000 scholarship from winning the 2015 Mazda Road to 24 (MRT24) Shootout, he will pilot the soul red, 2016 MX-5 Cup car in the 2016 Idemitsu MX-5 Cup.
In McGee's early years in Sim-Racing, he earned a reputation for being "Alien" fast, a term used to describe those with seemingly in-human speed. It was this reputation which directly led to McGee's first taste of real-world racing when he was discovered by the head mechanic of a leading karting team, OGP.
Interested in how an "Alien" might adapt to the real-world, the mechanic invited McGee for a two-day course at the track, working with him on understanding the kart and how to drive it. McGee didn't disappoint, increasing his speed throughout the day to set a track record. McGee emerged as Haase/OGP's newest team member alongside Sebring 12 Hour, A1GP, and Euro F3 series winner, Jonathan Summerton, as teammate.
McGee's venture into the world of competitive karting was successful from the start, winning several local, state, and regional titles, as well as an Rmax Florida State Championship and the "Stars of Tomorrow" championship; along with poles and wins in international competitions against some of the top karters from the USA, Canada, South America, and Europe. His success led to Daytona Prototype Driver/Team Owner, Wayne Taylor, whose kids also competed in karts, who took an interest in guiding the young driver's career.
While McGee was growing as a real-world driver, he also utilized iRacing, the leading sim-racing system, as the perfect, affordable platform to develop himself as a racing driver while feeding his competitive spirit.
By 2011, McGee was able to win an overseas program to obtain an FIA International-C License. Once back in the States, McGee started private driving instruction, developing a clientele and relationship with several track day clubs across the nation.
In 2012, McGee competed in select amateur endurance events with 2013 MX-5 Cup Champion and Mazda scholarship winning driver, Christian Szymczak, and Mazda factory driver Tristan Nunez, winning their class in the 24 hours of PBIR. In 2014, McGee teamed with Mazda MX-5 Cup pro driver Nathanial Sparks and Mazda scholarship driver Drake Kemper to compete in the 13 Hours of VIR in the Spec Miata class; posting times equal to the top professional drivers competing in the event.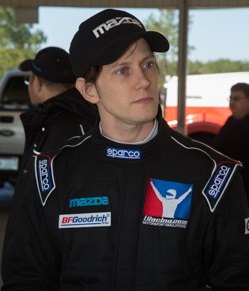 McGee also regularly participates in the Dan Wheldon & All Children's Hospital charity kart race, which not only allowed him to race against professional drivers, but made raising funds for the children fun. In 2012, McGee still achieved pole by half-a-second over Simon Pagenaud, set the fastest lap, and won the race against top F1, Indy, NASCAR, junior formula, and sports car drivers. In 2013, McGee again achieved pole by four-tenths over Sebastien Bourdais and won the children's charity race, raising more than $50,000 to the cause.
In the 2014 iRacing Mazda MX-5 Cup, McGee finished as Vice-Champion among the best sim-racers from around the world. In the 2015 iRacing Mazda MX-5 Cup, McGee tied for the most poles, most wins, and most world record times, becoming one of two iRacing's Mazda MX-5 Cup representatives (along with Rich Eklund) in the 2015 Mazda Road to 24 Shootout.
During the shootout, the judges learned that he has what it takes to make it in the sport – both the on-track and off-track skills.
iRacing's disruptive technology is changing the face of motorsport. Racing talent Glenn McGee now has his time to show the world.
Related Content: iRacing's MRT24 Shootout Video