2015 Skip Barber MAZDASPEED Pro Challenge champion (and now Mazda Motorsports' scholarship driver) and Auburn University mechanical engineering student Robby Foley has had an interesting road to this point, one unconventional to most young drivers.
Robby Foley quickly grew a passion for racing, watching his dad compete nationally in SCCA solo competition. "My earliest memories as a child were in the garage watching my dad prep his car, or waking up early as a small kid to watch racing, particularly F1 races and the 24 Hours of Le Mans," explains Foley. "I always grew up dreaming of racing at that level."
The first step in Robby's career was the natural one, jump into a go-kart. A slight difference from most karters, Foley ran it around pylons instead of wheel to wheel. Foley, like his dad, began competing in SCCA Solo competition in a Formula Junior kart at the age of 8. Traveling across the country with the family, Foley racked up many national competition wins and trophies including a 3rd place in the 2008 SCCA Solo National Championships, and a 2nd place in the Pro Solo Finale, where he was the highest placing Briggs and Stratton 4 cycle powered kart.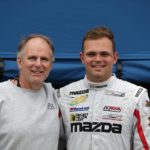 After growing to be over 6 feet tall, Foley could no longer compete with those half his size, so the racing was put aside while he focused on playing football and baseball. Playing football during his freshman year of high school, Foley suffered a tragic injury to his left leg; he broke his tibia, fibula, and ankle; tore his ACL, LCL, and PCL, while suffering peroneal nerve damage that leaves him with permanent foot drop. Never palsy caused his foot drop, preventing Foley from having full articulation of his ankle. Robby noted that if one looks closely, he or she will notice he wears an AFO brace while driving to have better control over his ankle.
"Hurting my leg was undoubtedly a rough point in my life, but while lying in my hospital bed after surgery all I could think about was going racing like I've always dreamed of. From that moment on, I used the challenges faced while recovery as motivation to achieve what I have so far in racing. It's weird to say, but I doubt I would be where I am now in such a short time without the injury."
The months after Foley's extensive reconstructive surgery were spent vigorously rehabbing, getting to the point where he was able to relearn how to walk. "It was a weird experience at first dealing with nerve damage. The pain was expected, but the loss of feeling and movement was really weird to get used to," Foley states. "Essentially, I had to completely relearn how to walk."
Once rehabilitated well enough to walk on his own, and after getting straight As for two school marking periods, Robby attended a Skip Barber 3 Day Racing School at Mazda Raceway Laguna Seca in a Skip Barber prepared Mazda MX-5. This was his first taste of a real race car at the age of 14. Robby adapted to driving a larger, heavier vehicle very well; he has not looked back.
"It was truly a dream come true driving the famous Mazda Raceway Laguna Seca, dropping down the Corkscrew in a Mazda MX-5 Cup car, a car I had no idea at the time I would eventually win my first professional championship in."
Following this experience, when Foley turned 15, he began the process of getting his SCCA Club Racing competition license. In the subsequent months, Foley competed in SCCA regional races and earned his national racing license, one of only a handful of 15 year olds to do so.
In 2012, Foley competed in the Skip Barber MAZDASPEED Challenge Winter Series in a MX-5 Cup car prepped to the same level as the one he completed his three-day school in. Foley was a quick study, winning on his first weekend. He went on to earn Rookie of the Year honors and finished well enough in the championship to earn partial funding to run the 2013 Skip Barber Pro Challenge within the MAZDASPEED Pro Challenge. In his first year in the series, Foley racked up numerous podiums and finished third in the points, again giving him some funding to run the following year in 2014.
In 2014, Foley was consistently on the podium, earning third in the championship and the same funding once again to run the following year.
"I was tired of finishing 3rd in the championship," explained Robby. "For me, 2015 was my year and I was going to leave everything out there. I think I matured overall as a driver, particularly in my preparation. I have always been a very analytical driver and this year I took it the extra mile almost obsessing over every detail, always trying to get better and taking every opportunity to improve. The combination of these subtle improvements allowed me to excel this year."
With that mindset, Foley was able to take home the 2015 Skip Barber MAZDASPEED Pro Challenge championship, earning him a $100,000 scholarship from Mazda and a one year development contract to compete in the 2016 Idemitsu MX-5 Cup, a rung on the Mazda Road to 24 (MRT24) ladder and one step closer to running in the 24 Hours of Daytona.
"It's an incredible achievement, and I am so honored to join past champions and proven talents on the MRT24 ladder. I will be forever grateful of Mazda for its support and the opportunity to prove myself at the next level. No car manufacturer invests in drivers like Mazda. I wouldn't be here without my family and the long list of people who have supported me to this point.
"I am extremely grateful of my opportunity to compete in the Idemitsu MX-5 Cup; it's such a competitive series that provides great racing and a great atmosphere to develop as a young driver. It's truly a big family and I have made friends for life these past three years."
When not at Auburn, Foley resides in his hometown of Randolph, NJ and spends a lot of time instructing and coaching around the country.
Related Article: Mazda Motorsports' Ladder System