Scottish transplant to New York not only took the Continental Tire SportsCar Challenge Street Tuner title, he and partner Chad McCumbee also formed a new MX-5 Cup team with significant success.
If you want to win a championship, the last thing you want to do is take on another project. Some people, however, aren't satisfied with just one job.
Stevan McAleer and Chad McCumbee are a good example. Already teammates driving for CJ Wilson Racing in the Continental Tire SportsCar Challenge Street Tuner class in an MX-5, the pair acquired the assets of CJ Wilson Racing's MX-5 Cup team in 2015 and began running that series – which McAleer won as a driver in 2012 – with pretty good success for a rookie team. Running as ModSpace Motorsports, the team had two wins and were named Team of the Year based on their professional appearance.
But the pair still had a job to do. They had to win a championship in Street Tuner, and with wins at Watkins Glen and Lime Rock, a second place at Circuit of the Americas and a third at Sebring, were in good shape heading into the finale. Unlike the prior year, in which they led at halfway before a series of problems derailed their championship run, they came into the Road Atlanta finale with a one-point lead over fellow Mazda pilot Andrew Carbonell. When Carbonell had an off in the very wet, treacherous conditions, their position looked much more secure.
"When the 26 car [Carbonell] had a mistake, even then it wasn't done and dusted," says McAleer. "It was a hard race. I think Chad did an amazing job. We started off with the right tires and I was happy with the pace he had. I almost feel that because of the simple fact of so much rain – a lot of the teams question that our cars are so fast and agile because of the weight, but I actually feel it went the wrong direction; I think there was so much rain on the racetrack that it would have benefitted to have a heavier car. Those last 30 or 40 minutes, I was seriously struggling to hang on in a straight line, never mind the corners."
Championships are celebrated in the final race, but they're won over a season on a variety of tracks. Some are going to be better than others – some you come out winners, others you merely hope to survive.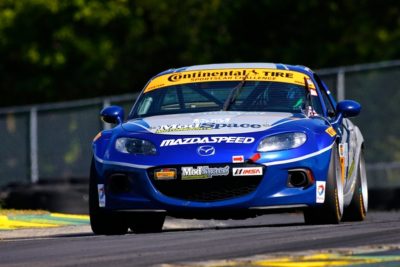 "When you look at the results of the season, the first thing that really makes a championship possible is you have to finish all the races. Regardless of the results, you need to finish. A DNF or an accident is a pretty big hurdle to kind of move forward and get back on your feet. Unfortunately for us, Daytona is the starting race and without a doubt the toughest race for us. And, to be fair, we didn't have a strong car there – we had a car that was slower than last year. But we literally drove around at the back, didn't make any mistakes or have any issues with other cars. We just managed to pick our way through them. We bounced back at Sebring with a third place. Then it was keeping up the momentum. Mosport is a tough race for us. Road America is even tougher. But it's finish as high as you can without taking any risks," McAleer says.
Combined with the wins and podium finishes, surviving those tough races left McAleer and McCumbee on top. It was McAleer's first championship since MX-5 Cup in 2012, and McCumbee's first in sports cars.
"It feels amazing," McAleer says. "For me, it was the biggest career win. Chad has been up on top of the stock car levels, and he rated this as a pretty high achievement for himself; certainly for me, it's number one. As Spencer Pumpelly and Robin Liddell both said at the [CTSC] banquet, there's a lot of talent in both ST and GS, equal talent to what the [WeatherTech] Championship has. There's certainly no question, if I get an opportunity in one of those cars, we can do the same kind of damage that we did in the ST class. It takes a lot more funding to make that happen, but that's certainly the next goal."
McAleer makes no bones about the fact that he wants to be in the Mazda SKYACTIV Prototype, and he has bugged Mazda North America Motorsports boss John Doonan about that. He's not exactly sure what he'll be driving in 2016, but McCumbee-McAleer is expanding its Idemitsu Mazda MX-5 Cup effort to five of the new 2016 Mazda MX-5 Cup cars, and he will continue to run his successful kart team, McAleer Motorsport, in the Northeast. In the meantime, while not resting on his laurels, he'll continue to celebrate the Street Tuner championship.
"We really did work hard this year," he says. "We made sure to set expectations super high and made sure to tick all the boxes. The ST Championship speaks for itself."