Driving enthusiasts were wowed by the chance to inexpensively experience
real race tracks in everyday cars.
The checkered flag has waved over the 2015 SCCA Track Night in America Driven by Tire Rack, and the results are very encouraging for the Sports Car Club of America's exploratory program.
From April to September in 2015, almost 4,200 thrill seekers ventured to nearly 90 events at more than 15 challenging race circuits around the United States to grab 500 on-track hours thanks to SCCA Track Night in America. More than 40 percent of participants registered as "Novice" for race track activities, and more than 60 percent were not members of SCCA.
Of the people that rolled on track for an evening, 44 percent were 35 years old or younger. Another 24 percent were between 36 and 50 years old, and 32 percent were above 51 years old. Overall, 95 percent of drivers were male.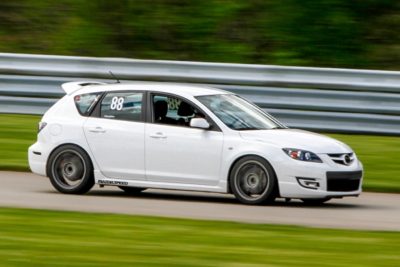 As for vehicles, more than 50 different makes appeared at Track Night in America, including: Alfa Romeo, Ferrari, Lotus, McLaren, Maserati, MG, Tesla, Lamborghini and Austin-Healey. Of the nearly 3,700 different cars used during events, Mazdas and BMWs were seen most (13 percent each), followed by Chevrolets and Fords (11 percent each). Next were Porsches, Hondas and Subarus (7 percent each), with VWs and Scions (2 percent each) rounding out the top manufacturers utilized for Track Night festivities.
Dreamed up as an easy and inexpensive way for anyone who loves cars or motorsports to get on a real race course in their own vehicle, Track Night participants only needed to be at least 18 years old with a valid driver's license and have access to a racing helmet and street car in good working condition. No previous on-track experience or SCCA membership was required to join in the fun. Entrants were divided into Novice, Intermediate or Advanced groups so on-track activities remained fun for all. The cost was never greater than $150 per entrant and granted three 20-minute sessions on track, as well as feedback from SCCA driver coaches on site.
Heyward Wagner, SCCA Director of Experiential Programs, was charged with bringing the Track Night program to life. He said the primary mission was to create a fun, safe track activity that flung open the gates of racing facilities and gave everyday people an inexpensive way to get on a real race course in their everyday cars. It appears that goal was met and exceeded.
"The feedback we received this year was overwhelmingly positive from the thousands of adventurous souls that came out to play at SCCA Track Night in America Driven by Tire Rack," Wagner said. "We simply can't thank enough all the racetracks that worked with us to make the program possible, as well as the essential support from Tire Rack, Grassroots Motorsports and the FIA Sport Grant Programme."
Lisa Noble, SCCA President and CEO, echoed Wagner's thoughts on the new program's success.
"Track Night in America is an ambitious, innovative program for the Sports Car Club of America, and the Experiential Programs Department expertly delivered on the challenge," Noble said. "A lot of thanks goes to SCCA members around the country that came forward to help with events in their Regions. Without their assistance, this program would not have been possible.
"The SCCA is always looking for ways to share with others our passion for having fun with cars, and Track Night in America is a prized piece of the puzzle that accomplishes this mission," Noble continued. "We'll sit down over the next few weeks for a careful review of this year's activities to better understand what we've learned, how we can do better, and how we can help build our Regions' membership and programs through growing this new base of enthusiasts."