Pair of talented young drivers with Mazda ties will compete in the UK later this month.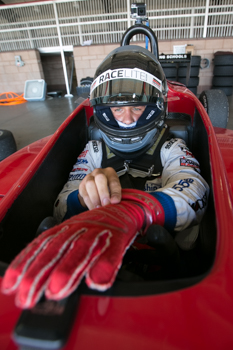 Talented young Americans Dakota Dickerson, from San Diego, and Michai Stephens, from Evanston, Ill., were named as winners of 2015 Team USA Scholarships. Following in the footsteps of such accomplished alumni as Mazda SKYACTIV Prototype drivers Tristan Nunez and Joel Miller, 2015 Cooper Tires Indy Lights champion Spencer Pigot and motorsports luminaries Jimmy Vasser, Bryan Herta, Buddy Rice, Andy Lally, Joey Hand, A.J. Allmendinger, Josef Newgarden and many others, the pair will travel to England this month to further their fledgling racing careers.
Dickerson and Stephens earned their selection following a shootout last month aboard Allen Berg Racing Schools FR1600 cars running on Cooper tires at Auto Club Speedway in Southern California. The adjudicating panel included Rice, who, after claiming a Team USA Scholarship in 1997, went on to win the 2004 Indianapolis 500 and 2009 Rolex 24 At Daytona, plus two-time sports car champion Alex Gurney and accomplished race engineers Geoff Fickling, Kent Stacy and Gerald Tyler.
The pair will represent their country in the famed Formula Ford Festival at Brands Hatch and the Walter Hayes Trophy at Silverstone, driving Ray chassis prepared by Cliff Dempsey Racing and boasting the scholarship's distinctive and traditional red-white-and-blue colors.
"The Team USA Scholarship is an honor, privilege and recognition of what the future might hold," said Stephens, 23, A Skip Barber Shootout winner who returns for a second year after also winning a scholarship in 2014. "Pure passion, an open mind and desire to stand for something greater define what this opportunity has meant to me. Being selected for the 2015 scholarship has put me back in the driver's seat – a place of developing comfort that has taught me some of life's greatest lessons. It has and will once again give me the chance to test my mind, body and soul. This experience has yet to compare to anything else in life by developing and refining my belief of the future. Becoming a racing driver is an honest part of my life now … A dream come reality!"
"I am extremely honored to have been chosen to represent the Team USA Scholarship," added Dickerson,18, who remains in contention for the Skip Barber Racing Summer Series championship after claiming a pair of wins last week at Virginia International Raceway. "For 25 years now the Team USA Scholarship has helped advance many young drivers' careers, and to become one of those drivers is an indescribable feeling. I look forward to representing the United States overseas and learning from this great experience. I can't thank Jeremy Shaw, the RRDC, SAFEisFAST, Doug Mockett, Cooper Tires and all of the supporters of the Team USA Scholarship enough for making this opportunity possible."
The Team USA Scholarship in 2015 is celebrating 25 years of providing opportunities for American race car drivers.
"This is a big year for our program and I couldn't be happier with our selections," said Team USA Scholarship founder and noted auto racing writer/broadcaster Jeremy Shaw. "Even though Michai has raced only infrequently in 2015, he has continued to work hard on establishing the connections that will allow him to flourish in the future. The standard at the shootout was high, as usual, but Dakota and Michai were especially impressive in every aspect."