Jim Downing, Andrew Carbonell and Joseph Burton-Harris take pole positions for their respective classes at the SCCA National Championship Runoffs.
After four days of qualifying, the grids are set for the 2015 edition of the National Championship Runoffs Presented by Garmin Virb. Daytona International Speedway has proven a tough nut to crack for many Mazda racers in terms of outright pace, but the racing could be a different story.
One driver who had no problem with pace was Jim Downing. One of only a handful of drivers who competed at a previous Runoffs at Daytona that is also running in the 2015 edition, he has many laps around the track from his IMSA Camel Lights days. He qualified on the pole for Prototype 1 in his Downing Atlanta DAY-O2 Mazda with a 1:49.219 (117.34mph). The accomplished racer grabbed the pole by more than half a second over the second-fastest qualifier. Prototype 1 will run as the last race of the weekend on Sunday afternoon.
Andrew Carbonell used his and BSI Racing's local knowledge to claim the pole for the 62-car Spec Miata. Carbonell has a lot of laps at Daytona racing in the Continental SportsCar Challenge Street Turner class with Freedom Autosport, as well as a Spec Miata, and he used that to his advantage, although his margin was a scant 0.028sec over Selin Rollan. Rollan is also racing from the BSI stable, so if he and Carbonell team up, it could spell trouble for the competition. Alex Bolanos qualified third to make it an all-Miami top three; in fact the top five were Florida drivers.
Drafting will be key to winning the Friday night Spec Miata race, and chances are pretty good that whoever is leading out of the bus stop chicane on the final lap won't be the winner. Racing under the lights as the first Runoffs race to run after dark will add another element that will make this Spec Miata National Championship unique.
The Formula Mazda polesitter is no surprise. Joseph Burton-Harris has been fast all year and won the Northern Conference title in the class. Burton-Harris set his fast time on Tuesday, more than a second clear of Mike Anderson, who gave it his all in Thursday qualifying, but couldn't pull it off.
There are a couple of other qualifying efforts of note among Mazda drivers. Mike Henderson qualified on the outside front row in GT-3, getting his RX-7 around the 3.56-mile track in 2:02. 301sec. Formula Mazda runs at 9:55 a.m. Eastern on Friday as the second race of the weekend. Lance Stewart (RX-8) just missed a front-row start in Touring 4 after turning no times ont eh first two days of qualifying. He lapped in 2:16.613 to qualify third for the race that goes off at 10:50 a.m. Eastern.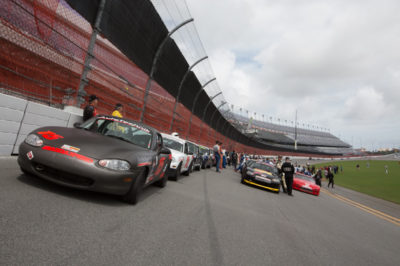 Family Photo
While not every Mazda driver at the Runoffs could make it, more than 110 of them showed up for a group photo on Daytona's front straight. Mazda Motorsports photographer Alison Merion Padron took several photos that she will stitch together for a massive photo that will adorn a wall in Mazda North America headquarters in Irvine, Calif. The photo will be made available to competitors as well.
Follow Along
You can check out entry lists, results, news, daily video wrap-ups and live timing and scoring at http://www.scca.com/runoffs. You can also watch the races live on SpeedCastTV.com.