Six drivers accumulate the most points from all the SCCA Majors Tour events throughout the season.
Winning a Conference title in the SCCA Majors Tour is an impressive feat, especially in some classes and conferences where there are more than 100 competitors. Winning at the National Championship Runoffs is a huge accomplishment, but often it comes down to a driver's prowess at the host circuit or someone else's bad luck. To come out on top of the Nationwide Point Standings in SCCA Majors takes a lot of commitment, consistency and speed at a variety of tracks.
Six Mazda racers managed that feat in 2015, four of them in the non-spec classes. That means in their best seven events of the year, in whatever Conferences they raced in, they scored more points than anyone else in the class in the country. Achieving that feat were Matt Reynolds, (E Production Miata), Ken Kannard (F Production Miata), Michael Ottis (Formula Mazda), Alan Marshall (GT-3 RX-7), Tyler Kicera (Spec Miata) and Marc Hoover (Touring 1 Miata).
"The foundation of Mazda's motorsports strategy is grassroots racing, period," says John Doonan, Director, Mazda Motorsports. "Without the thousands of loyal drivers in our MAZDASPEED Motorsports Development Team Member program, our program would simply not exist. All of these customers are the heart and soul of the Mazda brand. While a National Championship at the SCCA Runoffs is the lifelong dream of so many, a Majors Championship has become a highly sought-after prize in recent years. We congratulate Matt, Michael, Ken, Alan, Tyler and Marc on their 2015 success and wish all of our racers the very best at the Runoffs."
Matt Reynolds is the defending National Champion in E Production. He was so dominant wherever he raced this year, that the races he had to drop included two victories. He finished with the maximum number of points possible, 175 (25 points, best of seven events).
F Production featured three Miata drivers in the top four, all of whom scored maximum points – Ken Kannard, Eric Prill and Charlie Campbell, with nine-time National Champion Joe Huffaker (MG Midget) also in that category. But it was Kannard who comes out on top after scoring victories throughout the Southeast and also at the June Sprints.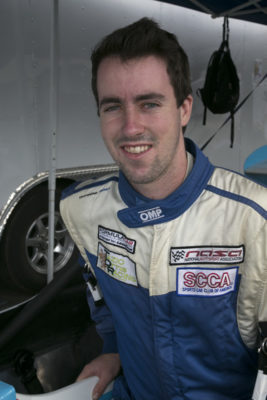 Two drivers scored maximum points in Formula Mazda, Michael Ottis and Joseph Burton-Harris. Burton-Harris scored the coveted June Sprints victories, but it was Ottis who came out on top of the Nationwide Points.
GT-3 was one of the few classes where no one scored maximum points. Alan Marshall's five victories out of eight events in his RX-7 put him at the top of the Nationwide Point Standings with 164.
Given the competitive nature of Spec Miata, it's no surprise that no one was able to score maximum points with seven victories there, either. Tyler Kicera came closest, though, with six wins and one second-place finish. He edged out Justin Hille (5 wins), Marco Gallaher (5), Danny Steyn (3) and Matt Reynolds (4) for the title.
Touring 1 is populated with Corvettes, M3s, Porsche GT3 Cup cars and other high-powered machinery. But it was Marc Hoover and his Miata that scored a perfect 175 points to claim the Nationwide Points title as he won up and down the West Coast.
The next challenge for most of these drivers will be the SCCA National Championship Runoffs this week at Daytona International Speedway.
Mazda Nationwide Point Standings Champions
| Class | Driver | Car |
| --- | --- | --- |
| EP | Matt Reynolds | Miata |
| FP | Ken Kannard | Miata |
| FM | Michael Ottis | Star Mazda |
| GT3 | Alan Marshall | RX-7 |
| SM | Tyler Kicera | Miata |
| T1 | Marc Hoover | Miata |