Double victories by Garret Grist at Mazda Raceway Laguna Seca help him to third in the points.
A pair of second-place finishes at Mazda Raceway Laguna Seca for Team Pelfrey's Santiago "Santi" Urritia wrapped up the Pro Mazda Championship Presented by Cooper Tires title for the Uruguayan driver. Garett Grist scored a pair of victories for Juncos Racing in the Allied Building Products Pro Mazda Grand Prix of Monterey at Mazda Raceway Laguna Seca.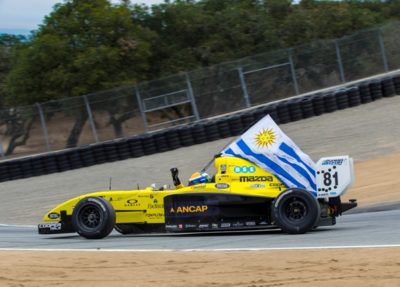 Urritia had sealed the championship in the first race of the weekend on Saturday, 16 years and one day after his countryman and boyhood hero Gonzalo Rodriguez tragically lost his life at Mazda Raceway following an accident during practice for an IndyCar event on Sept. 11, 1999, and Urritia wore a special helmet in tribute. The title earns him a $590,000 Mazda Scholarship prize to assist in his graduation to Indy Lights Presented by Cooper Tires, the final rung on the Mazda Road to Indy open-wheel development ladder, in 2016. He finished the season with a 52-point advantage over Neil Alberico. Grist promoted himself to third in the standings with the double victory at Mazda Raceway.
Grist, who left it until the final moments of qualifying to clinch the pole position for the penultimate round of the 16-race championship, was much more assertive during the first 30-minute race of the doubleheader. After a collision among the midfield contenders prior to the green flag ensured that the first four laps were run under caution, Grist took off into the lead and quickly established an appreciable advantage over Juncos Racing teammate Will Owen, who jumped from third on the grid to second. Urrutia slotted into third place ahead of his closest championship rival, Alberico (Cape Motorsports with Wayne Taylor Racing).
As Grist made his escape at the front, also posting the fastest lap of the race on Lap 9, Owen allowed both Urrutia and Alberico to move past on Lap 5 before slotting into fourth place and commencing a race-long battle with teammate Jose Gutierrez. At that point, Alberico still had a shot at the championship, but a spin at the exit of the Corkscrew put an end to that. Owen ended up completing the podium.
Grist qualified second behind Urritia for the second race on Sunday, but made a decisive pass for the lead at Turn 2 on the opening lap and then controlled the ensuing restarts to clinch his third victory of the season. The victory also clinched the Team Championship for Juncos Racing for the second year in a row.
Urrutia made a bold move to the inside of Grist entering Turn 2 immediately following a restart on Lap Five, locking up under heavy braking and initiating contact between the two cars, but Grist managed to maintain his advantage. Despite damage to his car's right-front wing, Urrutia held on to second ahead of Alberico.