OK, racers. Here is superb guidance from Mazda's Tom Long about adaptability at the track – and how there is no substitute for being mentally and physically prepared for whatever might be thrown at you.
As with anything in life, sometimes things don't go according to plan at the race track, and a driver has to be able to adapt. This past weekend at VIRginia International Raceway, I had one of the most dynamic races in my career with Mazda, and it was all because of having to adapt to unexpected circumstances.
The original plan was to co-drive with Britt Casey, Jr., in the No. 25 Mazda MX-5 for the IMSA Continental Tire SportsCar Challenge race. As the weekend approached, we received word that one of the co-drivers of the team's No. 26 Mazda MX-5, retired Staff Sgt. Liam Dwyer, was not going to be able to make the race. Immediately the team started preparing alternative options.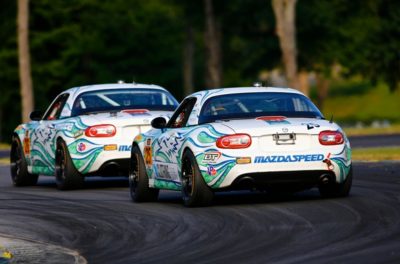 In the end we decided that having me start the No. 26, which is in the hunt for the Street Tuner (ST) Championship, with co-driver Andrew Carbonell would be one of our best options. I would start the race in the No. 26 Mazda, then switch to the No. 25 during our pit stops. That strategy was deemed best to help us get as many points as possible for Mazda and the team.
Not only do you have to be prepared physically for something like this well in advance, but you also have to be prepared mentally to withstand 2.5 hours of concentrated focus. Unexpected changes and challenges are going to crop up during anyone's racing career or in life, and being able to adapt has a lot to do with being well-prepared for any scenario.
From a physical standpoint, a driver's heart rate during a race measures about the same as a high-intensity workout in the gym, where you would expect to burn well over 1000 calories and have an average heart rate in the 150 range. But with a higher in-car temperature in the 120-degree Fahrenheit range and the focus needed for a race, the physical strain is even more intense.
The more physically fit you are, the easier it is to stay mentally focused because your body doesn't have to go into overdrive as often. If your body is already trained to handle that kind of intensity, you can focus on your line, race craft, and the race details itself. As the race goes on, the car will go away a little bit as tires fade, and you have to work even harder. Drivers should be doing cardio work and cross-training or other fitness programs on a regular basis to be in top shape for driving.
You should also be eating right for days in advance of the race, and especially all throughout practice and qualifying. Proper hydration is really important, too – not just drinking water but also getting electrolytes back into your system. Enough sleep is important, even if it's hard to get at the track. A lot of times there are early mornings and late nights, especially when you're reviewing data and trying to prepare for a race. But all of those factors can make a big difference in how well you adapt to anything you might encounter at the track.
How do you mentally prepare for unexpected scenarios? Mental imagery can be a huge help to preparing because if you have an intense enough of a visualization of the task, then your mind is better able to help you succeed in that scenario when it really happens. Visualizing what you want to achieve is a huge help.
Other surprises that can happen at the track include mechanical surprises. For instance, Andrew Carbonell had a brake performance issue near the end of the race at VIR, which made it a dramatic challenge for him to race aggressively because he couldn't engage the brakes too hard. He had to adapt on the fly.
Learning how best to approach something like that is more trial and error – there's no time for visualization in that situation! – so you have to weigh your options even while racing. Experience helps with this, of course, as well as having good car control and knowledge of the car. You also need to be a good multi-tasker. If your lines and markers are set in your mind and hitting each one has become a habit on the subconscious level, it's easier to dedicate part of your minds concentration to adapting to a problem because some of your actions are almost automatic.
The beauty of being prepared is that you don't have to be at the race track to practice either physical or mental preparation. You can get stronger in both disciplines in your daily life so that when you do get to the race track, you're ready for anything that might happen.
Related Content:
BEHIND THE ZOOM: Joel Miller