Tom Long is most often found behind the wheel of the No. 07 Mazda Prototype. This weekend, the Prototypes are quiet, but Long will be at Lime Rock Park in a dramatic role reversal as he goes from race car driver to race strategist. He explains it all here.
This weekend, the Continental Tire SportsCar Challenge Series will visit Lime Rock Park, and I will be there with Freedom Autosport and their pair of Mazda MX-5s. The Lime Rock race in 2014 on Memorial Day weekend was one of the most memorable and special races in both my racing career and in Freedom Autosport's history. U.S. Marine Staff Sergeant Liam Dwyer and I co-drove to the win, three years after Liam's "Alive Day," when he stepped on an IED in Afghanistan.
This year, the players will be same, but now we'll be in different roles … Liam will be racing with Andrew Carbonell in the No. 26 Mazda MX-5, and the two of them are currently leading the ST points championship. My role however, will be quite a change. Instead of being a driver this weekend, I'll be on the other side of the pit wall as the radio communicator and strategist for the team. I'll be communicating with the drivers during every on-track session, including the race. I'm used to the pressure on me as a driver, but being relied upon for all setup direction and race strategy calls is a different kind of pressure!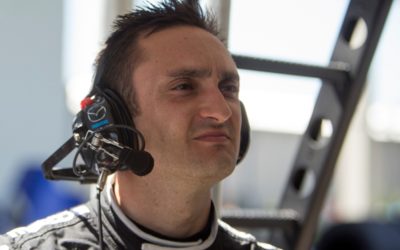 Race strategy is always a fascinating part of the equation, and I enjoy getting to focus on that aspect. Whether I'm in the driver's seat or on the pit box, strategy is something I'm always thinking about: how to optimize our plan and what kind of creative scenarios might give our team an advantage.
I've worked with Freedom Autosport since its inception in 2008, so I've had the opportunity to work with the team owners and my dad – the crew chief at that time – during pre-race strategy meetings. I've also had the chance to handle strategy for Long Road Racing's endurance racing, sometimes being on both sides as driver and strategist.
I'm excited about this new role at Lime Rock Park, because I've never officially taken on the strategist title with Freedom Autosport. I've been a team driver, team manager, spotter, and even truck driver, but I've never been the dedicated communication/race strategist before.
As a driver, I always want to be behind the wheel, but I'm thrilled to be helping out the team in this role. Having a new responsibility will always be a challenge, but it's an exciting opportunity to communicate with the drivers on the radio, which should be a lot of fun.
I'm used to communicating with drivers thanks to my work as a spotter and driver coach. Typically, though, the format is different. As a spotter, you're just relaying information, whereas setup communication is more like a conversation – I'll hear how the car is handling and ask for further, detailed information so we know in what direction to proceed.
With Lime Rock being a short, 1.5-mile bullring, communication to the driver can be difficult because of all the focus needed, so timing for radio transmissions is critical. You don't want to distract the driver at a crucial moment, but you also have to communicate vital information. Being clear and concise is a must, and it's usually best to talk to the driver on the straights or when the car is not in heavy traffic.
Knowing the drivers helps, too. Some drivers are more adaptable to receiving information at different times, while others prefer to get input at predetermined locations around the track.
Decision making has to be quick at Lime Rock because time is at a premium on such a short circuit. Decisive calls and a crew that's always at the ready are both imperative because lap times at Lime Rock are less than sixty seconds.
Because Freedom is fielding two Mazda MX-5s, I know I'll be busy, but I'm very excited for the challenging opportunity. With Freedom Autosport's track record at Lime Rock and their current points position, my hopes are high that we're on the top spot of the podium again this year, even though I won't be the one spraying the champagne!