Pro Mazda Championship rookie is trying to make a name for himself both on and off track as he tries to climb the Mazda Road to Indy Ladder.
Florian Latorre came into the 2015 Pro Mazda Championship Presented by Cooper Tires with a lot of expectations. As the reigning Cooper Tires USF2000 Championship Powered by Mazda champion and the driver of the Soul Red car signifying the fact that he is racing on a Mazda scholarship, the belief that he will do well, especially compared to other rookies, is strong.
This year's crop of rookies, however, is especially tough, not to mention diverse. So the French driver of the No. 10 Cape Motorsports with Wayne Taylor Racing machine, despite having won recently in Toronto, is a bit frustrated.
"I'm happy and disappointed because I have had some good results, but also some very bad races," the Auriolles, France, driver explains. He has learned that qualifying mid-pack, whatever the reason, is often a recipe for disaster. "I was very lucky sometimes and sometimes made big mistakes at bad moments, so I'm a little bit disappointed about it."
Heading into Iowa, Latorre is seventh in the standings. Still, his disappointment is understandable given his status as a regular on the podium and race winner last year in F2000. But Pro Mazda has been a bit of an adjustment, and there are several competitors who have come in from other championships with whom Latorre is not familiar. Plus there are some differences in cars; while the Pro Mazda is a bit faster than the F2000 car, it gets its speed in a different manner.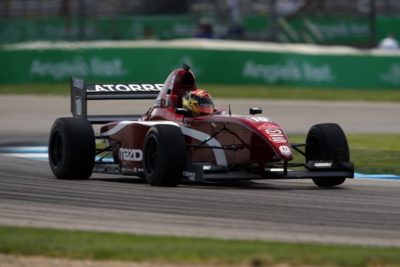 "You have a bigger engine, which as a driver you enjoy more. But the car is heavier. When you drive the car, you have the feeling you can play more with the 2000 than the Pro Mazda. With the Pro Mazda, you go slower in the corners. It's better, but not in everything. It's a little bit different to drive," he says.
If there is one thing that Latorre definitely has a handle on, it's social media. Latorre is a winner of Cooper Tire's and Mazda's social media contest, where the drivers who tweet the most are entered into a drawing for prizes. One thing that Latorre has to deal with, though, is delivering tidbits to his followers in two languages. He puts most of his Twitter posts in both. He says the social media is quite useful for a driver in his position, especially those that go out to Mazda and Cooper Tire followers as well, because they are the Who's Who of motorsports.
His first priority, though, is improving his standings in the championship, but with five rounds left – one at Iowa and two each at Mid-Ohio Sports Car Course and Mazda Raceway Laguna Seca – it's going to be tough to make some big moves. But he is confident he can improve.
"I hope to be able to catch the guys in front of me in the championship, so I can fight for the championship at Mazda Raceway," he says. "There are still five races and anything can happen. Hopefully I will come back to the front and win the championship again. And if not, fight to get the most wins possible. Like this, I can have some good contacts for next year."
Look for Latorre and the rest of the Pro Mazda Championship contenders at Iowa Speedway this weekend. You can follow Latorre on Twitter and on Facebook. Don't forget to also follow Mazda Motorsports and Cooper Tire.