TechSport Racing's RX-8s come from different directions – CTSC race car and street car – but they're coming into their own and have turned out to be excellent Pirelli World Challenge Touring Car A machines.
Longtime Spec Miata racer Kevin Anderson wanted to stay in the Mazda family when he decided it was time for a new challenge.
"I'm familiar with the guys at MAZDASPEED," Anderson, the principal of TechSport Racing, explains. "I like the cars; everything we owned was Mazda. I had an RX-8 street car that I did a little bit of development on before I actually bought the race cars. I took the street car and did some track days just to see how competitive it could be. The feeling I got was most people considered the RX-8 washed up. There was no class for it, nobody running them and you could find them used fairly cheap. The data I was getting from the street car, just doing some test days with simple mods, I saw that it could be competitive."
Anderson bought a couple of former Continental Tire SportsCar Challenge cars and converted one to a Pirelli World Challenge Touring Car, which he raced to a couple of second-place finishes at New Jersey Motorsports Park. Then, at Mid-Ohio, Anderson started last and got the car up to fourth.
"The rules changed this year for World Challenge, and we went from Touring Car to Touring Car A. The World Challenge guys were pretty helpful getting the car classed correctly. The car's been super strong. There have been a few reliability issues, but a lot of that was based on budget more than anything – we just weren't able to be as prepared for the season as I would have liked to have been. But at this stage of the game, we're through most of the stuff that was slowing us up."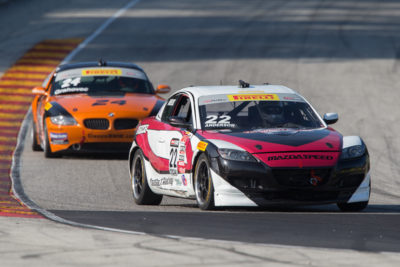 TechSport Racing is running two cars, one for Anderson and another that has been driven by a few different drivers. One of the cars is built off one of the former CTSC cars, while another was built from a road car chassis, basically copying what was already on the other car. Anderson uses the Koni suspension that had been run on the car in the other series. He also uses the MAZDASPEED Motorsports Development strut bar, sway bars and brake ducts.
In going from Touring Car to TCA, Anderson had to make a few adjustments, returning some things to stock, such as going from an aftermarket intake back to the stock airbox, a move that he says cost him only 2hp. The biggest challenge has been the weight the series has imposed on the car.
"In street trim, [the RX-8] is fairly light; but Mazda did a really good job with the car and there's really not much to take off. You can lose 100, 200lbs. removing the interior, but once you get that far, there isn't much else there. Everything else you kind of need. Mazda did a really good job keeping the weight down. I spent a tremendous amount of effort getting the car light for Touring Car, but in TCA, they made it the heaviest car. So I'm carrying 300lbs. of ballast in the car."
Even with the extra weight, Anderson says the car is terrific to drive.
"The Spec Miata is the platform that everybody compares to; but this car right out of the box is 10 miles an hour faster in every turn. It's easier to drive, it handles curbs, the brakes are better. It's very easy to drive," Anderson says.
The results have been pretty good. Elivan Goulart scored a victory at Canadian Tire Motorsports Park. Anderson had a second, a third and was leading in the third race at Road America when he had a mechanical issue.
Unfortunately, having been out of production for five years, the RX-8 will not be eligible for World Challenge competition after 2015. Anderson says he's working on what to do next, but isn't sure in which direction he'll go.
In the meantime, you can catch Anderson and TechSport Racing at Mid-Ohio Sports Car Course on Aug. 13-15, or the following weekend at Miller Motorsports Park before the Pirelli World Challenge Touring Car classes have their finale at Mazda Raceway Laguna Seca on Sept. 11-13.
Related Content:
Racecar Build: PWC Touring Car MX-5
Racecar Build: NASA PT RX-8
Solo Car Build: The RX-8 Guide for DSP