Ernie Francis Jr. leads Adam Poland for a Mazda one-two in Round 9 at Road America.
Ernie Francis Jr., had his share of bad luck in the first two of three Pirelli World Challenge Touring Car races at Road America, being robbed of likely good finishes due to first an engine failure and then a power steering problem; but in the final race it was others' turn to experience misfortune as Francis wheeled to victory.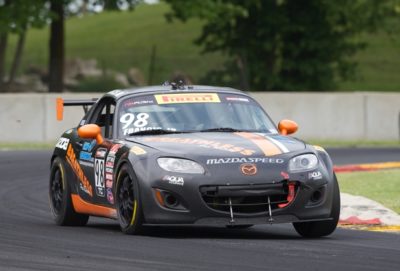 Francis, of Davie Fla., piloting the No. 98 Breathless Racing/Time4Learning Mazda MX-5, claimed his second win of the Pirelli World Challenge TC season in Round 9 at the DeVILBISS Grand Prix at Road America presented by Cadillac. He was followed by Adam Poland, who won a Touring Car race at Road America last year, in the No. 33 Edge Addicts/Majestic Pet Mazda MX-5.
Francis, of Davie Fla., started seventh, but was soon up to fourth. Once there, he passed Corey Fergus for third, then Vesko Kozarov experienced a mechanical problem, elevating Francis to second. Francis then passed Jeff Altenburg for the lead in Turn 12, earning the Cadillac Move of the Race.
Altenburg also experienced a mechanical issue shortly after the pass, elevating Poland, of Mount Vernon, Texas, into second. Poland mounted a challenge to Francis, but couldn't put together an effective attack on the lead.
Randy Hale finished fifth to make it three MX-5s in the top five.