The closed cockpit of a Mazda Prototype racecar is not the most pleasant workplace environment. Start with temperatures that can average 120 degrees F, add in violent forces of up to 3 gs in each corner, and driver stints of two hours or more in the race car. In that setting, a driver who is physically fit is essential. The most physically prepared drivers are often the ones who are able to maintain a quick pace for a very long time. So, what workout routine do the Mazda drivers go through? In this week's Behind the Zoom blog, Joel Miller explains what it takes to be in peak physical condition for each race.
Many race fans ask about driver fitness and our training routines, so I thought I would give everyone some insight to the programs my Mazda Motorsports teammates and I use. Over the course of the year, we compete in races that are 24-hours long, as well as 12, 10 and six hours. The Mazda Motorsports crew work very hard to prepare the SKYACTIV Prototypes to be perfect and, as the driver, it is my responsibility to be equally prepared physically. A more prepared and physically fit driver can concentrate more on driving the racecar.
A driver's fitness preparation does not start a day or a week in advance of an event. It is more of a full-time lifestyle. When possible, I am in the gym or doing some form of physical activity each day. Over the course of a week when we don't have a race, you can find me in a gym or running miles, swimming laps and cycling. It is important to be diverse because everything you do works a different part of your body. I also integrate mental focus into my exercise routine with various hand/eye coordination activities.
Let's take a look at a typical gym routine for me. Within the racing season, circuit training is usually the preferred choice. Over the winter, there is more strength training built in. I will describe a typical circuit, and I invite everyone to try it. Then, let me know what you think! (Twitter: @MazdaRacing or @joelmilleracing)
Warm Up
– 400 meters on the rowing machine
– 20 burpees
– Two minutes of jump rope
Circuit training (Three rounds of the entire set)
– One minute all-out row (goal of 300 meters or more)
– 20 reps of goblet squats (or some form of weighted squat)
– 20 V-ups (or similar ab workout)
– 20 reps of shoulder workout
– One minute all-out row (goal of 300 meters or more)
– 20 reps bicep workout or Super 7's for the arms
– 20 reps back workout
– 20 reps hamstring workout
– One minute all-out row (goal of 300 meters or more)
– Pull ups (as many as possible. Can you do more than 10?)
– 20 reps push ups
-20 jump squats
After three rounds of the circuit, perform a plank for two minutes.
Outside of the typical workouts in the gym, running, cycling or swimming, I do hot yoga. I definitely look odd and in no case consider myself good at it (insert laughing here). It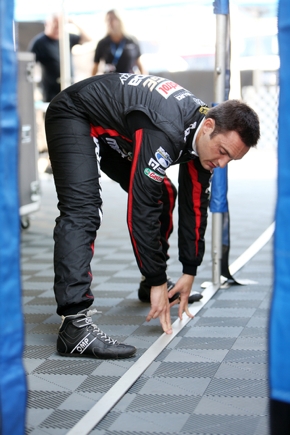 helps me with core strength, and a side benefit is improved flexibility. This plays a big role for injury prevention if something happens on track. The more flexible you are, you're less likely to suffer an injury in most crash situations. You will also notice that many of the workouts are body-weight style and high rep counts. Strength is important, but endurance is what we train for because we are often in the car for multiple hours.
Core strength is the most important muscle group for drivers. If a driver's core breaks down – no matter how strong everything else is – a driver will become fatigued much sooner. Neck strength is second in line for importance. Since I also have a mechanical engineering degree, let's do some math: your head weighs roughly 9lbs. + a helmet of around 7lbs. = ~16 lbs. Our Mazda prototype will reach a g-force of 2.5 to 3 in the corners, which means your head now effectively weighs in excess of 40lbs. Imagine lifting that 40-pound weight with your head in every corner. If you want to try something, watch our next race from Watkins Glen on June 27 while lying on your side and hold your head off the couch! Do not rest it on anything. Try it, and I would love to know how long you guys last.
My teammates and I have fun with the training at race events by running together or coming up with a circuit routine with whatever is available in the hotel gym. Whether you are at the club racing level or the professional level, driver fitness is an important part of overall performance. An immense amount of time, expense and effort are spent on the race car, so don't waste it by not being as physically fit as you can be.
Related Content:
Behind the Zoom: Joel Miller
Behind the Zoom: Tristan Nunez
Tristan Nunez: The Active Life
Be the Complete Racer: Fitness