Many know of Joel Miller from his role as a driver in the Mazda Prototype car, but he is also heavily involved as the driver coach, mentor and driver steward in the Mazda Road to Indy open-wheel categories. Miller, a degreed mechanical engineer, tells us about his many roles in this edition of BEHIND THE ZOOM.
The Mazda Motorsports Prototype program began the month of May at its spiritual home of Mazda Raceway Laguna Seca in Monterey, California. We brought our best stuff that weekend, and it showed as we posted some of our best sector times to date, relative to the other cars in our class. The No. 07 car that I share with Tom Long had a good start to the race but retired early. Our sister car, No. 70, was able to lead overall due to its SKYACTIV fuel economy strategy and finished sixth among the Prototypes, matching our best finish for the program. Development is all about learning which is what we continue to do: never stop challenging… keep learning… and we have one goal.
May is also the biggest month in North America for open-wheel racing, which is something very close to my heart as a past winner and scholarship recipient within Mazda's Road to Indy. With that background, I have the joy to work with Dan Andersen's group, Andersen Promotions, as the series coach, mentor, and driver steward to the race director for all three series (USF2000, Pro Mazda and Indy Lights). You could say I wear a few hats.
The Mazda Road to Indy ladder is designed to teach drivers something new at each level.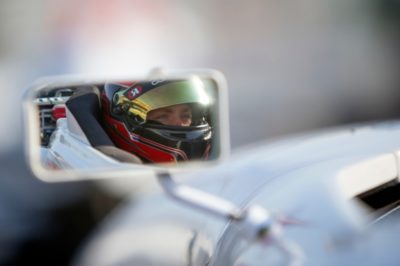 At the USF2000 level, it could be the first time drivers see these tracks or work with a team and engineer. The drivers are also introduced to off-track PR duties. It is important they understand the importance of sponsors and partners in the sport. Without sponsors or partners, a driver will find climbing the ladder is nearly impossible.
My role for the on-track coaching involves finding a sector of the track which causes the largest gains or losses, and then give feedback to all the drivers. Yes, I said ALL of the series drivers, which sometimes could be more than 30 competitors. Sector times provide hard numbers, but I also take notes on car placement, the attitude a car takes when braking-rolling-going to power to provide this feedback to an engineer, or gear selections to name just a few. All the teams have access to my data gathering and it is my duty to the series to remain professional with equal feedback to everyone.
The mentoring side of things is actually more for the parents of the drivers in the series. I say this with a chuckle because these conversations are usually pretty entertaining. The best advice I can give is to not cut corners, be ready to ask yourself, "How bad do you want it?" and use the tools that the ladder series provides to help build partners.
The driver steward role has given me the opportunity to see how race control works on a high level, and I have a newfound respect for those folks! Most of the Mazda Road to Indy races are in conjunction with IndyCar, thus we use its race control assets. The software used is similar to the computer programs used in ball sports for replays. The race director has many different things going on at the same time so if an incident arises he will ask the driver steward (me or Johnny Unser) to take a look at it to see if it warrants his time to view and make a call. Basically, the driver stewards needs to decide if it was a racing incident or not. If it is not we call over the race director.
I am extremely fortunate to be part of a group such as Mazda Racing, which allows me to give back in a way to the junior kids on the ladder. It is fun to do and I get to work with some great people.
That is what I do when not driving Mazda's SKYACTIV Prototype car in the IMSA championship alongside my teammates. Our next event is the street course at Detroit's Belle Isle. The Mazda Racing team continues to work hard on the SKYACTIV development and we thank all our fans for your guys support! We look forward to see you all at the next round in the championship!