Mazda brought its development cars for the Mazda MX-5 Cup racer to Mazda Raceway Laguna Seca to run it in test sessions for the Idemitsu Mazda MX-5 Cup Presented by BFGoodrich® Tires. What did Mazda and its development partner, Long Road Racing, learn?
After a few shakedown tests and data gathering sessions, Mazda and Long Road Racing brought the development chassis for the 2016 ND MX-5 racecar, which will serve as the basis for the Idemitsu Mazda MX-5 Cup Presented by BFGoodrich® Tires and the Mazda MX-5 Cup, to Mazda Raceway Laguna Seca. There they ran it in test sessions for the MX-5 Cup races that preceded the IMSA TUDOR United SportsCar Championship, driven by chief development driver Tom Long, IMSA Continental Tires SportsCar Championship and Spec Miata racer Andrew Carbonell and 2014 MX-5 Cup champ Kenton Koch. These first public tests of the cars not only showed them off to current and prospective competitors, but provided valuable information as well.
"We started the weekend with a fairly comprehensive test plan and we were able to run through the entire program," says Long Road Racing principal Glenn Long. "We were very fortunate we had zero issues, so we were able to expedite our program. We've gone through a series of systems tests up to this point; we have done a lot of development on core pieces and parts of the car – rollcages, getting all kinds of information and data from kinematics and compliance and multi-post rigs, which start to give us information for what we want for shock curves, spring rates, sway bars and things like that. Also lots of cooling information. We were able to verify that: A) All these systems work; B) they all work together; and C) we have baseline now on the platform to start our actual performance development work. We have the car working, so let's move on to making it handle and be faster."
Koch believes it will certainly be faster once that development is done. The car that he drove at Mazda Raceway, he says, was a bit loose; however, it was also the first time with that suspension setup.
"It's going to be really fast and I'm looking forward to seeing what it's going to be like when it's all sorted out," he says. "They're trying different shocks and settings on it, and once those get finalized and sorted out, I think the car is going to be a really great car to drive. It's a lot torquier than [the previous car] and it's quicker to 100mph. I think it's going to be anywhere from a second to two seconds faster than [the NC MX-5 Cup car], easily."
In the final session it ran the cars, Mazda got the chance to see what the exhaust package for the car will do.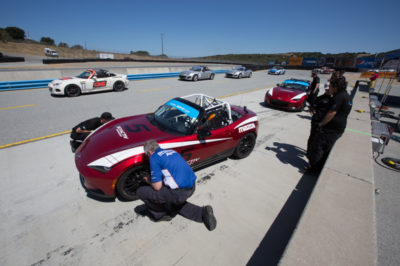 "We've noticed power increases already with it, without doing any engine tuning," Long says. "That's a testament to Mazda's flexibility in the stock ECU that allows us to change that. We noticed 2mph on the front straight, so it's pretty significant. It really helped with the torque curve coming out of Turn 11."
One of the next things Mazda is going to develop is a front swaybar, which Long says the car seems to be asking for. They will also try to determine whether the transmission cooler is actually needed, as temperatures have been quite low when they've been using one. Long says most of the temperatures are well within the range they're looking for, but that could change with some engine tuning and more horsepower.
Keep looking to MazdaMotorsports.com for updates on the development of the ND MX-5 race car. You can find all the updates, including videos of Long's tech talks, here.