Rounds Four and Five of the Pro Mazda Championship Presented by Cooper Tires feature different winners at Barber Motorsports Park in Alabama.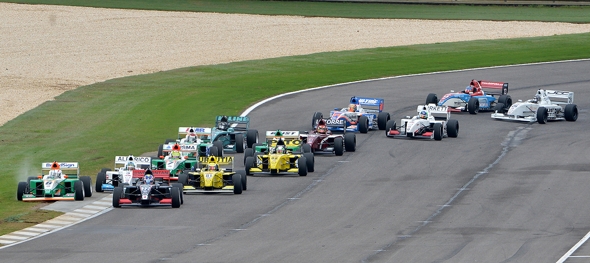 Weiron Tan has developed an affinity for Barber Motorsports Park. The 20-year-old Malaysian won once and finished second in the two Cooper Tires Winterfest races at the 2.3-mile, 17-turn road course in February, and maintained that form by scoring a clear victory for Andretti Autosport in the Mazda Grand Prix of Alabama, Round 4 of the 2015 Pro Mazda Championship Presented by Cooper Tires.
Frenchman Timothé Buret chased hard in second for Juncos Racing, while Uruguayan Santi Urrutia kept the international theme going by finishing third for Team Pelfrey, some 10 seconds adrift of the leaders.
The opening stages of the 30-minute race were delayed by full-course cautions for a variety of reasons, but when the green flag finally waved after five laps, Tan left no time in stamping his authority on the proceedings. Buret chased hard in second place and even managed to secure the bonus point for fastest lap of the race, but was never in a position to challenge Tan's lead. They were separated by just over two seconds at the finish line.
Instead, all eyes were on the battle for third between the Team Pelfrey pair of Urrutia and Pato O'Ward and series points leader Neil Alberico (Cape Motorsports with Wayne Taylor Racing), who had struggled in practice but found his car transformed by a few judicious setup changes prior to qualifying.
Alberico split the Pelfrey cars with a bold move at the restart, earning himself the RePlay XD Move of the Race Award, although he had to work hard for the remainder of the race to keep 15-year-old O'Ward behind him.
Alberico's strong finish in Round Four was a portent of things to come, as Round Five brought an even bigger bounce back from the struggles he faced at NOLA Motorsports Park two weeks prior after winning the opening two rounds at S. Ptersburg. The 22-year-old won an action-packed race at Barber to stretch his championship lead to eight points, 130-122 over Round Five second-place finisher Urrutia. Canadian Garett Grist also rediscovered some form to round out the podium for Juncos Racing after a difficult start to his 2015 campaign.
Tan was in a perfect position to move closer into championship contention, starting from the pole after his convincing win yesterday, but his fortunes started to go downhill even before the green flag when he edged fellow front row qualifier Buret onto the grass on the exit of Turn 17 in anticipation of the start. Buret was fortunate to be able to rejoin, but not before losing many positions.
Alberico then made a decisive move around the outside at Turn 1, sweeping past third-place-qualifier Urrutia, and when Tan was penalized shortly thereafter for his indiscretion prior to the green flag and sent to the rear of the field, Alberico suddenly found himself in the lead.
Alberico put his head down after an early-race restart from caution and soon began to stretch his lead over Urrutia, posting a series of fastest laps and increasing his advantage to over four seconds before an incident between Tan and Jose Gutierrez led to the 30-minute race finishing under caution.
The Pro Mazda Championship Presented by Cooper Tires next joins the other Mazda Road to Indy series at Indianapolis Motor Speedway on May 7-9 for the Grand Prix of Indianapolis on the IMS road course.