The first in a new weekly series of Mazda Motorsports "BEHIND THE ZOOM," by John Doonan, Director of Mazda Motorsports
Welcome to the first of a new weekly series here at MazdaMotorsports.com. Every Thursday, you will be able to read behind-the-scenes blogs from the Mazda Prototype program. Today, to kick-off the series, we have some thoughts about racing dreams from John Doonan, director of Mazda Motorsports. In the coming weeks, you will hear from each of our Mazda Prototype drivers, with additional entries from team principals, engineers and more; so mark your calendar to join us every Thursday.
Dreams can come true in many ways.
And we prefer them to come true with "the Mazda way."
Each day, no matter where I wake up in the world, I can honestly say that I am living my dream. I was hooked at the age of 4 when my dad went through his first driver's school. For years, I thought I was going to be a driver as well. But that's easier said than done to become the next 24 Hours of Daytona champion or Indy 500 winner. Then it was the business side of our sport that caught my attention.
I would sit on the living room couch at 4:30 am on any given club racing weekend with my backpack filled with all the essentials: clipboard, pencil, stopwatch, ear protectors, hat, some snacks, and a bottle of chocolate milk. I could not wait to get to the track! Dad, on the other hand, had undoubtedly been up all night working on the racecar and might have grabbed a nap before driving to the track. Some things have changed, but the daydreaming kid who sat outside the fence watching the action hasn't changed a bit.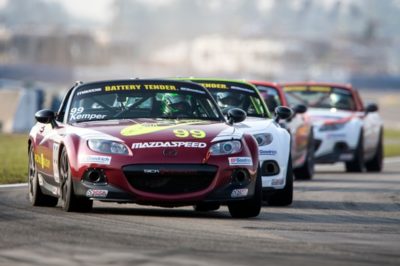 What a week it was at Sebring. While the final results in the 12 Hour race were not what we had hoped for after seeing dramatic improvements with our SKYACTIV Prototypes, one of my colleagues reminded me to "look at what happened the rest of the week!" Sometimes we have to pinch ourselves. Once again, more Mazdas were on track at Sebring than any other brand, and four of our scholarship drivers, the 2015 Class of the Mazda SportsCar Racing Academy, came away with victories, pole positions and a number of podium finishes.
I want to give a pat on the back to our Prototype team. The entire team and all of our partners (BOSCH, Castrol, ModSpace, Motegi Racing and Multimatic to name a few) have pulled off miracles with the stock-block SKYACTIV Diesel engine and the chassis package. It's another dream come true for me to see how they have taken a production engine built to produce 155hp and developed it to make three times that amount of peak power.
Yes, we have more work to do, but to lead the race at the ROLEX 24 at Daytona and then to be running fourth among all Prototypes at Sebring hours into the race … I would not have believed that a year ago. We will keep pushing, and I have a feeling more dreams will come true in this program before the season ends
All of us at Mazda are thrilled with the opportunities we have to offer with the Mazda SportsCar Racing Academy and the Mazda Road to Indy. When you add up the number of dreams we have helped come true for young driving talent, it is simply staggering. More than 40 drivers have been able to take a step up in their racing careers through our scholarship program since 2007. The cream of the crop ultimately make it to IndyCar or to the top levels of sports car racing. We saw great results from our young sports car racers at Sebring, and there is much more to come at St. Petersburg this weekend as the Mazda Road to Indy series kicks-off the 2015 season.
Until next time, Godspeed.