Number 7 in a countdown: Whether real or virtual, there is simply no substitute for getting laps to learn a track.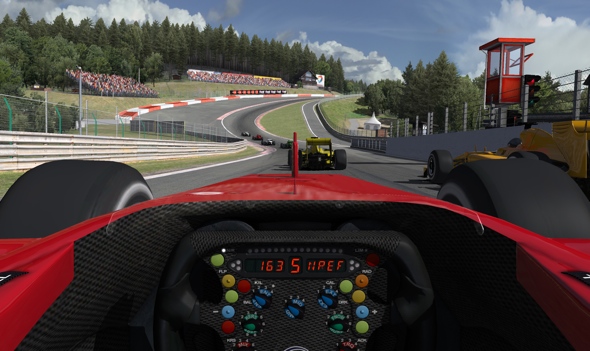 Cyclists have a not-so-elegant acronym for the best way to get faster on a bike, and it's short for time in the saddle. There's no acronym for the auto racing equivalent, seat time, but, just like time in the saddle, it's the best way to get faster. That's particularly true if you're trying to learn a track or a car.
Obviously, the ideal situation to get acclimated before a race at a new track is a test day at the facility. But that's not always feasible logistically or financially. So then it's time to look into the next best thing.
Video is a great alternative, and you can find online video laps of just about any track in North America. If you race Spec Miata, one of the most popular racing classes in the country, there's a good chance you'll be able to view the track from very familiar surroundings at roughly the speed you'll be driving it.
The next step is to drive it virtually. And these days, it really is virtual reality.
"The simulators are a great way to brush up your skills and to really fine-tune everything," says Tristan Nunez, who races a Mazda SKYACTIV Prototype in the TUDOR United SportsCar Championship and uses an iRacing simulator most every day he's not at the track. "They are pretty similar to what it's like in real life – you just don't have the g-forces, the heat and all that."
The reason they are similar is the methodology used in creating the modern sim track.
"We laser scan our tracks, so any track that you have in iRacing is literally millimeter accurate," explains Kevin Bobbitt, iRacing's Director of Marketing. "So guys that actually race for a living in real cars use iRacing to test and tune. 'I've never been to Monza, so I'm going to go [to iRacing] and learn it,' or 'I haven't been to Spa in two years, I better refresh my memory.' When they get there, it's right. So it's valuable seat time." Of course, that applies to Mazda Raceway and Mid-Ohio as well as Monza and Spa.
Luke Gabin, who will race with Team Pelfrey in the Cooper Tires USF2000 Championship Powered by Mazda in 2015, is another racer who believes getting acclimated to a track prior to arrival is a big boon to success.
"For training before races, I like to get my focus up by using simulators such as iRacing and watching onboard video to learn the track. I feel this really helps my performance and mental state going into a race," he says.
Even racer/team owner/Major League Baseball pitcher for the Angels CJ Wilson has extolled the virtues of onboard video and simulators to get up to speed faster, and he knows a thing or two about competition. But if you need further proof of the veracity of virtual laps, Director of Mazda Motorsports John Doonan offers an anecdote that is quickly becoming legend in Mazda circles.
In 2013, "At Mazda Raceway Laguna Seca, Elliot Skeer went out and qualified his MX-5 Cup car and as a literal back-to-back comparison, we brought him immediately to our consumer display and [on the iRacing simulator] he was within one tenth of a second of his qualifying time. It's pretty impressive accuracy for the iRacing product," he says.
These days, there really is no excuse for not being fully prepared when you arrive at a track for the first time. Sure, there are some things to learn, such as the way the car feels as it starts to slide before being caught by the banked pavement in Turn 6 at Mazda Raceway, but you should already know how to drive through that turn before your belts are tight. You want your racing skills to be at the top level? Start studying the track before you need to learn it.
Related Content
Be the Complete Racer: Choices
Be the Complete Racer: Fitness
Be the Complete Racer: Study