Skip Barber MAZDASPEED Pro Challenge champ moves to Idemitsu Mazda MX-5 Cup with Mazda scholarship.
In a bid to win the 2015 SCCA Pro Racing Idemitsu Mazda MX-5 Cup Presented by BFGoodrich® Tires championship, Sick Sideways Racing strengthened its driver line-up by signing 2014 MAZDASPEED Pro Challenge champion Drake Kemper from Toluca Lake, Calif.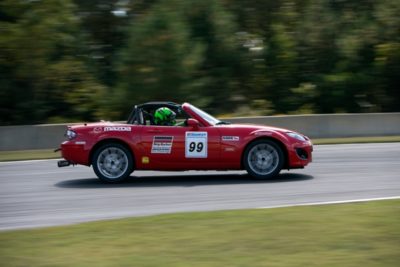 After winning the title with five victories and five more podium finishes, Kemper now looks to continue his climb up the Mazda SportsCar Racing Academy ladder in the very series and with the very team that inspired him to race professionally. His No. 99 MX-5, racing with support from Mazda and Royal Rugby, and supporting the Wounded Warrior Project, will sport the same Soul Red paint scheme as the other Mazda scholarship winners as well as the factory Mazda SKYACTIV Prototype competing in the TUDOR United SportsCar Championship.
"I'm extremely excited to be racing in the Mazda MX-5 Cup," says Kemper. "I remember seeing it on TV and saying: 'I want to do that one day,' and now I'm here! In fact, one of the main reasons I was inspired to compete in the MX-5 Cup was after seeing this excited guy with huge sideburns [John Dean] win his first professional race with Sick Sideways.
"It's amazing what Sick Sideways does with smaller budgets, consistently running up front each year as title contenders. They are an incredibly hard-working and professional team, yet they still have kept that privateer excitement and life behind them. I intend to carry on that performance and spirit this season," Kemper continues.
Sick Sideways is owned by Dean, and campaigns a car for him – he won two races and finished second in the championship in 2015 – and Nathanial Sparks, who landed on the podium five times in 2015.
"Drake is already fitting in perfectly with our unique team culture," says Dean. "He is fast, focused, and serious about his racing, yet has this great humor, excitement, and personality where we are able to have lots of laughs throughout the day.
"We are also excited to have signed a top driver from Mazda's ladder system. Drake's speed and performance in testing has shown why he deserves to be here. His addition to the team gives us one of the strongest driver line-ups and hope for great things in 2015. I fully expect he'll be running towards the sharp end of the grid this season," Dean continues.
"I'd like to really thank Mazda for this great opportunity to run in the Mazda MX-5 Cup," states Kemper. "Without their scholarship and ladder system it wouldn't be possible to be racing professionally and have such an amazing opportunity at such a low cost. You can literally go from club racing, all the way to racing prototypes if you keep winning. I'll be looking forward to the chance of following in Kenton Koch's footsteps; where he also won the Skip Barber MAZDASPEED Pro Challenge, and then went on to win the Mazda MX-5 Cup. Hopefully I can climb the ladder even higher from there. I've been preparing for this season since the day last season ended; I'm down almost 50lbs. with dieting and a very rigorous workout regimen, I've been getting more seat time at more tracks as practice, I've been preparing mentally. I really feel that no one is more prepared than I am to see those lights go out and that green flag wave at Sebring. Bring it on."
The 2015 Idemitsu Mazda MX-5 Cup, Presented by BFGoodrich® Tires kicks-off March 18-20 at Sick Sideways Racing's home track, Sebring International Raceway. Sick Sideways has won every year they have visited the venue and Kemper and his teammates, Dean and Sparks, will be looking to continue that trend.
Related Content:
JDC Motorsports Signs Koch for Prototype Lites
Luke Gabin Joins Team Pelfrey for USF2000
Latorre Joins Cape for Pro Mazda