Aaron Downey's RX-3 has a lot of Runoffs E Production podiums to its name; now he wants to win a National Championship with it.
Aaron Downey has one of the fastest RX-3s in the country, and he's put it on the E Production podium at the Runoffs four times – including a bronze in 2014 at Mazda Raceway Laguna Seca and a second at Road America the year before – and fourth another couple of times. While he's missed the top step of the podium, he has high hopes for the car at the 2015 SCCA National Championship Runoffs at Daytona International Speedway.
Downey's RX-3 ought to be fast, as he's been running an RX-3 for more than a dozen years. This is the second car he and his father, Randy, have built; the first one was wrecked at the Runoffs at Heartland Park Topeka. This one has been through a lot of changes over the years, as the Downeys try to figure out what works best. Now they think they have the right package for Daytona.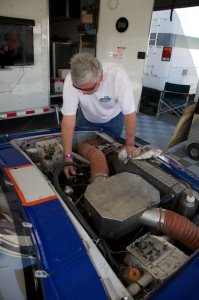 "We've changed everything probably three or four times," says Randy. "Right now, we've got the Hoosier radials working he best we've ever had. I redid all the front geometry as far as adjusting, and found that we had not enough caster and we had too much Ackerman steering, so I did a lot of studying about getting all the pros and cons for Ackerman, and the radials can't deal with a lot of Ackerman. I eliminated most of it. We're happy with the way it came out. We feel like we've got a package for Daytona, because the radials will be much less rolling resistance. Aerodynamically, they're a lot thinner, and the tire pressures are much higher, so we're going to be able to get some good speed out of it."
They feel they have the front end pretty well sorted, with Hypercoil 450lb. springs and JRI shocks. The rear end is where it gets tricky. The RX-3 came with leaf springs, and it must race with leaf springs. When it comes to building racecars, off-the-shelf competition leaf springs – or any other RX-3 part – are pretty hard to come by. That's where a little ingenuity comes in.
"I made the rear leaf springs out of Hypercoil fiberglass that they sell for a Chrysler," Randy explains. "I just cut them and whittled on them until I got the spring rate I wanted. Then I made some carbon fiber helper springs. They just clamp on and give us a little bit of adjustment. I just kept cutting them shorter and shorter until I got a feel for them."
Under the hood sits a Jose Rodriguez-built 12A. The transmission has been through a couple of iterations as well. They have used a Ron Olson-built RX-7 box with Miata gears, but intend to have a Jericho in the car for the Runoffs. That's one more element that the Downeys think will give them what they need at Daytona.
"I think the car has the capability," says Aaron. "We're certainly lighter, and that's one of the advantages we get as a narrower car. If we have the dog box in, we're at 2048, where the RX-7s are 300lbs. more than we are. Theoretically, I should be faster on a straightway and have been, but certainly these guys have found some stuff. They're right there on the straightaways. So now I've got to pick it up in the turns and figure out how to get the car to handle a little bit better."
Aaron Downey knows he's got a challenge ahead of him, as the Miatas in E Production, such as Matt Reynolds's NB, have been very tough. He hopes the narrower track of the RX-3 is an advantage. But whether the RX-3 has the edge on the Miatas at Daytona or not, he doesn't see himself racing any other car.
"We feel it's a very competitive car," Aaron says. "[My dad] has a ball working on it, I have a ball driving it. It doesn't drive like any of the other cars out here because it's got a short wheelbase and the track is pretty narrow. It's a handful, but tinkering over the last 13 years has really made it a competitive car."